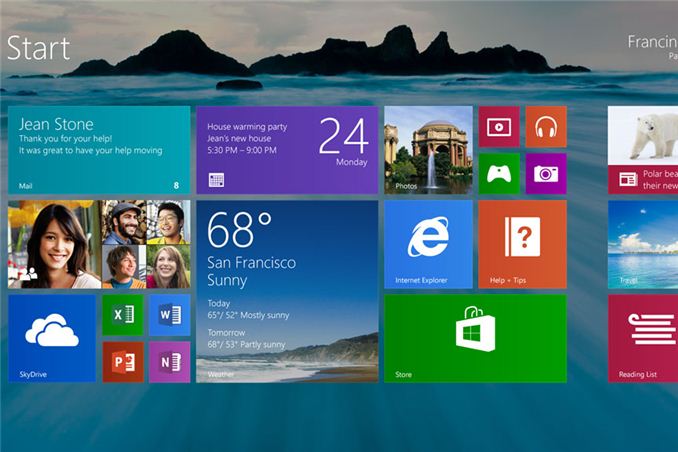 Coinciding with Microsoft's BUILD 2013 conference this week, the public preview of Windows 8.1 has been released over at Microsoft's Windows website.
Windows 8.1 (née Blue) is Windows 8's first service pack, presenting Microsoft's first chance to iterate on Windows 8 after the OS's rocky launch. This goes for both the traditional desktop/mobile PC environment, and the tablet environment where yearly OS updates have come to be expected.
Consequently a number of the changes in Windows 8.1 are to the Metro/Modern layer, such as changes to tile management and window snapping, however there are some low level changes that techies will also be interested in. Among other things, Windows 8.1 will ship with support for Intel's Connected Standby technology for Haswell, and a revised DPI scaling mechanism that is better suited for driving the high DPI displays that are coming down the pipeline for both Ultrabooks and desktops. We'll have some updates on these features once we get a chance to tinker with Win8.1 in depth.
Windows 8.1 is being made available as both an update and an ISO. The update itself is being distributed through the Windows Store app – after downloading and installing the requisite platform patch from Microsoft's website – and weighs in at a hefty 2.44GB for the Windows 8.1 Pro Preview. The ISO files have not been posted yet, but are expected to be available tomorrow.
Update
To go along with the release of the new OS, AMD has released a new Catalyst preview driver set. The new drivers bring support for WDDM 1.3 and its associated features to Trinity and GCN hardware, though the driver also covers last-generation VLIW5 hardware.
Update 2
Like AMD, NVIDIA has also released new drivers, version 326.01. However unlike AMD these drivers are only being distributed through Windows Update to machines running Windows 8.1.
Source: Microsoft