Intel's Sandy Bridge-E platform is slated to be with us well into 2013. Thus if you want the highest performing system with no expense spared, there is only one way to achieve this - through the X79 chipset. This chipset has been with us since November, and typically eight months into a chipset we get a new set of motherboards based on feedback and updates. Such is the case when we met with Gigabyte today, who showed us their top end X79 refresh board.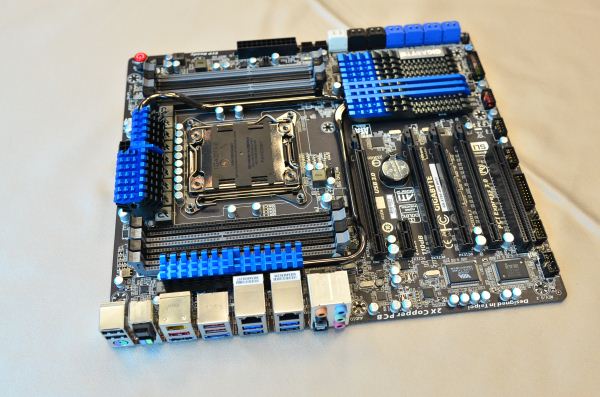 Rather than simply reuse the X79 chipset, Gigabyte have gone a different way with the X79S we saw. Using the server based C606 chipset, a motherboard manufacturer has access to a variety of different features - SAS ports, full Xeon support, and also ECC memory. By using a server chipset, we now have a total of 14 SATA ports on board, with 8 of them being certified for SAS use. Combine this with 8 DIMMs and ECC support, and what you have on your hands is a really nice workstation product.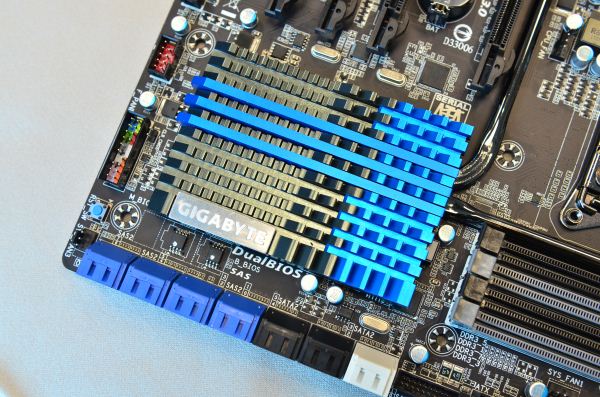 The heatpipe design connects together the chipset, and both the VRM heatsinks. The backpanel gives us two NICs - one Intel and one Atheros, and also a trio of buttons on the side. The top one, marked OC, should presumably give a factory set overclock. The button underneath lets users switch between BIOSes (useful if the system is in a case), and the third button is a simple ClearCMOS.