Introduction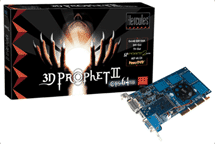 Hercules. The name alone brings back memories of the early years of computers, the glory days, if you will. Hercules, originally conceived in 1982, essentially created the video card revolution. Forming a standard of video display, Hercules became synonymous with monochrome. This tradition, of Hercules setting an industry standard, continued through the years. Early in the days of AnandTech, Hercules quickly gained respect around the lab as a quality manufacturer. In fact, we choose Hercules' Dynamite TNT2 Ultra as the best TNT2 card in our July 1999 TNT2 Roundup.
The problem is that Hercules is not the company that they used to be. The problems began with Hercules' bankruptcy in 1999 . Soon after the announcement, in November of the same year, a French company named Guillemot swooped in an scooped up remains of Hercules. Upon the acquisition, Guillemot took full control over Hercules' name, striping the remains of the former powerhouse and assimilating it into the lower regarded Guillemot company. The motivation behind Guillemot's investment: the Hercules name.
As mentioned before, the company formally known as Hercules was synonymous with quality. By purchasing the Hercules name, Guillemot was able to sell their products under the name of Hercules, spawning memories of the older days of the former Hercules. Since brand name recognition plays a substantial role in consumer purchase, Guillemot was able to gain a whole new image. Now, all Guillemot cards are sold under the name of Hercules, creating a false nostalgia.
In part due to the brand name recognition Guillemot gained with the acquisition of Hercules and in part due to an aggressive development and marketing team, Guillemot/Hercules has produced the first 64MB GeForce 2 card we have seen, the 3D Prophet II GTS 64MB. Does the 3D Prophet II GTS 64MB live up to the name of Hercules or do we see once again that Hercules has merely become a name owned by Guillemot? Lets begin by checking out the specifications.

Key Features

Incorporates NVIDIA's latest GigaTexel Shading (GTS) GPU, the revolutionary GeForce2 GTS
Optimized for DDR
Incorporates NVIDIA's Shading Rasterizer (NSR) to deliver 7 pixel operations per pass
HyperTexel architecture delivers 1.6 Gigatexels and 800 Megapixels/second
Fast 64MB DDR memory*
4 dual-texturing pipelines, mapping 8 texels/clock cycle
200MHz core clock, 333 MHz DDR RAM clock
Superior processing technology
4X AGP with Fast Writes/AGP 2X compatible
2nd generation hardware transform and lighting engines
100% hardware triangle setup
4 dual-texturing rendering engines produce:
The most advanced supports for OpenGL® and DirectX® 7
Per-pixel shading and lighting for rich, lifelike materials and cinematic effects
3D boards run at the fastest achievable speed
Heatsinks on RAM units provide stability at higher clock rates
2nd Generation Hardware Lighting Engine
Faster texture-mapping on objects and characters
Finer lighting
Rich, lifelike cinematic effects
Processing of multiple lights

2nd Generation Hardware Transform Engine
Handles complex objects of over 100K polygons
Smoother and faster movements
Incredibly precise detailing
Low CPU consumption
Per-pixel Shading
Faster texture mapping on objects and characters
Real-time shadows
Realistic textures with real-time rendering of per-pixel shading
Adds depth to flat surfaces
State-of-the-Art DDR RAM
Offers a bandwidth of over 5, 000MB/second and 2 data transfers/RAM clock, doubling the onboard data transfer:
Loads and maps textures more quickly
Increases the benefit of the GeForce2 GTS' multiple pipeline architecture
64MB buffer lets you play complete texture-rich game levels; no texture reloads during gameplay

Visionary DVI Output
DVI™ stands for Digital Visual Interface: The new standard for digital display supported by all major manufacturers
DVI™ provides very high-quality digital output
DVI™ is compatible with the former standards of digital displays: VESA®, P&D® and DFP™ (Compaq®) and only requires an adapter cable
3D Prophet II GTS 64MB DVI guarantees :
High-resolution display on digital monitors
Incredible sharpness and true color 32-bit gaming
The best connection for digital flat panels, digital CRTs, and LCD projectors
TV/Video Output & DVD-Video Acceleration
Advanced video architecture delivering the highest quality playback for DVD-Video and HDTV
Extraordinary image playback with DVD titles or games on your TV: NTSC and PAL TV output in 640x480 and 800x600
Play DVDs on your PC
PAL TV output in 640x480 and 800x600
Boosts 2D Performance :
Attractive full 32-bit true color SVGA display
Outstanding resolutions of up to 2048X1536 in 16 million colors with a 350MHz RAMDAC