And in the Green Corner...
Meanwhile, from the green team (red team?), Puget Systems offers a system based on AMD's Llano. On paper it's definitely not as compelling as its Intel-based counterpart, but looks can be deceiving. Here's the test configuration:
Puget Systems Echo I (AMD Edition) Specifications
Chassis
Antec ISK-110 VESA
Processor
AMD A6-3500
(3x2.1GHz, Turbo to 2.4GHz, 32nm, 3MB L2, 65W)
Motherboard
ASUS F1A75-I Deluxe
Memory
2x8GB Patriot DDR3-1333
Graphics
AMD Radeon HD 6530D
(320 stream processors, 443MHz core clock)
Hard Drive(s)
Intel 520 240GB SATA 6Gbps SSD
Western Digital Scorpio Blue 1TB 5200 RPM SATA 3Gbps HDD
Optical Drive(s)
-
Power Supply
80W external
Networking
Realtek PCIe Gigabit Ethernet
Atheros AR9002WB-1NG b/g/n Mini-PCIe Wireless LAN
Bluetooth v2.1+EDR
Audio
Realtek ALC892
Speaker, mic, and line-in jacks, optical S/PDIF
Front Side
2x USB 2.0
Headphone and mic jacks
Top
-
Back Side
4x USB 2.0
2x USB 3.0
PS/2
DVI-D
DisplayPort
HDMI
Optical out
eSATA
Ethernet
Speaker, mic, and line-in jacks
Operating System
Windows 7 Home Premium 64-bit SP1
Extras
SSD
Wireless-N
Bluetooth
Warranty
1-year parts, lifetime labor and support
Pricing
Starts at $747
Priced as configured: $1,408
It's very easy to be underwhelmed by the AMD A6-3500 processor at the center of the Puget Systems Echo I (AMD Edition); the processor aspect is lackluster. Technically if you look online you'll even find that it's theoretically not the fastest 65W Llano-based processor AMD produces, but in practice the faster ones are much harder to come by. In talking to our Puget Systems rep, we found that they were having a hard time sourcing the faster ones, while the A6-3500 is still relatively plentiful. A visit to NewEgg corroborates their story: the fastest Llano chip available in a 65W envelope is the A6-3500.
So just how underwhelming is the A6-3500? The CPU half is three cores running at just 2.1GHz, able to turbo up only to 2.4GHz. These are reworked Stars cores from the Athlon II series now dubbed Husky cores, but they're still substantially slower than Intel's Sandy Bridge architecture clock-for-clock. Worse still, in this comparison the A6-3500 has to do battle with four of Sandy Bridge's cores, and they all run at least 700MHz faster. The CPU side of this equation isn't remotely evenly matched, but where availability is concerned, this is the best AMD has to offer.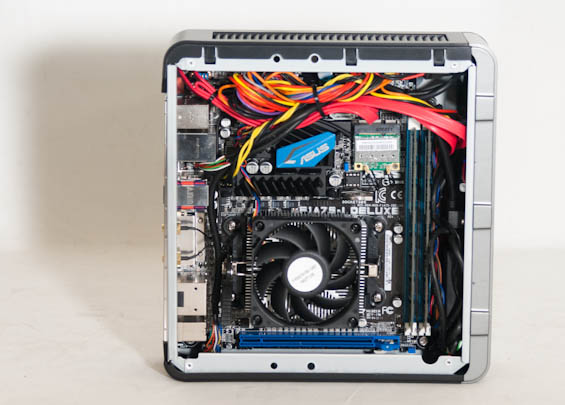 Thankfully, the other side of the A6-3500 is much more promising. The Radeon HD 6530D at the heart of the system enjoys 320 stream processors clocked at 443MHz, and while that's not too exciting in terms of raw GPU hardware, it's miles ahead of what Intel is offering in the i7-2600S. The 6530D is essentially the half of the bargain that AMD is banking on; when they talk about a balanced platform, they're talking about a CPU that's "good enough" with a GPU that can hold its own.
The rest of the build is more or less identical to the Intel build on the previous page, featuring the same SSD, same hard drive, and even the same brand and speed of memory. The only difference here is that the ASUS board used in the AMD edition supports full-length DIMMs instead of SO-DIMMs, helping to bring overall system costs down slightly—and of course, that's ignoring the fact that the A6-3500 retails for $79 while the i7-2600S is up at $309. Even connectivity on the back of the system is borderline identical, although the AMD system also enjoys DisplayPort where the Intel version has to make do with VGA; this DisplayPort connectivity also means this system can handle three monitors on its own.