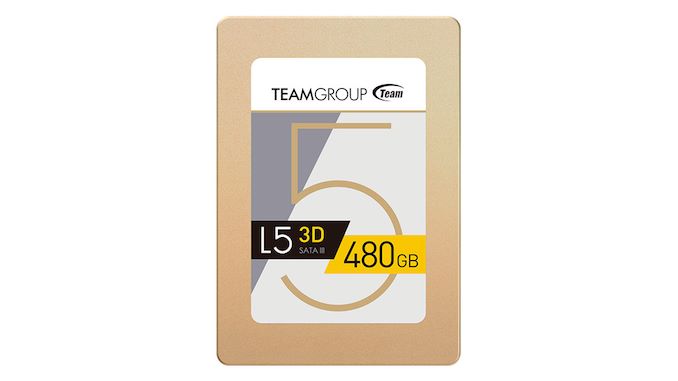 This year, the SSD market has been rather sedate. After dramatic price crashes in 2018, the market has leveled out and retail SSD prices have been fairly consistent for months. Only a handful of products have launched using the new 9x-layer 3D NAND, and there's been just one major new SSD controller launch so far in 2019. The whole industry is gearing up for the PCIe 4.0 transition, but it's off to a slow start. That gives us the chance to fill in some gaps in our SSD coverage by taking a closer look at several drives that we were unable to review at launch. This is the first in a series of reviews that will look at drives that aren't brand new but are still worth a second look.
First up is the TeamGroup L5 LITE 3D, a SATA drive that was consistently on the leading edge of last year's price drops and remains within a few dollars of the cheapest products currently available. The L5 LITE 3D was one of the first drives to cross some notable price thresholds: less than $20 for 120GB, $30 for 240GB, $50 for 480GB and $100 for 960GB. It's not staying below those levels all the time, but it's also not going more than a few weeks without going on sale. Given the pricing and the "lite" in its name, one could easily assume that it is an entry-level DRAMless product, but it actually uses the more mainstream Silicon Motion SM2258 controller platform with a full-sized DRAM cache. Team has even gone with a nice full metal case instead of using plastic or cheaping out on the connectors as we saw with the Mushkin Source, so the product as a whole doesn't give the impression that it was subjected to rigorous cost-cutting measures.
TeamGroup L5 LITE 3D SSD Specifications
Capacity
120 GB
240 GB
480 GB
960 GB
Controller
Silicon Motion SM2258
DRAM Buffer
Yes
NAND Flash
3D TLC NAND
Form-Factor, Interface
2.5-inch/7-mm, SATA 6 Gbps
Sequential Read
470 MB/s
500 MB/s
Sequential Write
300 MB/s
400 MB/s
420 MB/s
480 MB/s
4kB Random Read IOPS
30k
65k
70k
80k
4kB Random Write IOPS
40k
70k
70k
70k
Warranty
3 years
Write Endurance
30 TB
0.22 DWPD
60 TB
0.22 DWPD
120 TB
0.22 DWPD
240 TB
0.22 DWPD
Current Retail Price
$24.99
(21¢/GB)
$33.99
(14¢/GB)
$53.99
(11¢/GB)
$97.99
(10¢/GB)
It appears that the secret to Team's aggressive pricing on this model boils down to two main factors: a 3-year warranty that's more typical of entry-level drives than mainstream drives, and using whatever memory is cheapest at the moment. We've seen reports of up to four different variants of the L5 LITE 3D in the wild, as distinguished by their firmware version. Given that the L5 LITE 3D's price has dropped by more than 60% since it was introduced, that many revisions isn't as ridiculous as it might seem at first glance. We don't appreciate when mainstream SSDs make major BOM changes without changing the model name, but it's more forgivable for an entry level drive, especially when the SATA bottleneck limits the performance impact that changing NAND can have.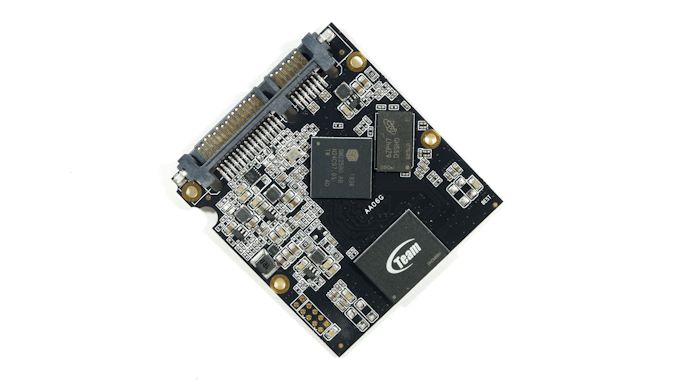 Our 480GB sample reports firmware version Q0410A and based on the serial number it appears to have been manufactured in late October 2018. The DRAM on the drive is Micron DDR3 but the sole NAND package bears Team's logo rather than that of one of the NAND manufacturers. That NAND package also bears the marking "DHCM80A1", but that doesn't shed much light on whose NAND lies beneath. It's possible this drive was built with lower-grade flash memory, but either way we didn't detect any new errors during our testing. The write endurance rating of just over 0.2 DWPD for 3 years is definitely lower than mainstream SATA drives.
For this review, we're primarily focusing on comparing the L5 LITE 3D against other TLC SATA drives of similar capacity. The Mushkin Source is fairly typical of recent DRAMless SATA SSDs and uses the DRAMless variant of the same Silicon Motion controller that Team is using. The Crucial MX500 and SanDisk Ultra 3D are mainstream SATA drives from two of the top tier brands. We've also thrown in results from an entry-level NVMe SSD (MyDigitalSSD SBX), Team's high-end NVMe SSD (MP34), and the Samsung 860 PRO to show the current limits of what a premium SATA SSD can achieve.
AnandTech 2018 Consumer SSD Testbed
CPU
Intel Xeon E3 1240 v5
Motherboard
ASRock Fatal1ty E3V5 Performance Gaming/OC
Chipset
Intel C232
Memory
4x 8GB G.SKILL Ripjaws DDR4-2400 CL15
Graphics
AMD Radeon HD 5450, 1920x1200@60Hz
Software
Windows 10 x64, version 1709
Linux kernel version 4.14, fio version 3.6
Spectre/Meltdown microcode and OS patches current as of May 2018