Late last week various reports began to hint that the US DOJ price fixing investigations against the Big 4 memory producers; Samsung, Micron, Hynix, and Infineon. The EU has launched a separate probe against the same companies with regard to the extremely unusual increase in DRAM prices that lasted between November 2001 and May 2002. As part of court documents in the now dismissed FTC case against Rambus, an email sent from a Micron employee claiming with regard to memory suppliers Samsung and Infineon states; "..if Micron makes the move, all of them will do the same and make it stick".
Two months later, we began to see memory prices increase bizarrely. After the disclosure of this email (and others), the US Department of Justice has launched this new investigation on grounds of antitrust practices. Micron officials claim the email released from the FTC vs. Rambus case has nothing to do with the recent DOJ probe.
So what exactly happened those fateful months in 2001/2002? At the time the incident, the composition of the memory market was slightly different than it is today: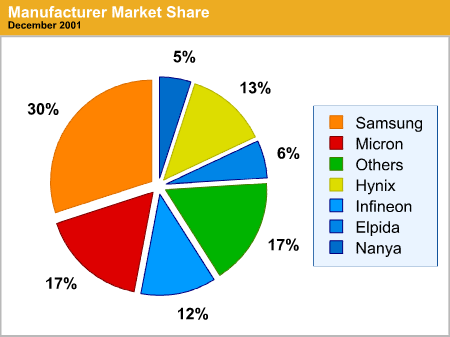 Samsung was by far the largest DRAM producer in 2001, and one of the exclusive RDRAM producers as well (along with Elpida). Samsung and Hynix are headquartered in Korea, Micron in the US, and Infineon in Germany. Micron has a long history of complaining to the FTC about foreign memory manufacturers dumping memory into the US below cost in order to solidify contracts and market dominance.
Below are snapshots of some of the bigger news items in the DRAM industry during 2001/2002:
September 2001 - Hynix receives $2.3B in debt-for-equity swap. The company is over $6B in debt
November 2001 - DRAM prices totally bottom out, 128MB of PC133 costs about $10
November 14, 2001 - Rumors begin to surface that the Big 4 may be depriving DRAM supply to inflate prices
November 16, 2001 - Micron, Hynix and Samsung set floor price on 128MB PC133 at $1.50
November 2001 - Analyst claim "DRAM Shortage will increase prices" due to Intel, VIA and SiS push
November 20, 2001 - Memory has already hit a floor price of $2.00
December 2001 - Hynix and Samsung increased contract prices for the first time in 18 months,
December 2001 - Micron attempts to buy Hynix for $3.8B.
December 18, 2001 - Toshiba sells its Virginia memory fab to Micron
January 1, 2002 - Mosel, Powerchip Winbond increase prices compensate for December price increases
January 2, 2002 - Hynix and Samsung increases prices 30% - claims spot prices and i845 are reasons for shortage, Micron has not made any dramatic price adjustments yet
January 21, 2002 - Infineon posts earnings claiming revenue performance was based on a strong upswing in demand for DRAM products
January 27, 2002 - Hynix-Micron negotiations start to turn south. Prices have now been on the move for 2 months
January 30 2002 - Nanya denies Samsung told it to increase prices on chips
February 1, 2002 - Hynix claims memory shortages are reason for newest price hikes; Samsung, Infineon, Micron raise prices
February 18, 2002 - Hynix and Samsung raise contract prices 15% - this is the sixth increase in 3 months
April 15, 2002 - Prices hit their highest, 128MB of PC133 costs $40
April 2002 - Michael Dell claims memory manufacturers are acting with "cartel like behavior"
April 30, 2002 - Micron/Hynix counteroffers officially terminate, Hynix CEO resigns, DRAM prices beginning to correct themselves
May 2002 - Analysts agree DRAM market has corrected itself
May 10, 2002 - Hynix floods market with DRAM, floor prices drop 20%
May 16, 2002 - Investigations concerning memory manufacturers get underway
As we can see, when memory began to increase after falling 80% since the year before, there was a clear and immediate backlash. Micron's CEO Steve Appleton has been documented on numerous occasions claiming it did not withhold inventory to inflate prices, and in as many words blamed Hynix for "unpredictably" cutting production.
To convolute the period even more, Hynix and Micron were going through serious joint venture or merger negotiations. Hynix (which was more than $6B in debt at the time) and Micron could have merged to become even larger than Samsung at the time. However, the negotiations continually fell through and the two memory companies could not agree on a final price. The enormous debt of Hynix eventually leads to much of its consolidation.
Now let us look at the PC133 128MB prices during this period of turmoil:
Date

Distributor Price

9/15/2001

$14

10/1/2001

$13

10/15/2001

$12

11/1/2001

$10

11/4/2001

$15

11/5/2001

$16

11/15/2001

$15

12/1/2001

$14

12/15/2001

$17

1/1/2002

$18

1/5/2002

$25

1/10/2002

$34

2/1/2002

$30

3/1/2002

$35

3/15/2002

$40

3/27/2002

$33

4/1/2002

$41

4/10/2002

$37

4/15/2002

$33

4/30/2002

$30

5/5/2002

$30

5/20/2002

$26

It is interesting to consider that even after memory prices corrected themselves, memory in 2002 still cost 100% more than it did 6 months prior. There is also an unusual coincidence that prices began to around the same time that the Hynix-Micron venture dissolved. Intel released its i845E and i845G chipsets around this period.
From an archival point of view, it is interesting that the numerous excuses memory manufacturers used to increase their memory prices have never been replicated. Incredible sales of i865/875 boards never caused a massive shortage of DDR400, even though the Big 4 blamed i845 on DDR266 shortages. It may be some time still before we get the entire story on what happened those early months in 2002, but we can almost assure you this is only the beginning of a long and messy legal battle to come.
Now that the FTC antitrust case against Rambus has been dropped, Rambus is gearing up to independently sue Infineon, Hynix and Micron whom it claims artificially lowered prices of DRAM to corner RDRAM out of the market. Samsung (Rambus's primary manufacturer of RDRAM) is absent from these accusations. Obviously if the US DOJ can prove the Big 4 memory manufacturers conspired to fix prices on the increase, it could prove very damning in any defense against Rambus's pending lawsuits.