In the computer industry, Revision 2 or Revision B products are somewhat rare. Products that were not well received come back with improvements and a new name. In addition, the speed of innovation is amazing in the computer industry, with new chips, chipsets, sockets, memory types, and AGP standards constantly just around the corner. On the rare occasion where we do see a revision announced, it is usually a revision to a best-seller or legendary product in our industry. OCZ PC3700 Gold Rev. 2 falls into this category, but the Revision is more than just a new name for marketing.
OCZ PC3700 Gold was the first memory tested at AnandTech that was able to perform at DDR500. Since that time, just a few months ago, there have been a lot of new DIMMs that are rated at DDR500 or higher. Corsair is even shipping a DDR550 (PC4400) module. We have also tested modules that are rated at DDR533.
Despite the new higher-speed memory available, PC3700 Gold is still much in demand and is used in many high-end computers because it also performs very well at DDR400 to DDR500. This makes it a good choice for those who want DDR500 capabilities, but also want good timings for DDR400 and the 5:4 memory ratios on Intel 875/865 chipsets. The only complaint about the original 3700 Gold was that it was only available in 256Mb Double-Bank DIMMs; 512Mb modules were not offered. OCZ tells us that the hand-picked and lasered Samsung chips used in the original Gold did not allow a 512Mb option, and they are also dealing with increasing supply problems for those chips. For both of those reasons, we are now seeing a Revision 2 based on different memory chips, and finally, the option of 512Mb modules of OCZ PC3700 Gold in Revision 2.
PC3700 means an official rating of DDR466, just like the original 3700 Gold, and the rated timings are 2.5-3-3-7 at 2.7V. Like other recent high-end OCZ memory, the DIMMs are warranted up to 3.0V for overclocking. OCZ also tells us that the Rev. 2 memory will run at CAS2 at DDR400, just like the original 3700 Gold. One of our concerns in testing the Rev. 2 was whether or not the memory could possibly reach the performance timings at 400 to 480 that has made the original 3700 Gold so popular. Our testing confirms that in almost every measurement, 3700 Gold Rev. 2 performs just as well as the original, which is saying quite a bit since our test modules are 512Mb modules compared to the original's 256Mb modules.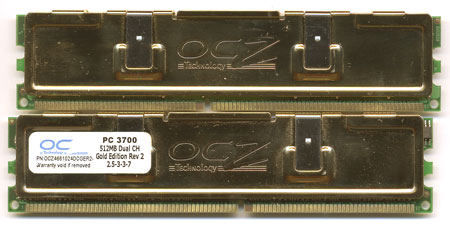 OCZ uses the distinctive Gold-colored heatspreader on the PC3700 Gold Rev. 2. When we removed the heatspreader, we found that the chips are labeled OCZ. Since almost every memory manufacturer uses large chip makers to supply their chips, we asked OCZ for the source of the new PC3700 Gold Rev. 2 chips. We were told that the blanks are provided to OCZ specifications by ProMOS, a large Taiwanese memory chip supplier that is a division of Mosel. OCZ states that the chips are supplied as blanks to their specifications, and that they are further speed-binned and labeled as OCZ after testing at their facility. The ProMOS chips are used in several other OCZ products depending on the speed-bin ratings that the chips achieve.

OCZ also included a Case Badge in the package for those who want to advertise that they are using top OCZ memory in their computer. This has been included in all recent OCZ packaging.
OCZ PC3700 Gold Rev. 2 Specifications
 OCZ PC3700 Gold Rev. 2 Memory Specifications
Number of DIMMs & Banks
2 DS
DIMM Size
Total Memory
512 Mb
1 GB
Rated Timings
2.5-3-3-7 at DDR466
Rated Voltage
2.7V
Maximum Voltage 3.0V
OCZ tests performance of OCZ PC3700 Gold Rev. 2 on Asus and Abit Intel 865/875 motherboards. While compatibility tests are run on other motherboards, these popular boards are used for Production Line testing. OCZ states that Memory is tested at DDR400, 433, and 466.