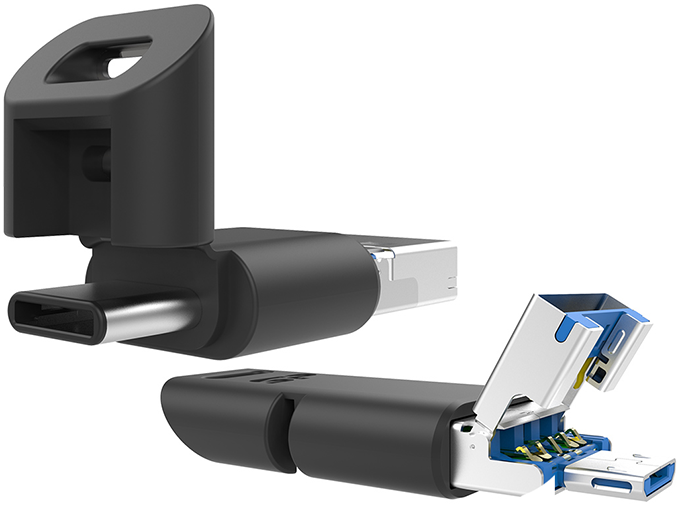 This week Silicon Power has announced a rather unique series of USB flash drives. Dubbed the Mobile C50, the Swiss army knife-type USB flash drive is a 3-in-1 drive that features all three major types of USB connectors, and as a result can be used with virtually all USB host devices from PCs to smartphones. The drives come with up to 128 GB capacity along with additional software to make them further compatible with mobile devices.
The Silicon Power Mobile C50 flash drives feature 32 GB, 64 GB and 128 GB configurations and are equipped with USB Type-A, USB Micro-B, and USB Type-C connectors. Meanwhile the interesting construction of the drives is designed to protect the connectors from damage: the Micro-B connector is sheltered by the Type-A connector, whereas the Type-C connector is protected by a rubber cap (specified to be snapped open over 10,000 times). Along those lines, the drives are also built to protect against dust, water as well as vibration and can operate at temperatures between 0°C and 70°C.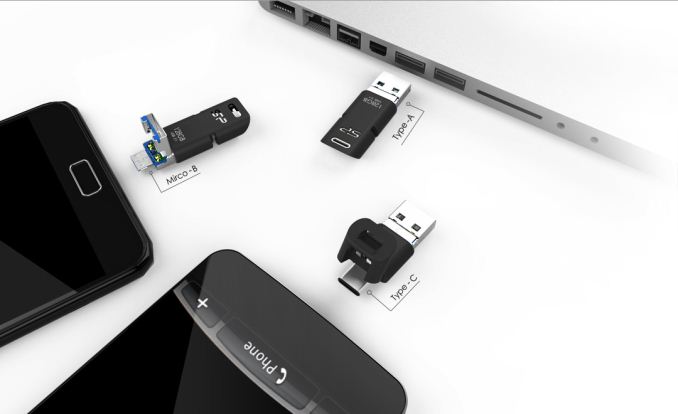 When it comes to performance, Silicon Power only says that the USB Type-A and the USB Type-C connectors enable up to 5 Gbps data transfer rate (USB 3.0), whereas the USB Micro-B connector is a 2.0 style connector, and consequently can transfer data only at up to 480 Mbps. With PC host compatibility a given, mobile compatibility is a bit trickier, and for that reason Silicon Power also ships their SP File Explorer App (for Android mobile devices) with the devices.
Silicon Power Mobile C50 Flash Drives
SP032GBUC3C50V1K
SP064GBUC3C50V1K
SP128GBUC3C50V1K
Capacity
32 GB
64 GB
128 GB
Type of NAND
Unknown
Maximum Transfer Rate
USB Type-A and the USB Type-C: up to 5 Gbps
USB Micro-B: up to 480 Mbps
Material
TPU
Dimensions
41.7 x 7.0 x 15.0 mm
Weight
5.2 grams
Operating Temperature
0°C to +70°C
Warranty
Five Years
Silicon Power will start selling the new 3-in-1 SP Mobile C50 USB flash drives in the coming weeks. The storage devices will be covered by a five-year limited warranty.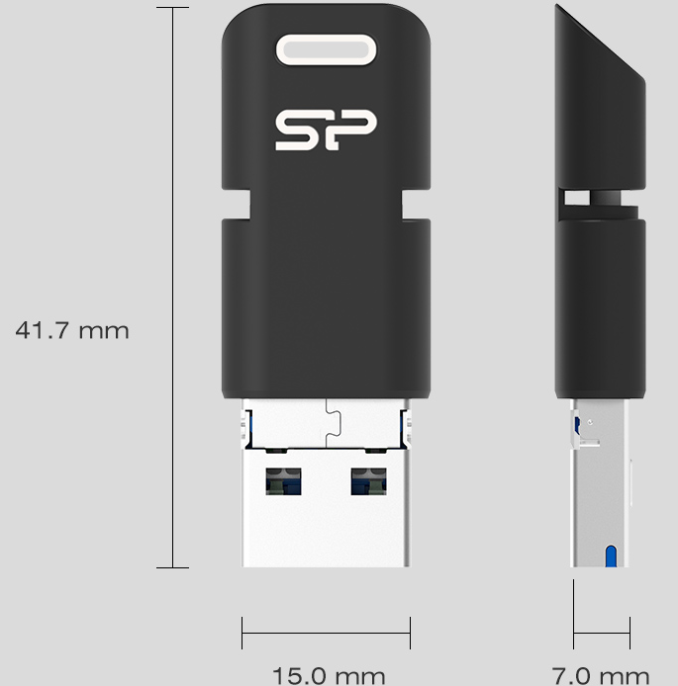 Related Reading:
Source: Silicon Power