Shortly after our DDR500 roundup
Searching for the Memory Holy Grail — Part 2
appeared, Mushkin sent us samples of their prototype DDR500. While that early Mushkin DDR500 did meet specifications, it was not very competitive with the best DDR500, so Mushkin continued working on further revisions to their PC4000 memory. A few days ago, we received Mushkin's latest update to their DDR500.
The new memory will be called PC4000 High Performance, and our testing indicates that the new memory is another Universal High-Speed DIMM like the Corsair XMS4000PRO we recently tested. What we mean by Universal High-Speed is that the memory is very competitive at DDR500, but that it also performs at DDR400 with aggressive CAS2 timings. Early DDR500 does well at the high end, but at DDR400, you are often stuck with CAS2.5 or CAS3 timings, which perform poorly at DDR400 compared to the fastest DDR400 modules.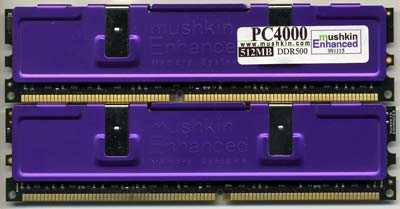 The Mushkin PC4000 High Performance came with purple Aluminum Heatsinks over Mushkin's trademark black PCB, but Mushkin says you may or may not receive the same purple heatsinks. Mushkin uses Revision B Hynix memory chips in the manufacture of the new PC4000, which are the same chips used by Corsair in their new XMS4000 PRO.
Mushkin did not use flashing LEDs or any other distinguishing packaging with PC4000 High Performance. However, the purple heatspreaders that we received certainly stood out and reminded us that purple is the color of royalty.