It's not often that we cover seventeen motherboards for just one memory article, but ever since motherboards based on Intel's 800MHz FSB series of chipsets were released at the end of April/beginning of May we felt the need to educate our readers on the severe memory-related issues that have plagued these motherboards.
You'll remember from our 865 Chipset article we encountered a number of compatibility issues with DDR400 SDRAM and the 865PE chipset. It turns out that we weren't the only ones; users all over the web were reporting problems. As a result we felt it was necessary to get to the bottom of these issues, and so took it upon ourselves to test five of the most popular DDR400 memory modules and nearly all the 865PE/875P motherboards we had access to.
The Candidates
For this review we compared five pairs of modules: Corsair LL (Low Latency) TwinX DDR400, Crucial DDR400, OCZ EL DDR400, TwinMOS DDR400, and Kingston HyperX DDR433 (running at 400MHz DDR).
We requested a pair of 256MB modules be sent from every manufacturer to be used in this review. You'll find pictures of the modules we tested below: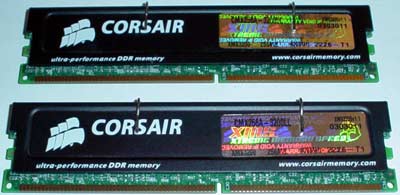 Click to Enlarge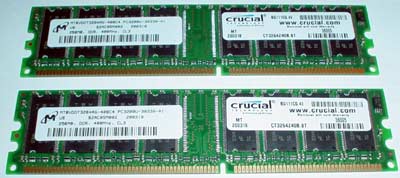 Click to Enlarge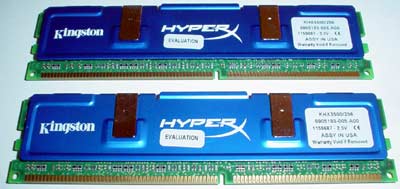 Click to Enlarge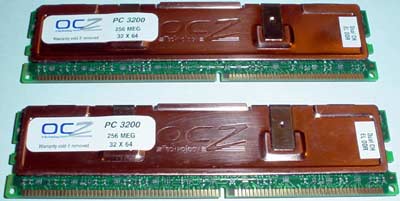 Click to Enlarge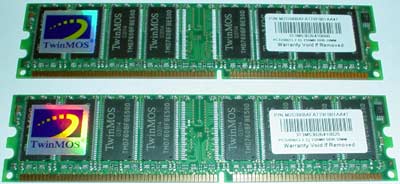 Click to Enlarge
UPDATE All graphs on the following pages represent performance numbers from Quake 3 Arena. The "/timedemo 1" benchmark was used.