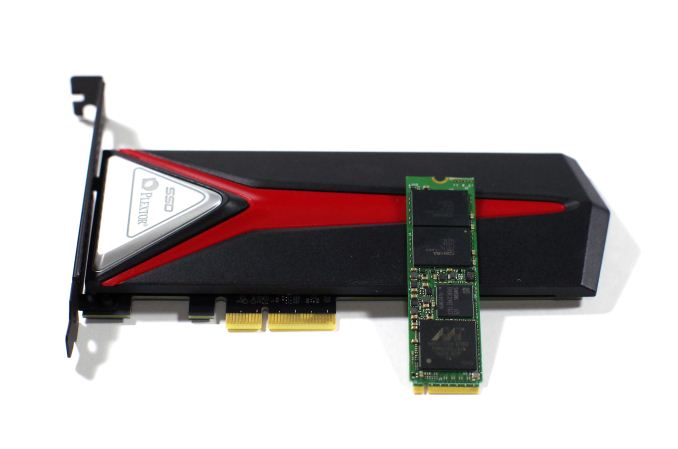 Plextor first entered the PCIe SSD market in 2014 with the M6e, based on Marvell's 88SS9183 controller supporting PCIe 2.0 x2 but not NVMe. In 2015 they followed it up with the M6e Black Edition that simply provided an adapter card and heatsink for an unchanged M.2 module. They also announced then delayed and eventually cancelled the M7e, which was to use the Marvell 88SS9283 to support PCIe 2.0 x4 connectivity. This year, the M8Pe finally brings a true high-end NVMe SSD to Plextor's product line.
The M8Pe series is available in three different variants, all based on the same M.2 module. The M8PeGN is the simple bare M.2 2280 card. The M8PeG adds a heatspreader that covers the top and sides of the M.2 module. This heatspreader should help alleviate the thermal throttling that all PCIe M.2 SSDs suffer from during sustained heavy benchmarking, but the added thickness will prevent it from fitting in some laptops. Finally, the M8PeY is a half-height half-length PCIe x4 add-in card adapter to house the M.2 SSD under a hefty slab of metal acting as a heatsink, and red LED accent lighting is included along the top edge of the card and under the Plextor Logo on the heatsink.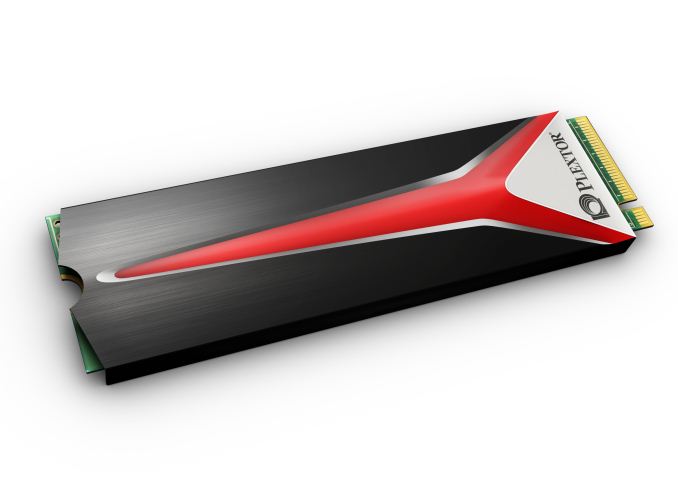 Plextor M8PeG with heatspreader
The Plextor M8Pe series shares its hardware platform with parent company Lite-On's CX2 client SSD for the OEM market. The controller is Marvell's 88SS1093 PCIe 3.0 NVMe controller codenamed "Eldora", with 8 NAND channels and support for NVMe 1.1 and LDPC error correction. The controller is a triple core design fabricated on a 28nm process. The 88SS1093 was one of the first PCIe 3.0 NVMe SSD controllers available on the open market, and it was quickly adopted for entry-level enterprise PCIe SSDs by companies like Seagate and Micron. The Plextor M8Pe is the first consumer SSD to ship with this controller. As usual, Plextor/Lite-On wrote their own firmware for use with the Marvell controller instead of adopting a reference implementation.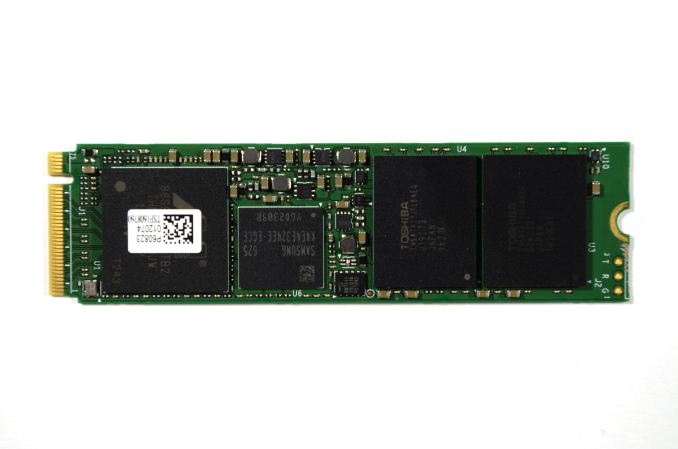 The M8Pe uses Toshiba 15nm MLC NAND flash to provide drive capacities from 128GB to 1TB. Performance specifications are not as high as Samsung's latest generation of NVMe SSDs based on their Polaris controller, but are similar to the earlier Samsung 950 Pro and to Toshiba's OCZ RD400. The Plextor M8Pe has a five year warranty and endurance ratings that are only slightly below that of the Samsung 960 Pro.
Plextor M8Pe Series Specifications Comparison
128 GB
256 GB
512 GB
1 TB
Form Factor
M8PeY: Half height half length PCIe add-in card (HHHL)
M8PeG: M.2 2280 with heatspreader
M8PeGN: M.2 2280 without heatspreader
Controller
Marvell 88SS1093
Interface
NVMe PCIe 3.0 x4
DRAM
512MB LPDDR3
1024MB LPDDR3
NAND
Toshiba 15nm MLC
Sequential Read
1600 MB/s
2000 MB/s
2300 MB/s
2500 MB/s
Sequential Write
500 MB/s
900 MB/s
1300 MB/s
1400 MB/s
4KB Random Read (QD32)
120k IOPS
210k IOPS
260k IOPS
280k IOPS
4KB Random Write (QD32)
130k IOPS
230k IOPS
250k IOPS
240k IOPS
Endurance
192 TBW
384 TBW
768 TBW
Warranty
5 years
Price (M.2 only)
$84.95 (66¢/GB)
$163.16 (64¢/GB)
$249.99 (49¢/GB)
$516.57 (51¢/GB)
This review will primarily focus on comparing the Plextor M8Pe to other MLC-based PCIe SSDs, especially the similarly-priced Toshiba OCZ RD400 and Samsung 960 EVO. Our review sample is a 512GB M8PeY (add-in card with heatsink), so the drive has been tested both under the heatsink and as the M8PeGN in our usual plain M.2 adapter that offers no extra cooling.
Cooler drives tend to be a bit more power efficient, especially when they can avoid thermal throttling that would otherwise cripple their performance scores. However, the M8PeY's PCIe x4 to M.2 adapter wastes some power by drawing from the 12V supply and converting down to 3.3V, and spends even more on the flashing lights (about 0.5 W total). Thus, the M8PeY exhibits higher power consumption and worse efficiency on almost every test and only comes out ahead where thermal throttling most severely impairs the M8PeGN. The power efficiency comparisons in this review will focus on the M.2-only M8PeGN configuration that most laptop users would require.
Unlike Toshiba/OCZ, Samsung and Intel, Plextor has not provided a custom NVMe driver. The M8Pe has been tested with Microsoft's NVMe driver provided in Windows 8.1. As explained in our initial review of the Samsung 960 Pro, this driver has some peculiar behavior with regards to write caching performed by the SSD. The Windows default settings for NVMe drives are not comparable to the default settings for SATA SSDs or the default behavior of third-party NVMe drivers. This difference is most apparent when using benchmarking software that takes measures to ensure that it is testing the speed of the disk instead of the speed of the filesystem's cache in RAM, and the difference in behavior is seldom encountered by ordinary desktop applications. In order to provide a fair comparison against SATA SSDs and manufacturer-supplied NVMe drivers, our benchmarks of the M8Pe were run with write cache buffer flushing disabled. This is the setting that most closely approximates the behavior of other drivers.