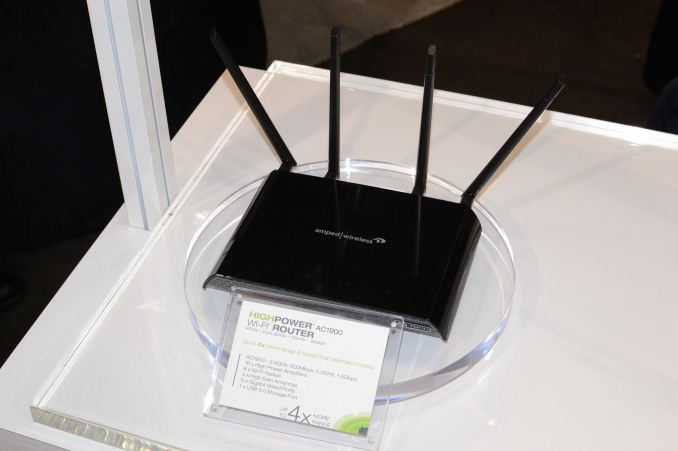 It's been a while since we last looked at Amped Wireless, a company with a primary goal being the development of higher quality and longer range WiFi products. Wireless testing being what it is – namely, a pain in the rear – I haven't completed any of the 802.11ac router reviews yet, but the AC1200 Amped Wireless router I've been testing has worked well. Amped now has several newer products coming out that supersede the AC1200 router, with an AC1900 router topping their lineup and providing four stream 2.4GHz support (600Mbps) and three stream 5GHz support (up to 1300Mbps on 11ac, or 450Mbps on 11n). They've also added a USB 3.0 port to several of their routers to provide high-speed access to network storage, which is a potentially useful feature.
The wireless routers are now dressed in black, while the repeaters/range extenders use similar hardware that's tuned for a slightly different workload and their casings are white. Amped also has access points available, which are more for business, with the highest model currently being AC1200 (two stream 2.4GHz/5GHz), which comes in a steel-grey color. The AC1200 RTA15 router has been shipping for a few months now with an MSRP of $190, while we're still waiting for the new AC1900 model to begin shipping. Similarly, the REA20 range extender is currently shipping with a $200 MSRP, and we're waiting for availability on the AC1900 range extender.
Along with the routers, repeaters, and access points, Amped has a couple new 802.11ac client adapters. One is the ACA1, an AC1200 USB WiFi adapter with USB 3.0 connectivity that supports two streams (300Mbps/867Mbps) and can be used with any suitable laptop or desktop. USB 2.0 compatibility is provided as well, but performance will potentially be lower due to the limited bandwidth offered. The second client adapter is the PCI20E, and AC1200 WiFi PCI-E adapter, which has similar performance but comes with a PCI-E x1 expansion card for use in your desktop. The ACA1 is already shipping with a $90 MSRP, while the PCI20E is currently on pre-order with an MSRP of $80, and availability is expected in March.
The potentially fastest routers at CES support up to four streams 802.11ac (1733Mbps), but the only four stream solution currently available comes from Quantenna. Considering most of Amped's other products use Realtek chipsets, they may not bother with a four stream 11ac router, so the AC1900 line is likely to be the highest performance router and range extender from Amped for the time being.