AMD's Q1'15 earnings announcement just came out a bit ago, and while we're still waiting for the analyst call to take place to get more details, there is one item we want to get to right away, and that's the fate of AMD's dense server business. As part of today's earnings release, AMD has announced that they're existing the dense server system business – operating under the SeaMicro brand – effective immediately.
AMD initially acquired SeaMicro back in 2012 for $334 million as part of their larger play into being an agile company, aiming to take a big chunk of what was expected to be a fast-growing market micro/dense server market. In the microserver model, servers are built using very large numbers of lower performance cores, making the servers leaner, more power efficient systems for tasks that involve large numbers of low-impact threads (think: web servers). This in turn mapped well to AMD's processor designs, where both the Bulldozer and Cat families would be well suited for such a design, not to mention AMD's future ARM based CPUs.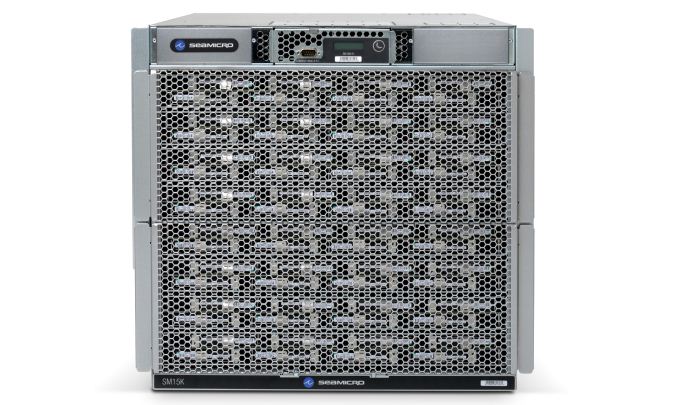 SeaMicro's first product post-acquisition was the SM15000, a dense server design announced in late 2012 that offered either AMD "Piledriver" Opterons or Intel "Ivy Bridge" Xeon CPUs. However as it turns out that first design was also the last design; SeaMicro did not release any additional products prior to today's announcement from AMD.
Jumping back to today, AMD's announcement comes as the company is continuing to try to find a solid foothold as a semi-custom silicon company, to which it would appear that the SeaMicro business no longer fits into. AMD's initial announcement does offer a bit of insight as to why they're exiting the business – to "sharpen and simplify" what the company invests in – and we'll likely hear more on today's call.
Meanwhile it's worth noting that we haven't heard anything from SeaMicro in some time now, so today's announcement is perhaps not all that surprising. Still, AMD's first ARM processors were set to ship this year – the Opteron A1100 – which would have been a good fit for the SeaMicro servers. However A1100 itself appears to be behind schedule at this time, as AMD has yet to bring A1100 to market beyond last year's development kit.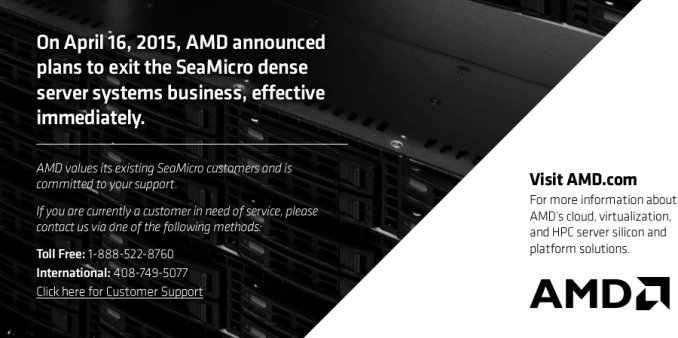 Anyhow, as part of exiting the dense server business, AMD will be taking a $75 million dollar special charge, which is "primarily related to impairment of previously acquired intangible assets" and will include a $7 million cash payment. Meanwhile AMD's announcement doesn't say what will become of the SeaMicro team – at this point we're not entirely sure how large it is after AMD's most recent restructuring – though I wouldn't be surprised if they at least rolled some of that expertise into future ARM server CPUs. As for the SeaMicro brand itself, with AMD's exit the brand has been shuttered, and AMD has deactivated the SeaMicro website.
Update: Here are the prepared remarks from AMD's CFO regarding SeaMicro
At the corporate level, we continue aligning larger portions of our R&D investments to take advantage of long-term growth opportunities across our EESC segment. As we prioritize our R&D investments and simplify our business, we made the decision in the first quarter to exit the dense server systems business as we increase investments in our server processor development. We retain the fabric technology as a part of our overall IP portfolio. We see very strong opportunities for next-generation, high-performance x86 and ARM processors for the enterprise, datacenter, and infrastructure markets and we will continue to invest strongly in these areas.