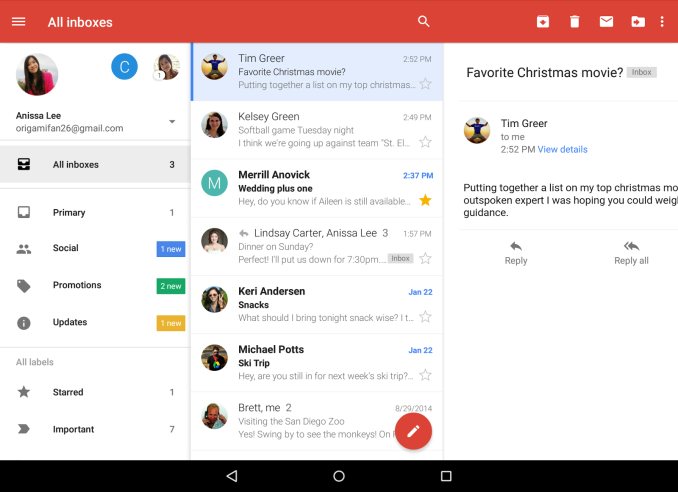 Today Google's Gmail team is shipping an update to Gmail for Android, which has now become the standard mail application for Android Lollipop users. The update brings a great feature that a few other mail applications have offered for some time, which is the ability to display emails from multiple accounts in a single unified inbox. Google has simply named this feature "All Inboxes", and it's accessible via the sliding drawer on the left side of the application on smartphones, and the left pane on tablets. As someone who has to use multiple email accounts on a daily basis, this is a feature that I've hoped Gmail would adopt for quite some time, and it's great to finally have it rolling out.
In addition to the new unified inbox, Google is also enabling support for displaying threaded conversations on non-Gmail accounts. This means that users who have long email threads on their email accounts from other providers will be able to view them in a single thread, which was previously limited to Gmail accounts. The omission of this feature just seemed like an oversight when third party account support was integrated into Gmail, and it's good to see Google ensuring parity between the features for Gmail accounts and other providers now that the application acts as the standard Android mail app.
In addition to the two major features above, this update to Gmail also brings a few smaller features like better auto-complete when searching, larger attachment previews, 1-tap saving to Google Drive, and improved animation responsiveness. The update is currently rolling out now, although it may take some time for devices to receive it as Google always performs staged releases for application and system updates.
Source: Google Gmail Blog