Power and Storage Performance
The Intel Core i7-1165G7 inside the Huawei MateBook X Pro 2021 is a quad-core 11th Generation Tiger Lake processor, and is part of Intel's top Core i7 family for notebooks. It is technically the lowest member of that family, being around 100-200 MHz lower on the CPU and 100 MHz lower on the GPU. Those integrated graphics though are technically Intel's best, offering 96 Execution Units of the latest Xe-LP generation. The CPU is paired with 16 GB of LPDDR4X-4266, which is the best memory for any mobile processor in this generation.
The main competition for a processor like this is anything under AMD's Ryzen 7 lineup, either the R7 4700U (a Zen 2 processor) or the R7 5800U (a Zen 3 processor). However, as is often the case with laptops, it comes down to what exactly the processor is tuned for. Intel lists the TDP range for its 11th Generation Tiger Lake U-series processors as anywhere from a 15 W TDP up to a 50 W all-core turbo.
In our power testing, we took a number of tests during our regular benchmark suite, using the operating system default power modes while plugged in, and here are some insights.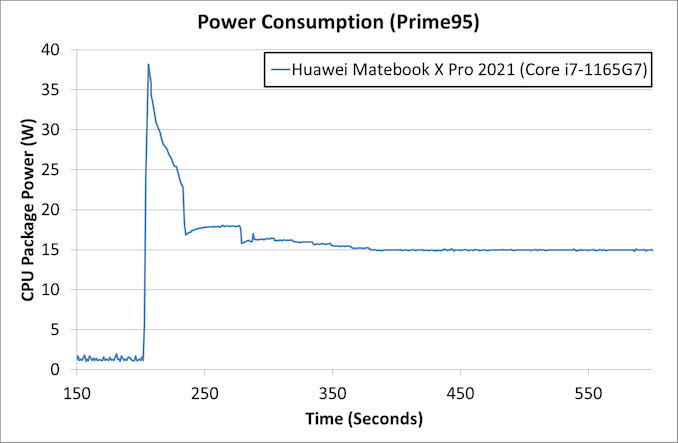 If we just look at a high performance environment, we get a 38 W peak power consumption for the processor, which over the course of 20 seconds decreases to around 18 W, then over the course of 40 seconds moves down to a steady state of 15 W. This is Intel's Adaptix technology in action, where the peak power of the CPU is adjusted on the fly through a weighted moving average. We saw 4.7 GHz as a peak single core frequency, and then at sustained 15 W load, the processor was running at 1900-2000 MHz.
By contrast, our 3DPM test is also a good computational load, however it does 10 seconds of high performance followed by 10 seconds of idle.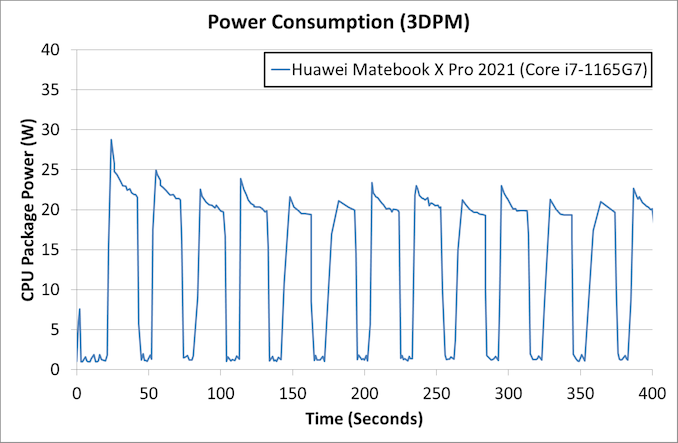 In this test we only see a peak at 29 W, with the CPU moving to a more steady state power consumption over the 10 seconds of each test. It never gets there before the idle time comes in, which restores some of the power budget, ready to turbo up a big higher for the next cycle. This is also an all-core test, and we saw all-core frequencies around 2400-2500 MHz for this.
The software we use unfortunately was not able to record a temperature reading (our results files say 28ºC for everything), but during regular use on a lap, the unibody metallic chassis did get warm to the touch, but not uncomfortably so. For anyone doing extended video editing on this, it is probably worth putting it on the table, and not trapped inside the duvet.
Storage Performance
Inside the Huawei MateBook X Pro 2021 is a mainstream high-end PCIe 3.0 x4 NVMe drive: the 1 TB Samsung PM981a, which we reviewed back in 2017, and at the time it set the bar for how TLC-based drives should behave for well-rounded performance.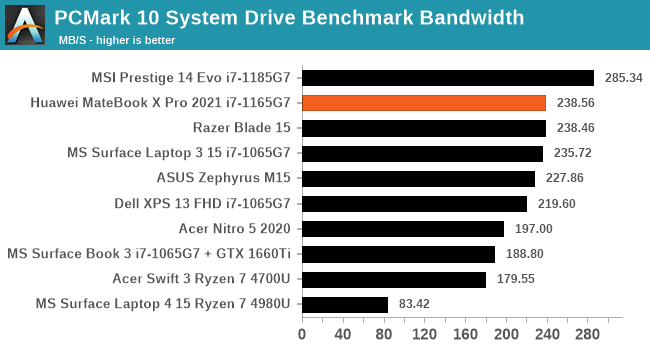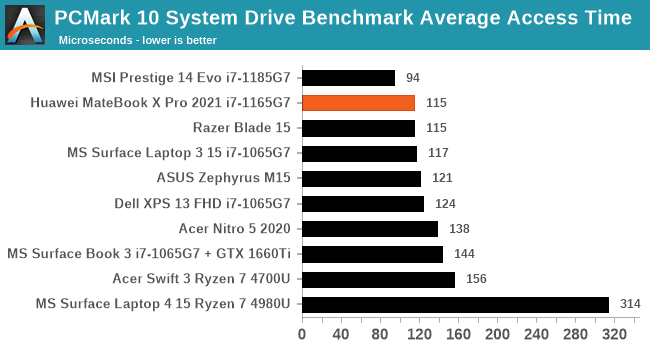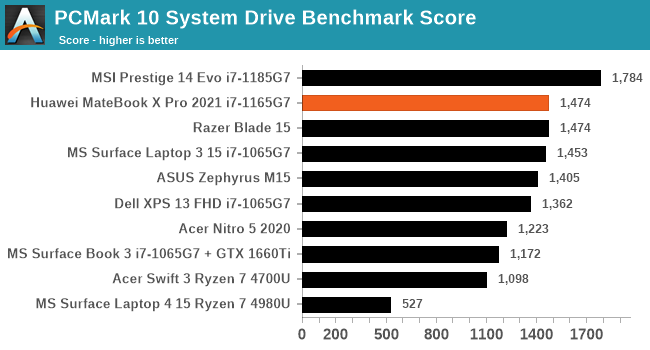 Compared to a good number of similar devices we have tested recently, the Huawei MateBook X Pro comes out near the top on storage performance. It loses losing mostly to the MSI Presige 14 Evo, but that has a slightly faster processor and a PCIe 4.0 NVMe drive, but also because that device was one of Intel's flagship design wins for this generation.