Bay Trail
This week Colorful has introduced a uniquely designed motherboard, created specifically for the professional miner. One of the first things most will notice is this doesn't look like most motherboards we see on the market. Instead of conforming to any particular form factor, the C.J1900A-BTC Plus V20 breaks that mold and gives us a markedly rectangular shaped board with a total of nine full-length PCIe slots. Eight of the slots can be used for installing mining graphics card of choice while the blue slot in the middle is where the Celeron J1900 SoC resides on its own PCIe card. The SoC itself has a DDR3 SO-DIMM slot, a mSATA slot, and regular SATA for storage; it also contains the board's connectivity like networking, USB...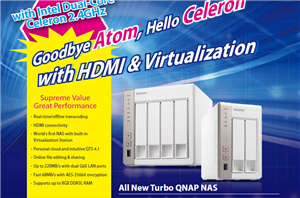 At Computex 2014, we visited QNAP and came away with a lot of information (some of which had already been demonstrated at CES). After Computex, QNAP got in touch...
51
by Ganesh T S on 6/22/2014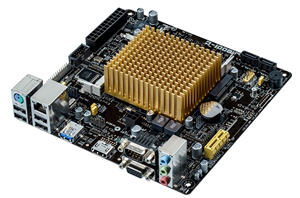 We previously reported on Bay Trail-D motherboards coming from ECS, GIGABYTE and Biostar, but today it is ASUS' turn to add in a SKU to the mix. The...
28
by Ian Cutress on 3/4/2014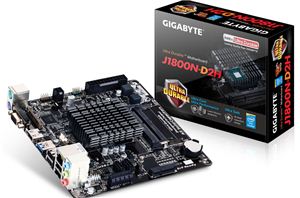 News on the grapevine is filtering down for Bay Trail-D. We have had the 20W Avoton server equivalent processor in our offices for a little while now, but...
55
by Ian Cutress on 2/4/2014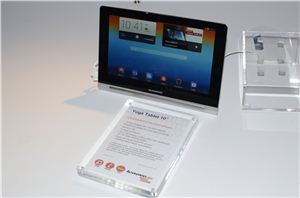 Moving along in our Lenovo coverage, there were a couple of smartphones as well as quite a few tablets on display. The Yoga Tablet 8 and 10 promise up...
11
by Jarred Walton on 1/10/2014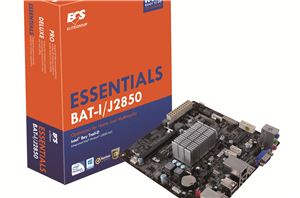 With Intel's Bay Trail platform and Silvermont Atom cores in the news for tablets, we have spotted their use in mini-ITX platforms as far pack as Computex 2013 where...
41
by Ian Cutress on 10/23/2013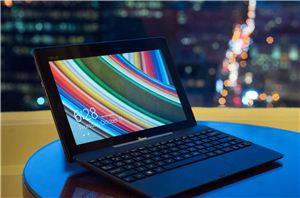 I started out our Chromebook 11 review with a reminder that we are in the midst of a netbook renaissance. Armed with better hardware, a better sense of materials/industrial...
158
by Anand Lal Shimpi on 10/18/2013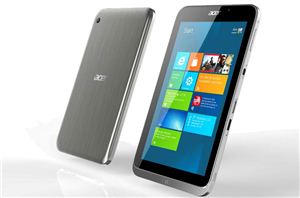 With Windows 8.1 now officially available to the public, we're going to see a new onslaught of devices for the OS. Acer's Iconia W4 is one of the first...
20
by Jarred Walton on 10/17/2013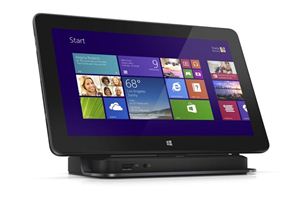 Yesterday Dell announced their latest mobile products, with major updates to their tablet and laptop offerings. Starting with the Venue tablets, Dell has three new models available on October...
51
by Jarred Walton on 10/3/2013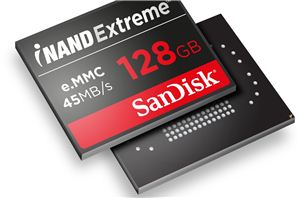 We've started looking more closely at the embedded storage used in smartphones and tablets, and have mostly come away disappointed. Thankfully there appears to be some progress being made...
13
by Anand Lal Shimpi on 9/19/2013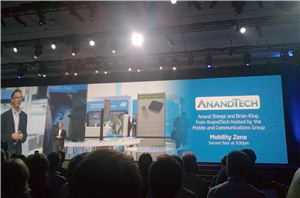 Sorry for the late posting on this, I was trying to get a high res copy of the video to push live first but it looks like that's coming...
24
by Anand Lal Shimpi & Brian Klug on 9/11/2013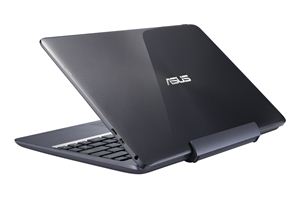 Earlier today, ASUS CEO Jerry Shen teased their first Bay Trail tablet: the T100. Today at ASUS' IDF press conference we got some more details on the tablet. The...
102
by Anand Lal Shimpi on 9/11/2013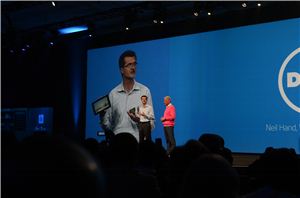 Next up is Dell's 8-inch Venue Bay Trail tablet. We don't have any specs other than screen size, but that makes two Bay Trail design wins announced at IDF...
20
by Anand Lal Shimpi on 9/11/2013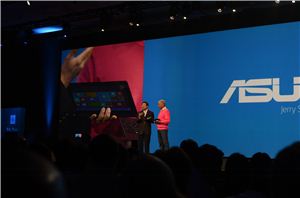 ASUS CEO Jerry Shen just pre-announced the ASUS T100, a Bay Trail 2-in-1 tablet (dockable) with up to 11 hours of battery life. Think Transformer goes Intel. I believe...
11
by Anand Lal Shimpi on 9/11/2013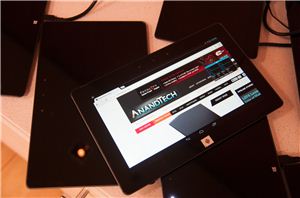 Earlier this year Intel unveiled Silvermont, its first true architectural update to Atom since its introduction in 2008. I won't rehash Silvermont's architecture here, but it's designed to be...
190
by Anand Lal Shimpi & Brian Klug on 9/11/2013