HP Moonshot
We discussed the HP Moonshot back in April 2013. The Moonshot is HP's answer to SeaMicro's SM15000: a large 4.3U chassis with no less than 45 cartridges that share three different fabrics: network, storage, and clustering. Each cartridge can contain one to four micro servers or "nodes". Just like a blade server, cooling (five fans), power (four PSUs), and uplinks are shared.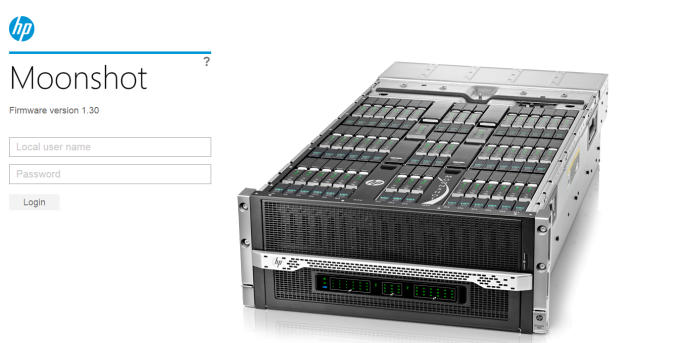 Back in April 2013, the only available cartridge was based on the anemic Atom S1260, a real shame for such an excellent chassis. Since Q4 2014, HP now offers six different cartridges ranging from the Opteron X2150 (m700) to the rather powerful Xeon E3-1284Lv3 (m710). The different models are all tailored to specific workloads. The m700 is meant to be used in a Citrix virtual desktop environment while the m710 is targeted at video transcoding. We tested the m400 (X-Gene 2.4), m300 (Atom C2750), and m350 (four Atom C2730 nodes) cartridges.
The m400 is the first server we have seen that uses the 64-bit ARMv8 AppliedMicro X-Gene. HP positions the m400 as the heir of mobile computing, and touts its energy efficiency. Other differentiators are memory bandwidth and capacity. The X-Gene has a quad-channel memory controller and as a result is the only cartridge with eight DIMMs. We were very interested in understanding how X-Gene would compare to the Intel Xeons. HP positions the m400 as the micro server for web caching (memcached) and web applications (LAMP). The m400 also comes with beefy storage: you can order a 480GB SSD with a SATA or M.2 interface.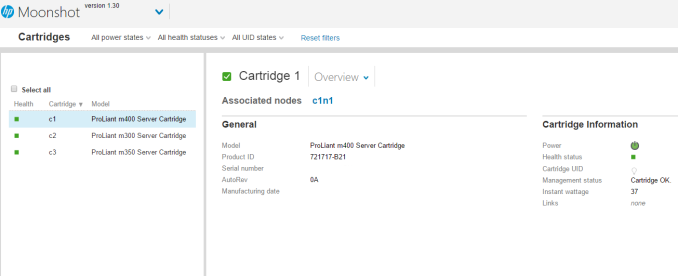 The m300 cartridge is based on the Atom C2750 with support for up to 32GB of RAM. HP positions this cartridge as "web infrastructure in a box". The m400 is mostly about web caching and the web front-end while the m300 seems destined to run the complete stack (front- and back-end). However, it is clear that there is some overlap between the m300 and m400 as there's nothing to stop you from running a complete "web infrastructure" on the m400 if it runs well in 32GB or less.
The m350 cartridge is all about density: you get four nodes in one cartridge. There is a trade-off however: you are limited to 16GB of RAM and can only use M.2 flash storage, limited to 64GB.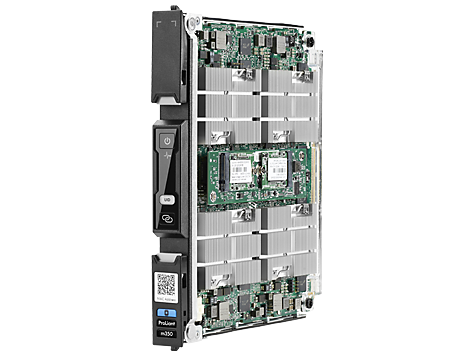 Each node of the m350 is powered by one of Intel's most interesting SKUs, the 1.7GHz 8-core Atom C2730 that has a very low 12W TDP. The m350 is positioned as a way to offer managed hosting on physical (as opposed to virtualized) servers in a cost effective way.