Super Talent W1600UX2G7
Super Talent was all but invisible in the desktop memory market until Joe James moved from marketing at Corsair to Super Talent. Since that time Super Talent has been pushing for visibility in the enthusiast desktop memory market, and the brand is appearing at a number of online etailers. With the introduction of DDR3, Super Talent has been heavily sampling memory expert sites like the forums at xtremesystems.org. Of course this is an effort to strongly identify Super Talent as a player in the enthusiast memory market, and it is certainly having a positive impact among memory enthusiasts.
The Super Talent website has been gradually including more emphasis on enthusiast memory products, which were barely mentioned in the past due to the heavy emphasis on flash memory products. Despite being a relatively new name in the enthusiast memory market, you will find the company has been making memory products for about 20 years. The Super Talent design center is located in San Jose, California.
Today you will find an expanded line of flash memory products at Super Talent that range from flash cards for devices to Solid State Drives. The traditional memory offerings now include memory targeted at the desktop, laptop, and server markets, and a specialized line of high-performance overclocking memory. Manufacturing is in the US with 14 SMT assembly lines, which Super Talent claims is the largest and most modern memory manufacturing facility in North America. All memory products are 100% tested for compliance with specifications. Memory and flash products come with a lifetime warranty.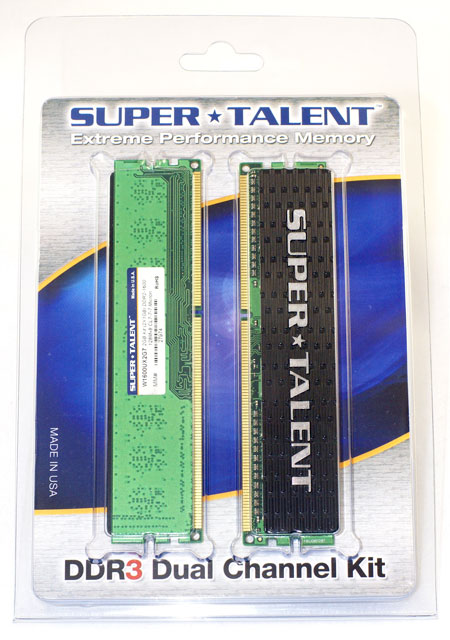 We complained in early Super Talent reviews about the somewhat amateurish packaging of Super Talent DIMMs. That has matured over time, and as you can see above, Super Talent uses the protective clamshell common in the memory industry and attractive high-gloss graphics that help communicate manufacturer identity.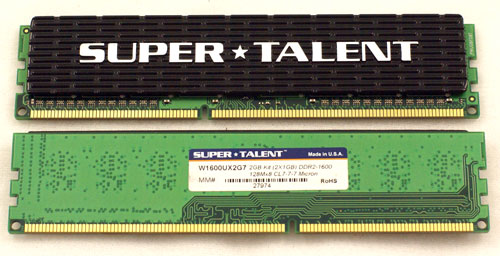 The DIMMs themselves are typical Super Talent. The only feature that makes them stand out in appearance is the increasingly familiar "basketweave" design identifying the memory as Super Talent. This 2 GB kit is made up of two 1GB DIMMs that are populated on just one side. Super Talent chose to use just one heatsink on the populated side which works very well for keeping the DIMM cool. With the current density of Micron Z9 memory chips it would be a relatively easy task to make a 4 GB memory kit. However, performance and timings would likely be somewhat below current specs in a 4 GB kit (not to mention what such kits would cost given current Z9 memory chip pricing).
Super Talent W1600UX2G7
Memory Specifications
Number of DIMMs & Banks
2 SS
DIMM Size
1GB
Total Memory
2 GB (2 x 1GB)
Rated Timings
7-7-7-18 at DDR3-1600
Rated Voltage
1.8V (Standard 1.5V)
DDR3 is lower voltage, higher speed, and slower timings than DDR2. The chart below summarizes some of the differences in the official JEDEC DDR2 and DDR3 specifications.
JEDEC Memory Specifications
 
DDR2
DDR3
Rated Speed
400-800 Mbps
800-1600 Mbps
Vdd/Vddq
1.8V +/- 0.1V
1.5V +/- 0.075V
Internal Banks
4
8
Termination
Limited
All DQ signals
Topology
Conventional T
Fly-by
Driver Control
OCD Calibration
Self Calibration with ZQ
Thermal Sensor
No
Yes (Optional)
JEDEC specs a starting point for enthusiast memory companies. However, since there was never a JEDEC standard for memory faster than DDR-400 then DDR memory running at faster speeds is really overclocked DDR-400. Similarly DDR2 memory faster than DDR2-800 is actually overclocked DDR2-800 since there is currently no official JEDEC spec for DDR2-1066. DDR speeds ran to DDR-400, DDR2 has official specs from 400 to 800, and DDR3 will extend this from 800 to 1600 based on the current JEDEC specification.
The Super Talent is the first DDR3 we have tested with a rated 1600 or higher speed. It also offers lower latency at 1600, 7-7-7 timings, than many of the speed ratings of the first DDR3 DIMMs at 1066. Super Talent DDR3 is available in three configurations:
2GB (2 x 1GB) DDR3-1600 7-7-7-18 kit Street Price $648
2GB (2 x 1GB) DDR3-1600 9-9-9-21 kit Street Price $598
2GB (2 x 1GB) DDR3-1333 8-8-8-18 kit Street Price $417
Street prices are approximate selling prices at launch, since final prices for Super Talent memory are set by the resellers.