Corsair's Prepping for the Memory Boom
Our first meeting of the show was actually not with a CE company at all, rather a PC memory company: Corsair. Our discussion with Corsair would prove to be something of a trend for this year's CES, as it centered around Windows Vista and its impact on the PC market in general.
Out of all of the manufacturers that will be affected by Vista and its hardware requirements, it is the memory manufacturers that stand to benefit the most. Vista needs more system memory, can benefit from Ready Boost enabled USB flash drives, supports Hybrid drives and Intel's on-motherboard flash technology (Robson). While CPU and GPU requirements are greater with Vista, given that you can get premium certification with Intel's integrated graphics, the requirements aren't all that high. What Vista will do, more than anything, is help sell more memory - whether it is in the form of DDR2 or flash devices.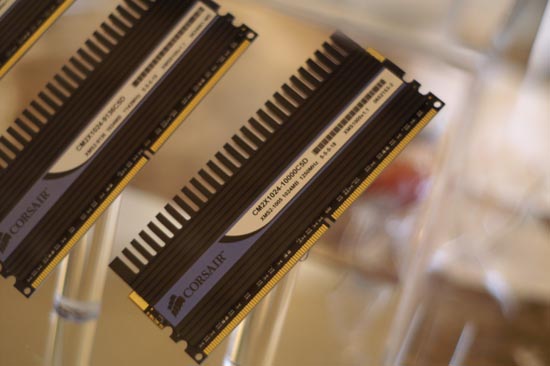 Corsair had its Dominator line of memory on display, including its recently announced PC10000 offering. But it wasn't DDR2 that was the most interesting at Corsair's suite, rather Corsair's Flash memory lineup.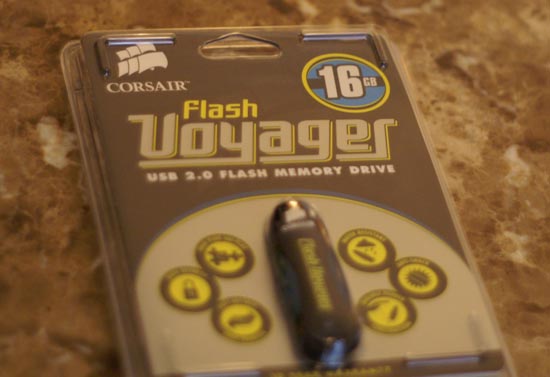 In the past year we have seen Flash drives get very big, very quickly. Corsair showed us its 16GB MLC based NAND flash, which we will be reviewing soon, as well as its faster 8GB SLC based USB drive. The difference in performance between SLC and MLC is forcing Corsair to brand its SLC drives differently, which you can see below: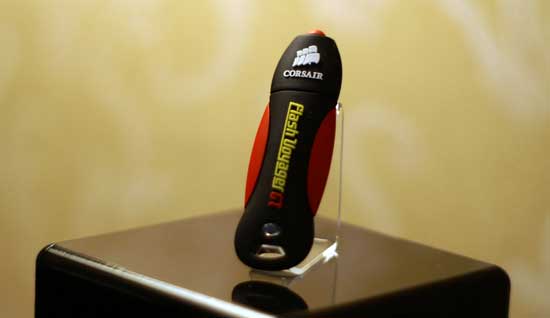 Flash Voyager GT drives will use SLC flash
In the future, all SLC flash based devices will have the "GT" suffix while MLC devices won't. The idea is that MLC devices are significantly slower than their SLC counterparts, which is the tradeoff you make when getting twice the storage capacity thanks to being able to store multiple bits per cell.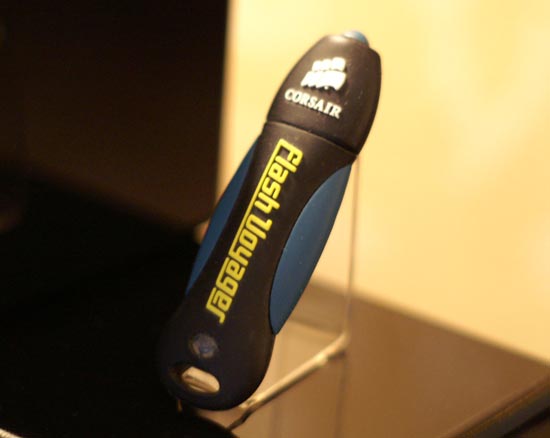 Regular Flash Voyager drives will be MLC only
While USB drives have become a clear commodity, Corsair is doing its best to differentiate in a very different manner than much of its competition. When Corsair introduced the Flash Voyager what set it apart was the fact that it was a bit more rugged than its competition. While everyone else is trying to make USB drives smaller, Corsair has been hard at work to make their drives more rugged. Enter the G-Force: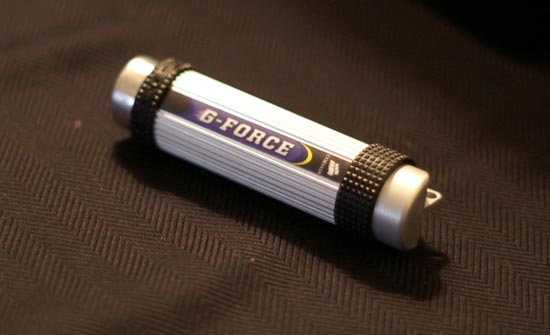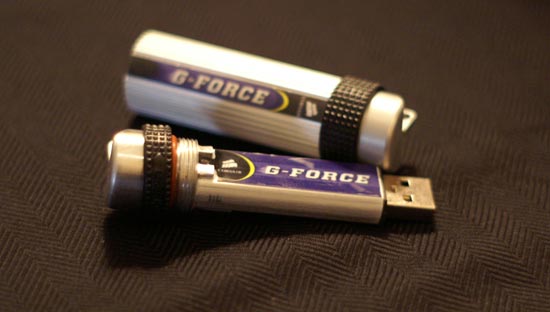 This waterproof drive takes rugged to a new level and feels like it would be at home sitting in a Hummer.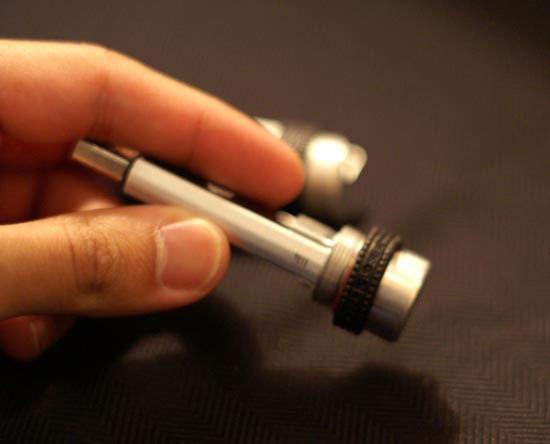 The G-Force is by no means small, but it actually feels right in your hands and if you're prone to dropping/breaking things it's not a bad option. At the show Corsair only had a prototype, but the final version will be available in a matter of weeks. Corsair is convinced that NVIDIA won't be upset by the naming of the product, as there's no "e" in its G-Force USB drive.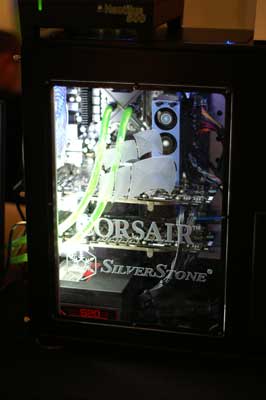 Speaking of NVIDIA, Corsair was also proudly showing off its 620W power supply running a pair of GeForce 8800 GTXs, bringing to light the fact that you don't need an 800W+ PSU to run NVIDIA's highest end configuration, you just need an efficient PSU.