Patriot PC3200+XBLK
PDP Systems (
www.pdpsys.com
) and the Patriot brand will be a new name for some readers. However, Patriot memory has been a line at Fry's/Outpost in the past and it is also available at New Egg and other web resellers. PDP Systems was founded in California's Silicon Valley in 1985. They have manufactured memory products for the past 14 years and they are also a member of Jedec, which is the memory industry standards organization. PDP currently markets a full line of DDR and DDR2 memory products, flash memory, and ATI video cards. On a global basis, PDP has two distribution centers in California, a Mid-West sales office, a Hong Kong sales/purchasing office and a Taiwanese purchasing affiliate.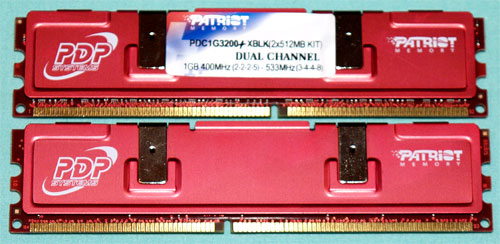 Patriot PC3200+XBLK is manufactured with Samsung TCCD memory chips on the preferred Brainpower PCB for this memory. You can identify the Brainpower PCB by looking at the back side of the memory. As you can see in the photo, there are just 8 small components in a row just above the gold connectors. Other boards for TCCD memory have many more components in this row.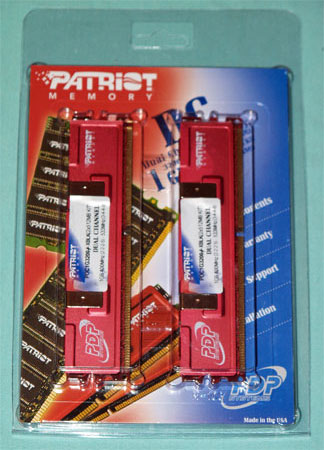 PDP equips the memory with flame-red aluminum heatspreaders, so they will certainly stand out in your system. We tested a pair of 512MB DIMMs (1GB) in dual-channel mode, but Patriot also has a 512MB kit (2x256MB) available.
Patriot PC3200+XBLK Specifications
Recognizing the extremely wide performance range of TCCD memory, PDP rates the memory at both DDR400 2-2-2-5 and DDR533 3-4-4-8. According to Patriot, the memory is tested in production at
both
specifications to ensure consistent performance.
 Patriot PC3200+XLBK (DDR400/533) Memory Specifications
Number of DIMMs & Banks
2 DS
DIMM Size
Total Memory
512 MB

Rated Timings
2-2-2-5 at DDR400
3-4-4-8 at DDR533
SPD (Auto) Timings
2-3-2-5
Rated Voltage
2.6V
The XBL designation apparently signifies "eXtended Bandwidth and Latency". In the case of Samsung TCCD on a Brainpower PCB, this is certainly an apt description.
With Intel's introduction last summer of the Intel 915/925X chipsets with support for DDR2 memory, the primary market for DDR memory has become the excellent AMD Athlon 64 platform. However, some 915 boards also support DDR, and the continuing Intel Socket 478 also supports DDR memory. For these reasons, Patriot PC3200+XBLK was only tested on the DFI LANParty nF4 SLI-DR Athlon 64 Socket 939 test bed. This is the test bed that we recently used in evaluating OCZ VX memory in
OCZ VX Revisited: DDR Updates on DFI nForce4
.