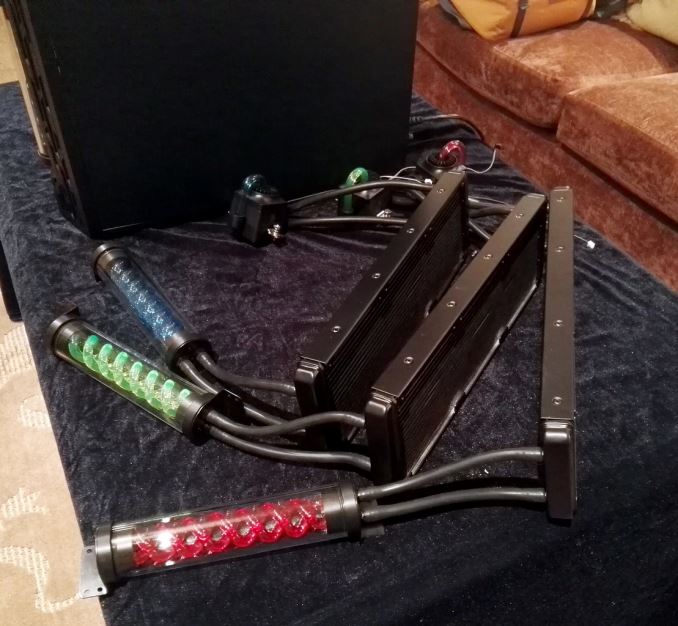 We've dealt with closed loop liquid coolers for computer processors for the best part of five years now, and there are users different sides of the fence regarding their utility, ease-of-use or performance. There are chassis being designed with these CLLCs in mind, such that users have enough space to cool multiple CPUs or GPUs with plenty of mounting points. Deepcool, via their brand Gamer Storm, had a case on display designed to fit their specific cooler which aims more towards the aesthetic of the boring black CLLCs we have had up to this point.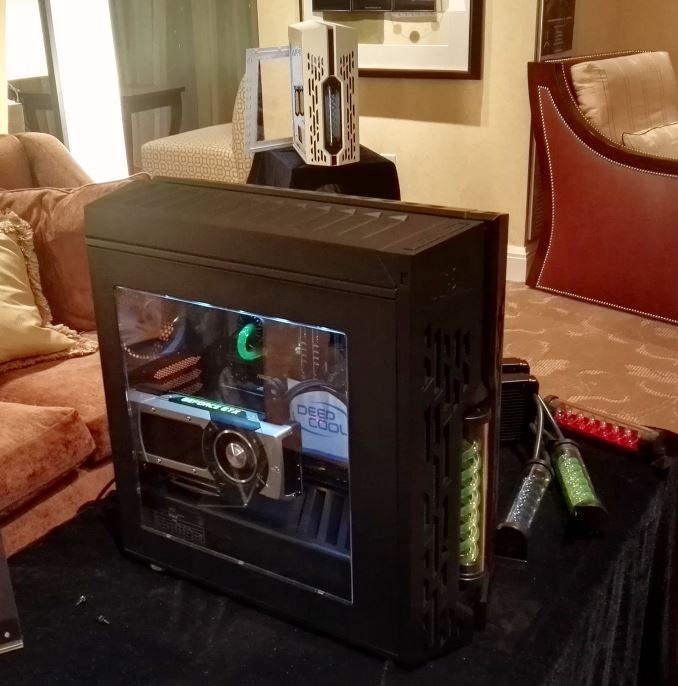 The cooler has an additional stage compared to other CLLCs, with a combination waterblock/pump, a triple 120mm radiator and then a helix shaped reservoir. The whole arrangement is designed to fit only in the Genome chassis, with the helix proudly on display on the outside, and the top of the chassis designed to accommodate the radiator.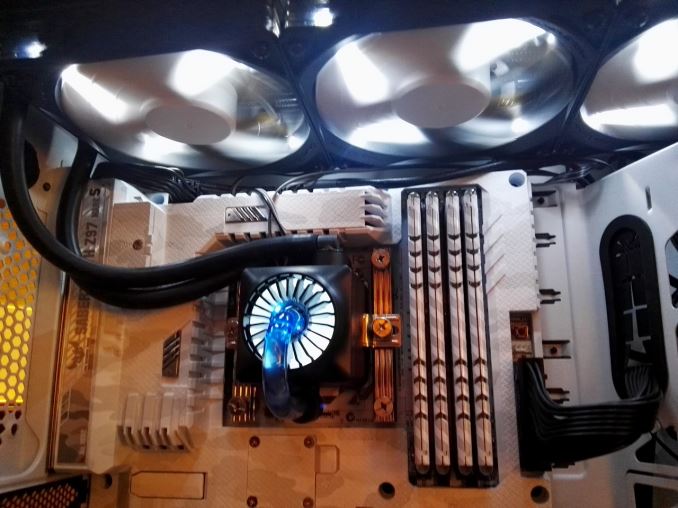 For example here we have the white Genome chassis with a limited edition ASUS Z97 Mark S motherboard (read our review here) and white Avexir DRAM specifically built for the motherboard. I pointed out to Deepcool that here the CPU block and pipes should be white as well, to which they produced a model with that in mind but it wasn't ready to be installed. The CPU block/pump has a design which splits them into semi-modular parts that allows Deepcool's design team to avoid patent issues and produce new models in the future which can be an upgrade of one or the other.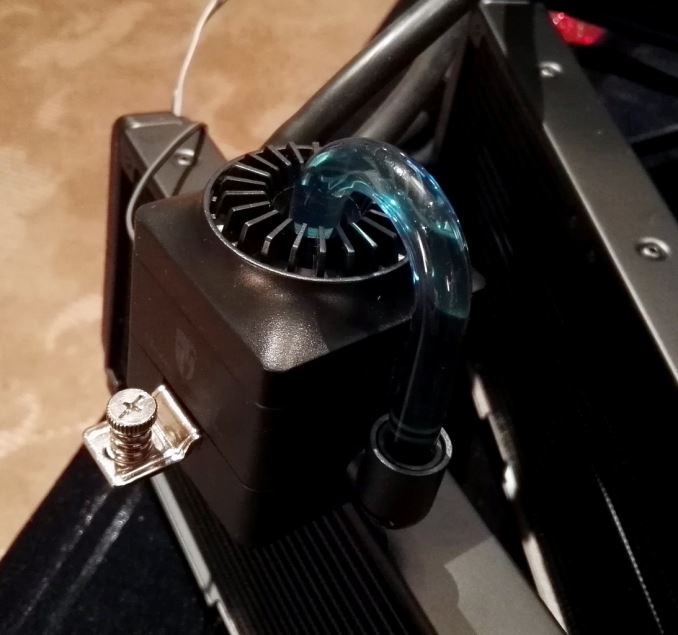 I was told by Deepcool that the block has a variety of mounting mechanisms for all the major sockets, but they are currently working on an updated version to make it easier.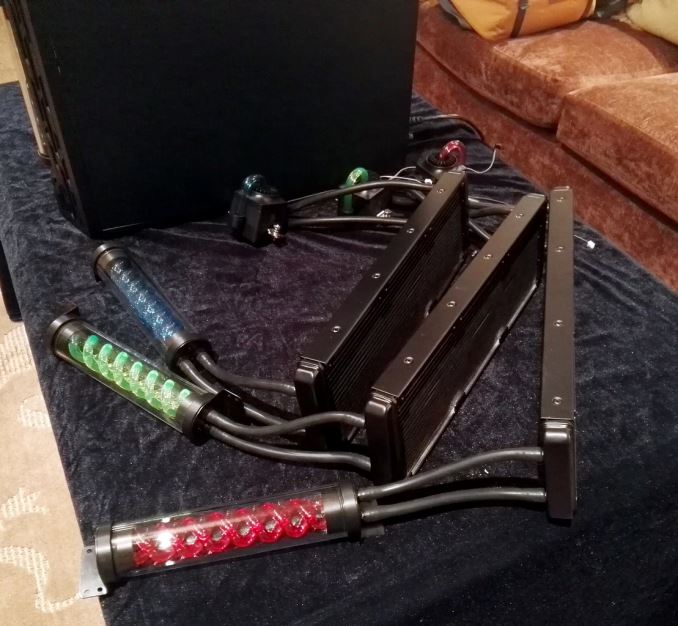 The chassis itself is an ATX case with a special area at the front of the case to give more room for cable routing but also for airflow. There is a bracket that can be removed for super long GPUs, and due to the design SSDs and HDDs are mounted at the bottom with the power supply.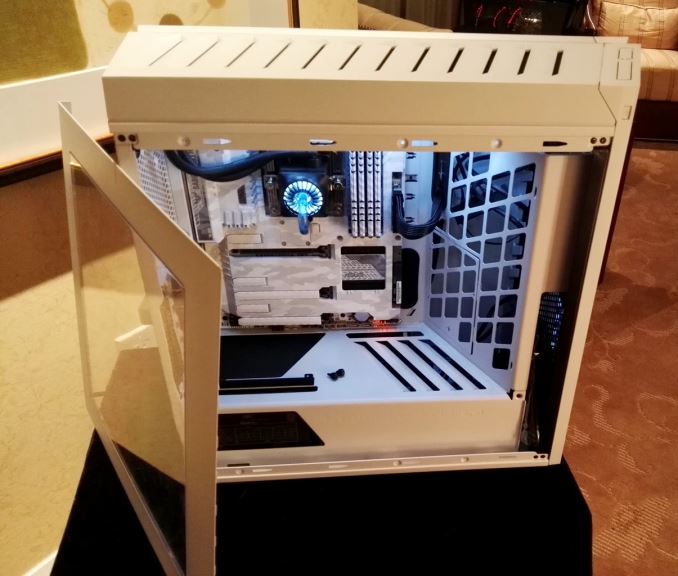 I tell you what, the design is simple and effective. I have seen this sort of helix reservoir before so Deepcool is not unique in this, but the cooler and chassis is designed to be sold as a set in various color combinations yet to be decided. The price at retail for both should be around the $250 mark, which really puts $150-$180 in the triple-radiator cooler (with fans) and $70-$100 in the case.