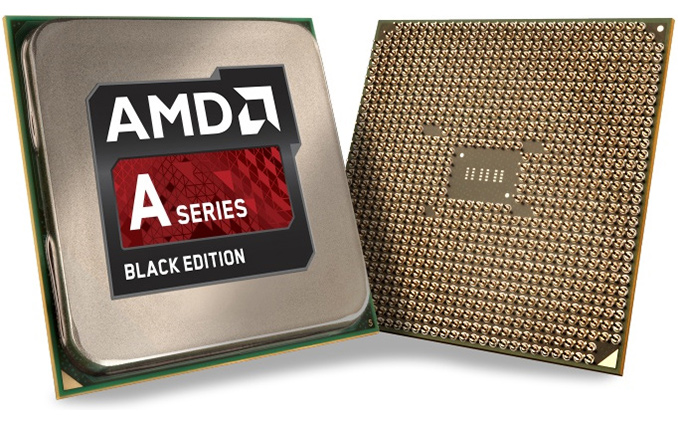 AMD plans to improve performance of its desktop computing platforms by launching a new accelerated processing unit as well as another generation of AM3+ and FM2+ motherboards with USB 3.1 and M.2 ports. The new APU — the AMD A10-7890K — will be the company's most powerful hybrid processor ever, when it is released later this quarter. The new APU and motherboards will help AMD to maintain its competitive positions.
Same Thing, Only Faster
The upcoming AMD A10-7890K accelerated processing unit is based on the Kaveri design introduced two years ago. The APU will integrate two Steamroller modules (four x86 cores), 4 MB L2 cache, the AMD Radeon R7 integrated GPU with 512 stream processors and GCN 1.1 architecture, a dual-channel DDR3 memory controller (which supports up to DDR3-2133 memory) as well as second-generation video coding engine (VCE) and fourth-generation unified video decoder (UVC) units for video playback. Just like all modern hybrid processors from AMD, the new APU is compatible with heterogeneous system architecture specification 1.0 and can use its graphics core for general-purpose processing (in appropriate applications). The chip will feature unlocked multiplier.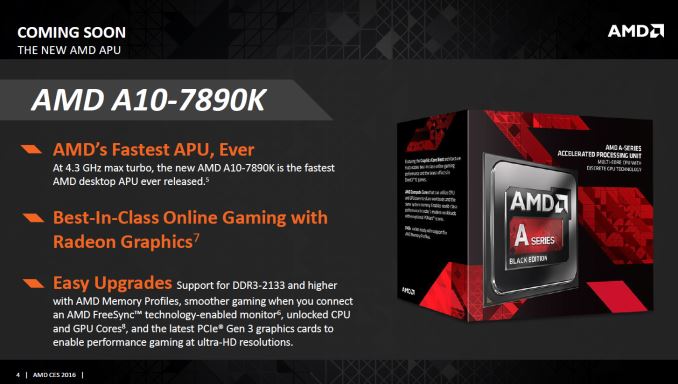 The main difference of the new microprocessor compared to its predecessors will be slightly higher clock-rates and slightly better performance. AMD does not disclose exact specifications of the A10-7890K, but claims that its maximum turbo frequency will be 4.3 GHz, which means that its default clock-rate will likely hit 4 GHz or higher (AMD did not confirm this). It is unclear whether AMD plans to bundle its new Wraith cooler with the A10-7890K, but if the new chip gets the latest cooling solution, then it will get somewhat more competitive.
AMD's latest APUs for desktops — also known as Godavari — feature upgraded power supply circuitry designed to deliver cleaner and higher amount of power to the die and are made using slightly refined GlobalFoundries' 28 nm super high performance (SHP) process technology. Improved binning process and increased voltages (compared to the original Kaveri) enable AMD to increase clock-rates of its APUs gradually. This helps the company to sustain average selling price (ASP) of its desktop chips while staying competitive against Intel's Core i3 and Pentium offerings.
AMD Kaveri Lineup
A10-
7890K
A10-
7870K
A10-
7850K
A10-
7800
A10-
7700K
A8-
7670K
A8-
7650K
A8-
7600
X4
860K
Modules
2
2
2
2
2
2
2
2
2
Threads
4
4
4
4
4
4
4
4
4
Core Freq. (GHz)
up to 4.3
3.9-4.1
3.7-4.0
3.5-3.9
3.4-3.8
3.6-3.9
3.3-3.8
3.1-3.8
3.7-4.0
Compute Units
4+8
4+8
4+8
4+8
4+6
4+6
4+6
4+6
4+0
Streaming
Processors
512
512
512
512
384
384
384
384
N/A
IGP Freq. (MHz)
unknown
866
720
720
720
754
720
720
N/A
TDP
95W
95W
95W
65W
95W
95W
95W
65W
95W
DRAM
Frequency
2133
2133
2133
2133
2133
2133
2133
2133
1866
L2 Cache
2x2MB
2x2MB
2x2MB
2x2MB
2x2MB
2x2MB
2x2MB
2x2MB
2x2MB

The release of the AMD A10-7890K accelerated processing unit may not be a breakthrough in terms of additional performance. However, it shows two important things. Firstly, AMD can increase clock-rates of its existing chips (which potentially means that overclockers can boost them further). Secondly, AMD is confident that its upcoming code-named Bristol Ridge APUs will be powerful enough to leave current-gen hybrid processors behind in terms of performance.
New Motherboards Incoming
AMD also revealed at CES that its partners are working on a new generation of socket AM3+ and socket FM2+ motherboards. The new breed of mainboards from various manufacturers will feature USB 3.1 gen 2 controllers (ASMedia ASM1142) that will enable USB type-A and USB type-C ports. Besides, select motherboards will also have M.2 connectors for solid-state drives.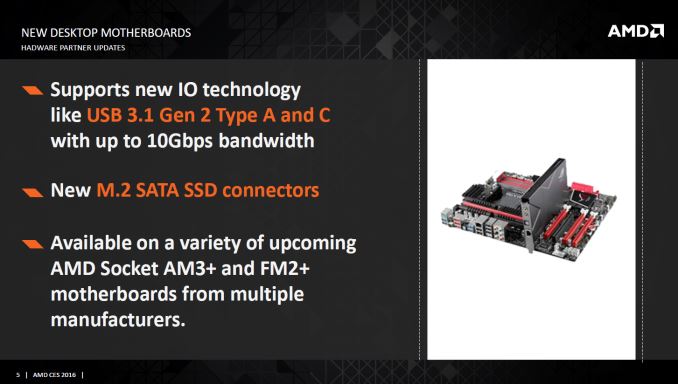 The implementation of the USB 3.1 is relatively easy: the ASMedia ASM1142 controller requires two PCI Express 2.0 lanes (something that all modern AMD platforms have), everything that motherboard makers need to do is to install one chip and supporting logic. Meanwhile, a properly implemented M.2 connector for contemporary solid-state drives needs four PCI Express 3.0 lanes in order to provide up to 3940 MB/s of bandwidth. The AMD FX (AM3+) platforms do not support PCIe 3.0 natively at all, hence, AMD's partners will have to either implement an M.2 connector using four PCIe 2.0 ports (which would limit bandwidth to 2000 MB/s), or use a PCIe switch to "convert" eight PCIe 2.0 lanes into four PCIe 3.0 lanes. The AMD A-series (FM2+) processors support PCIe 3.0 x16 and hence can support an M.2 port with PCIe 3.0 x4 bandwidth, but in that case graphics cards will have to work in PCIe 3.0 x8 mode. In general, it is possible to add USB 3.1 and M.2 to current-generation AM3+ and FM2+ platforms, but that comes at a cost.
Waiting for Next-Generation
Without any doubts, higher clock-rates and better feature-set will make AMD-based platforms faster and more compelling. Unfortunately, a minor increase in frequency as well as addition of the USB 3.1 and the M.2 to several new motherboards will hardly dramatically increase popularity of AMD's A-series or FX-series microprocessors. Nonetheless, proper pricing and up-to-date features will help AMD to maintain its positions.
What the market is waiting for is the next-generation AMD platform that is based on the company's microprocessors code-named Summit Ridge. The CPU developer hopes that its Zen micro-architecture will deliver 40% higher IPC (instructions per clock) performance compared to the predecessor, whereas new 14nm/16nm FinFET process technologies will help to lower power consumption and/or increase clock-rates.