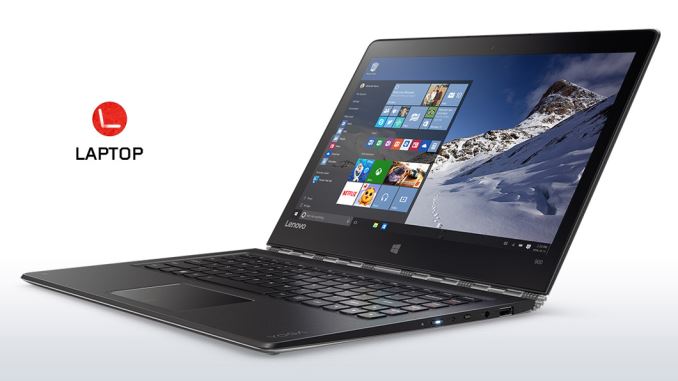 Lenovo's Yoga line has been consistently at the forefront of attempting to define exactly what a combination clamshell laptop 'that's also a sort of tablet' should be. Over the years we've reviewed several models, including the Yoga 2 Pro and the Yoga 3 Pro. The latter was the first Broadwell-Y device, taking a high frequency 4.5-watt Intel processor into a 13.3-inch QHD+ high-end device weighing only 2.6 lbs and with an interesting hinge that seemed to be a feat of mechanical engineering. The new Lenovo Yoga 900 released this week is in many ways the update to the Yoga 3 Pro but with full-fat 15W Skylake laptop processors and is advertised as the world's thinnest 'Core i' laptop with Skylake.
Lenovo Yoga 900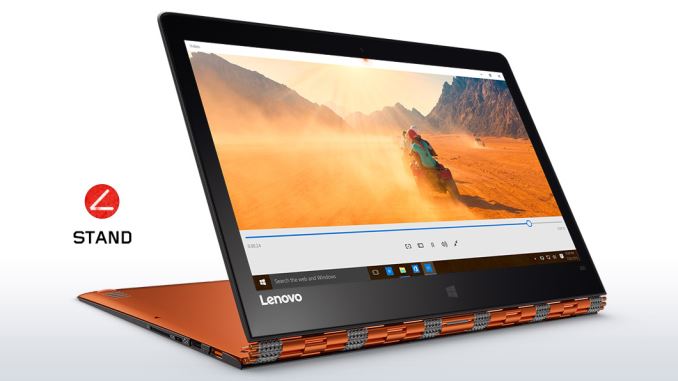 Lenovo Yoga Specifications
Yoga 2 Pro
Yoga 3 Pro
Yoga 900
Processor
Intel Core i3-4010U (15W)
Intel Core i5-4200U (15W)
Intel Core i7-4500U (15W)
Intel Core M-5Y71 (4.5W)
Intel Core i7-6500U (15W)
Memory
4-8GB DDR3L-1600
8GB DDR3L-1600
8-16GB DDR3L-1600
Graphics
Intel HD 4400
(20 EUs, Gen 7.5)
Intel HD 5300
(24 EUs, Gen 8)
Intel HD 520
(24 EUs, Gen 9)
Display
13.3" Glossy IPS
16:9 QHD+ (3200x1800)
13.3" Glossy IPS
16:9 QHD+ (3200x1800) LCD

13.3" Glossy IPS




​

16:9 QHD+ (3200x1800) LED

Hard Drive(s)
128GB/256GB/512GB SSD
(Samsung mSATA)
256GB/512GB SSD
(Samsung PM851)

256GB/512GB SSD (Samsung ?)

Networking
Intel Wireless-N 7260
(2x2:1 802.11n)
Broadcom 802.11ac
(2x2:2 802.11ac)
Intel Wireless AC-8260 (2x2:2 802.11ac)
Audio
Realtek HD
Stereo Speakers
Headset jack
JBL Stereo Speakers
1.5w x 2
Headset jack
JBL Stereo Speakers Dolby® DS 1.0
Headset jack
Battery
4 cell 55Wh
65W Max AC Adapter
4 cell 44Wh
40W Max AC Adapter
4 cell 66Wh
Buttons/Ports
Battery status indicator
Novo button
1 x USB 2.0


1 x USB 3.0


Headset Jack
Volume
Screen Rotation Lock
AC Power Connection
1 x Micro-HDMI
SD Card Reader

Power Button


Novo Button


2 x USB 3.0


Headset Jack


Volume Control
Auto Rotate Control
DC In with USB 2.0 Port
1 x Micro-HDMI
SD Card Reader
Power Button
2 x USB 3.0-A
1 x USB 3.0-C
Headset Jack
SD Card Reader
DC In with USB 3.0-A Port


Back Side
Exhaust vent
Watchband Hinge with 360° Rotation
Air Vents Integral to Hinge
Dimensions
12.99" x 8.66" x 0.61"
330 x 220 x 15.5 mm
13" x 9" x 0.5"
330.2 x 228.6 x 12.8 mm
12.75" x 8.86" x 0.59"
324 x 225 x 14.9 mm
Weight
3.06 lbs (1.39 kg)
2.6 lbs (1.18kg)
2.8 lbs (1.3 kg)
Extras
720p HD Webcam
Backlit Keyboard
Colors
Silver Grey
Clementine Orange
Light Silver
Clementine Orange
Golden
Platinum Silver
Clementine Orange
Champagne Gold
Pricing
$879 (256GB)
$1049 (512GB)
$1148 (256GB)
$1379 (512GB)
$1200 (8GB/256GB)
$1300 (8GB/512GB)
$1400 (16GB/512GB)
With Intel's 6th Generation, as most OEMs will be moving to, Lenovo is hoping to leverage new features such as Speed Shift and video decode to improve both performance and battery life. Over the previous generation of Yoga laptops, the Yoga 900 comes in a little heavier than the Yoga 3 Pro but allows up to 16GB of memory, comes immediately with Windows 10 Home and also sports a USB Type-C 3.0 with video out functionality. Currently all versions listed online come with the i7-6500U, one of the top Skylake Core i7 15W models with GT2 integrated graphics. Lenovo is listing the battery life as nine hours of local video playback, as well as sporting a 50% increase in battery density.
Prices start at $1200 for the 8GB/256GB version, rising to $1400 for 16GB/512GB models. There will be versions in Lenovo's Clementine Orange, but also Platinum Silver and Champagne Gold. From looking at the breakdown online, not all colors will be available in all specifications.
Lenovo Yoga Home 900
Cast your minds back to 2014. It was a fun time, with Haswell and Broadwell processors from Intel being talked about as bringing a revolution to the mobile computing market. I remember some of the product ideas becoming quite amusing at the time, especially when Intel was talking about making all-in-one devices (where the PC built into the monitor and you just add a keyboard/mouse) something that could be carried around. Clearly something that measures up to 32-inches in this context is going to be heavy and short on battery life, and was perhaps not something to be taken too seriously as a product idea. Fast forward to the end of 2015, and Lenovo is going to sell you one.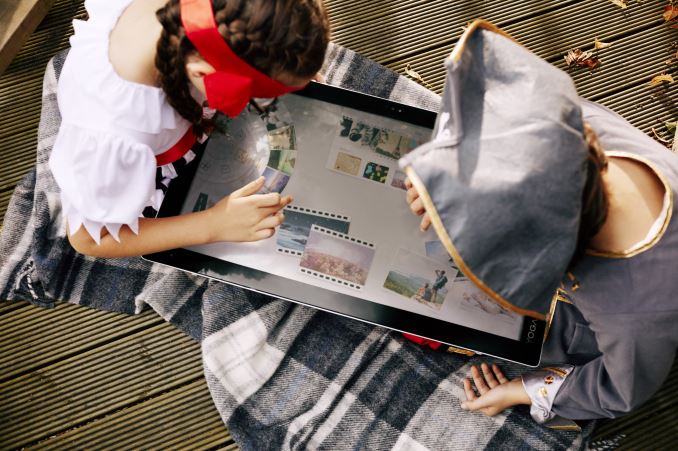 Information about the specifications is small right now, but we are told that at 27-inches, the device will come with a 5th generation processor, Windows 10 and offer up to three hours of battery life. The 5th generation processor part is interesting, suggesting a Broadwell part – if this is a 47W or 65W processor, it could be an eDRAM equipped processor in that instance. Nevertheless there will probably be a range available, as Lenovo is going to offer the Yoga Home 900 with optional NVIDIA GeForce 940A graphics as well. The software package from Lenovo will include the AURA 3.0 interface which allows for image manipulation and a selection of apps from the Windows Store developed with portable AIOs in mind.
Prices for the Lenovo Yoga Home 900 will start at $1549 and be available from the end of October.
Source: Lenovo