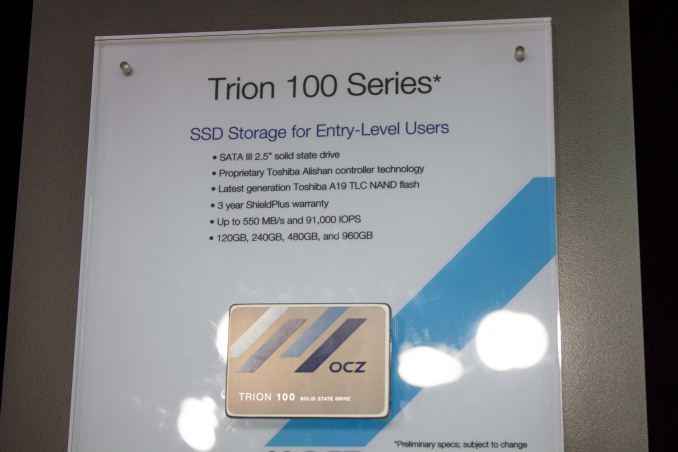 One of the things I've been expecting to see at this year's Computex is more TLC NAND based SSDs. So far only Samsung and SanDisk have been shipping TLC SSDs in high volume, but OCZ will shortly join the club with its Trion 100 SSD series that was showcased on the Computex showfloor. The Trion 100 is based on a totally in-house designed Toshiba "Alishan" controller, whereas some earlier Toshiba controllers have been modified/renamed third party silicons with the company's firmware. We discussed the cooperation between the two companies in more detail in our interview with OCZ's CEO, Ralph Schmitt, but to put it shortly the use of Toshiba IP in an OCZ product is part of the companies' strategy to consolidate product development to maximize resources as it wouldn't be efficient to have both companies working on platforms that ultimately have the same end goal.
The NAND in Trion 100 is Toshiba's A19nm (i.e. second generation 19nm) TLC, although OCZ is planning on switching to the latest 15nm node later this year once the supply is high enough. For error correction the drive uses Toshiba's own QSBC (Quadruple Swing-By Correction) technology, which from what I was told is basically in between traditional BCH and LDPC correction. I don't have too many details of the technology at this point, but I will try to gather more information to better know how the technology stacks up against the competition. Typical to TLC drives, the Trion 100 employs an SLC cache to increase peak performance in smaller capacities and also to boost endurance.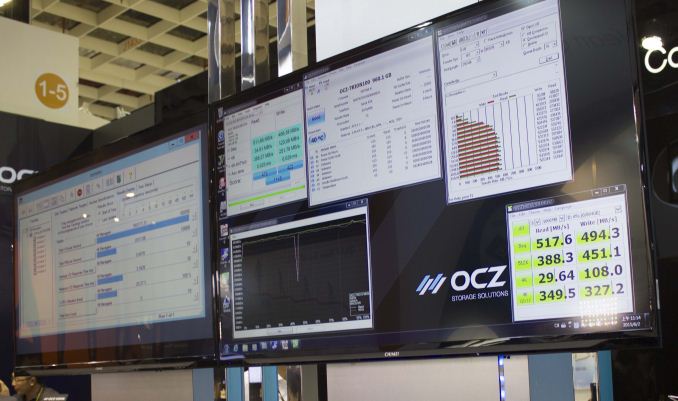 One of the biggest improvements in the Trion 100 is the support for DevSleep and other power saving modes. Because of the silicon design the Barefoot 3 isn't capable of offering low idle power consumption, which has been one of main criticisms for a while now. With the Trion 100 OCZ is finally looking to provide a solution that's also suitable for mobile applications where power draw and battery life are major concerns.
The Trion 100 is now in final validation and the official release will take place later in the summer. Hence performance, endurance and pricing are not final yet, but what I was told is that the performance will be read focused (as most light client workloads are read-centric), endurance goal is 20GB/day and price will be slightly below the ARC 100.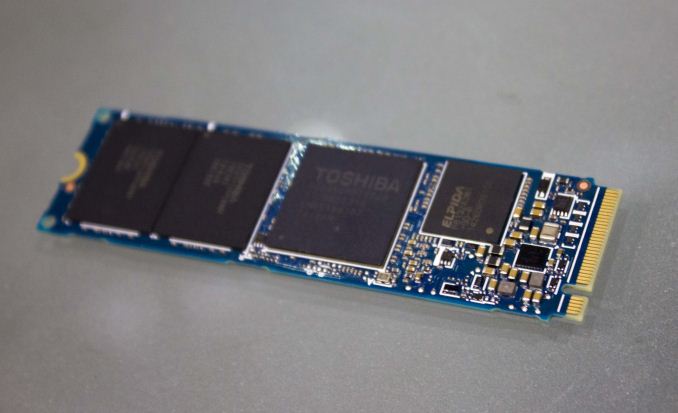 Aside from the Trion 100, OCZ also showed off a new unannounced M.2 NVMe drive that will be released later this year (I'm hearing September-October timeframe) as a new RevoDrive. Unlike the previous designs we have seen, this isn't based on OCZ's own JetExpress controller, but on Toshiba's PCIe 3.0 x4 NVMe controller. The reason OCZ is using Toshiba's controller is cost because the the JetExpress has been designed mainly with enterprise in mind, meaning that it cannot be implemented into a cost effective client drive.
Obviously OCZ also had it's new Z-Drive 6000 series on display along with the upcoming JetExpress based XD-JX series.