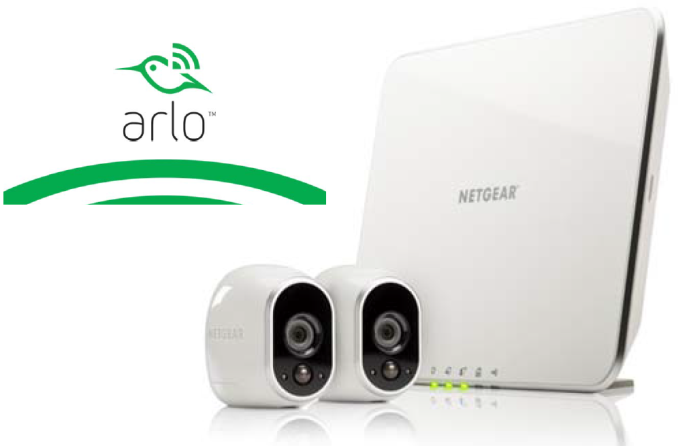 Home automation is emerging as one of the primary drivers in the rising popularity of the IoT (Internet of Things) concept. Popular home automation / smart home technologies include programmable thermostats (such as Nest and Honeywell Lyric) and remote controlled lights (such as the Philips Hue). IP cameras have been around as a security solution for quite some time, but they have not traditionally been included in the IoT discussions. As the smart home concept gains popularity, these three product categories are set to experience rapid growth.
Netgear is building upon their VueZone purchase by introducing the next generation wire-free cameras under the Arlo brand name. Simplicity and ease of use are primary drivers for the adoption of the VueZone family of cameras. Important updates (compared to the previous generation VueZone cameras) include high definition (720p) video clips and better configurability (such as schedules for turning off the camera completely).
Unlike the traditional IP cameras which stream video continuously, we are now seeing a sub-category where video is recorded and sent out only when there is movement. The Arlo IP cameras belong to this category. Since the units are battery powered, it does make sense to ensure that they don't run out of juice in a short time. The new design is also weather-proof, making it suitable for outdoor use. There are two models being introduced, one with IR LEDs for night vision, and the other suitable for day use or in illuminated locations.
As part of the smart home push, Netgear is introducing a hub to which up to four Arlo IP cameras can connect. Rules can be created for management of smart devices. Currently, the VueZone cameras (like Dropcam) allow for remote viewing, but recording to the cloud requires monthly plans. The new Arlo IP cameras will follow the same route. Fortunately, Netgear does realize that users would like to record to a local NAS. Since they also have the ReadyNAS product line, the Arlo team is definitely thinking about ensuring some sort of interoperability. However, cloud-free operation is not going to be a feature when the units ship to retail in January. Pricing for an Arlo-based security system (two IP cameras and a hub) is expected to be around $350. A standalone Arlo camera will retail for $170. However, it will not function without the hub.
In order to target the overall smart home ecosystem, Netgear is also announcing that they have joined the AllSeen Alliance and established a partnership with LIFX (a vendor of connected light bulbs).
Source: Netgear Arlo