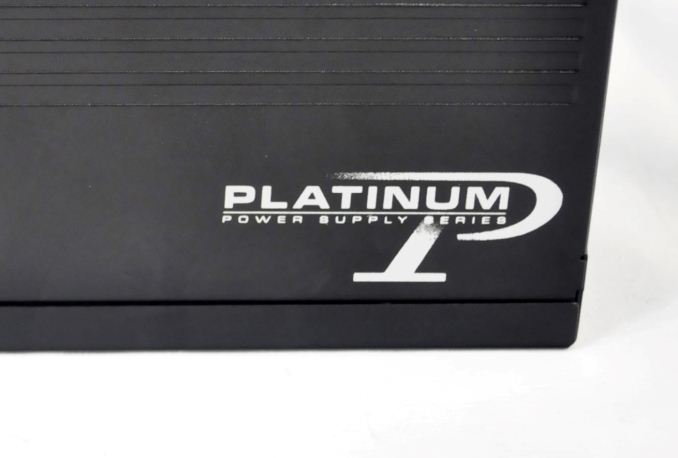 Introduction
The 80 Plus program was introduced a decade ago with the aim of promoting the development of more efficient and environmentally friendly computer PSUs. Since then, it has undoubtedly become one of the favorite subjects of PSU marketing teams. Not long ago, an 80 Plus Bronze certification was more than adequate for a mainstream product, with 80 Plus Gold certifications reserved for premium product ranges. Today, 80 Plus Gold certified units can be found retailing at very reasonable prices, slowly but surely making the 80 Plus Bronze certification fit only for low-range products.
There also are numerous 80 Plus Platinum certified products available and even a few 80 Plus Titanium certified units, such as the Corsair AX1500i, are making their appearance, albeit their ludicrous price tags. Meanwhile, the pricing of 80 Plus Platinum certified PSUs has become more reasonable, allowing the manufacturers to effectively implement the technology in their medium and high-end units. Today we have a couple more 80 Plus Platinum PSUs on our test bench.
Seasonic is a very well-known manufacturer of high quality PSUs, so they hardly need an introduction. Today, we are going to look at two of the new additions to their Platinum series, the Platinum SS-1050XP3 1050W and the Platinum SS-1200XP3 1200W. The name of the series is obviously linked with the 80 Plus Platinum efficiency certification of the units and it is their top-tier series, so these two new models also are the best consumer-grade PSUs that Seasonic currently offers. The 1050W and 1200W versions currently retail for $230 and $250 respectively, which are fairly reasonable prices considering their class and power output. How well can they perform though? We will find out in this review.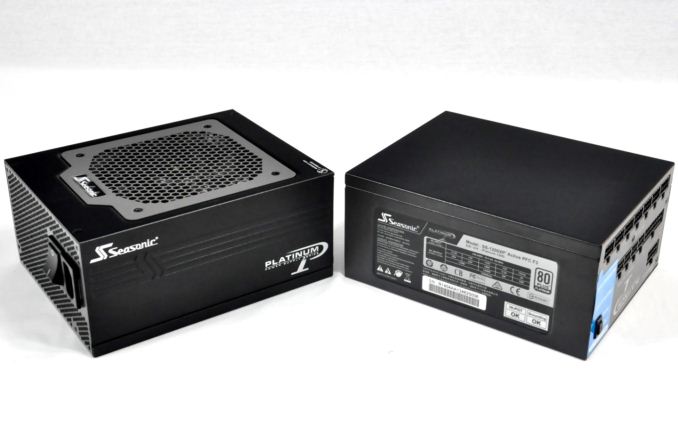 Platinum SS-1050XP3 - Power specifications ( Rated @ 50 °C )
AC INPUT
100 - 240 VAC, 50 - 60 Hz
RAIL
+3.3V
+5V
+12V
+5Vsb
-12V
MAX OUTPUT
25A
25A
87A
3A
0.5A
125W
1044W
15W
6W
TOTAL
1050W
Platinum SS-1200XP3 - Power specifications ( Rated @ 50 °C )
AC INPUT
100 - 240 VAC, 50 - 60 Hz
RAIL
+3.3V
+5V
+12V
+5Vsb
-12V
MAX OUTPUT
25A
25A
100A
3A
0.5A
125W
1200W
15W
6W
TOTAL
1200W
Packaging and bundle
We received both units in a long, very well designed cardboard box, with an elegant brushed metal color theme and reflective lettering. Inside the thick cardboard walls of the box, the unit is protected by Polyethylene foam pieces and is wrapped inside a synthetic cloth pouch, which can be repurposed. Information on the performance and the features of the unit can be found on the back of the box.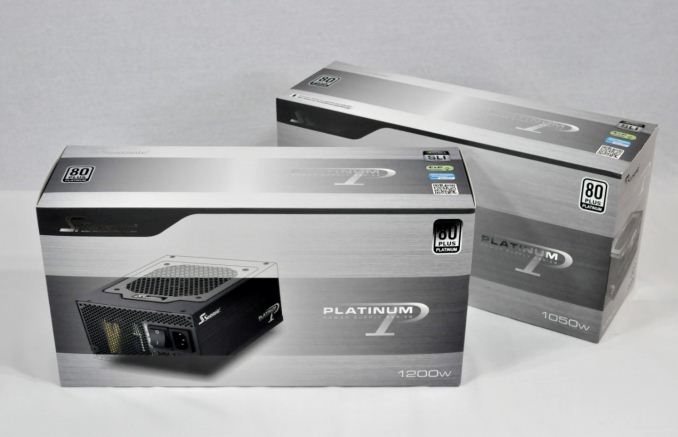 Both units share the same bundle, consisting of a well written manual, a case badge, four typical 3M mounting screws, a few cable ties, and six cable straps. We imagine that many enthusiasts would prefer black screws instead, but that is a minor misstep.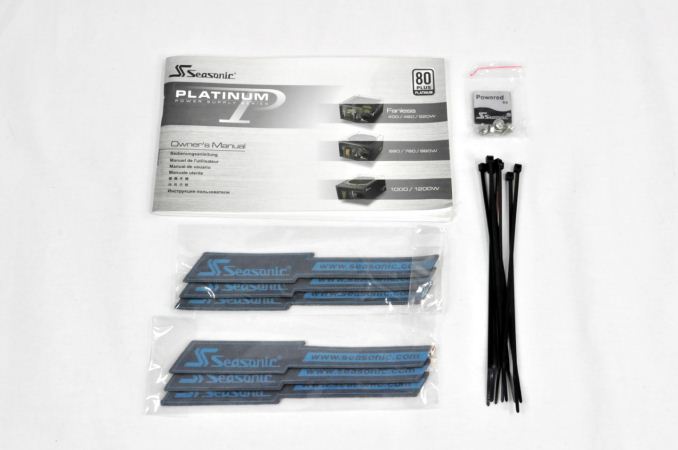 Both units share almost the same set of cables as well, with the exception that the 1200W version offers ten 6+2 pin PCI-E connectors instead of eight. The cables come supplied in a dual compartment nylon bag with the series logo printed on both sides. With the exception of the 24-pin ATX cable, all of the cables are flat, ribbon-like cables with no sleeving. The 24-pin ATX cables uses black wires as well, but they are individual wires and are covered with black sleeving.