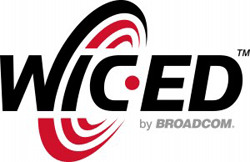 The Internt of Things (IoT) revolution is in the process of taking off in a big way with the rising popularity of wearables and home automation platforms. Different vendors have placed their bets on different radios / protocols for IoT. For example, Sigma Designs is heavily promoting Z-Wave, while Freescale and some other vendors are pushing 802.15.4 (ZigBee). Broadcom's play in the IoT market is the WICED (Wireless Internet Connectivity for Embedded Devices) platform. The strategy involves a combination of Bluetooth and Wi-Fi, with Bluetooth being the primary focus.
The WICED platform has been around for some time now. A couple of days back, Broadcom announced an update in this category by launching a new development kit, the WICED Sense. In addition to the BCM20737 Bluetooth SiP, the kit also integrates five different MEMS sensors (gyroscope, accelerometer, e-compass, barometer and humidity/temperature measurement).
The kit is already FCC certified. It has a micro-USB connector for simplified application development. Apps exist for both iOS and Android. iBeacon support is also touted. Best of all, this kit is available for around $20, enabling enthusiasts and developers to economically develop and prototype their IoT product concepts.
Along with the product announcement, Broadcom also let us in on a select list of IoT products with communication enabled by their silicon.
The above list includes some of the hottest IoT products in the market right now. Z-Wave and ZigBee have been around for a long time. But, it is Wi-Fi which is helping IoT products reach out to a larger market. Bluetooth support enables a different kind of IoT use-case where the device is better off communicating with a smartphone or similar mobile device directly. Broadcom seems well set to target this market with a comprehensive solution set for all kinds of IoT developers (from the enthusiast in his garage to companies delivering high-volume products).
Source: Broadcom