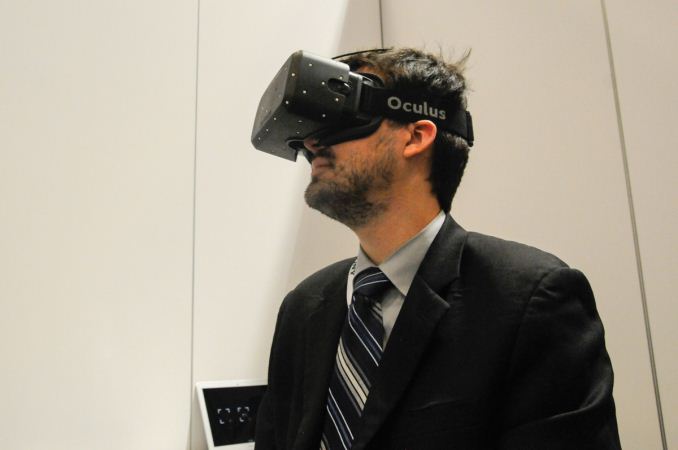 Back in September 2012, a $2.4 million Kickstarter campaign finished to help develop the next wave of immersive gaming in Oculus Rift. The premise behind Oculus Rift is a virtual reality headset that puts you deeper into the game than any other headset has ever done before. Since that Kickstarter campaign news about Oculus has penetrated all of technical media in terms of the development, the nature of the device and what sort of games are going to be able to use it. I remember a few images of Brian and Anand trying the Crystal Cove prototype at CES this year.
The news today comes as a shock (to me at least) – Facebook has announced today that it has reached a definitive agreement to acquire Oculus VR Inc at a $2 billion dollar value. This includes $400 million in cash and 23.1 million shares of Facebook stock (~$1.6 billion on last 20 day average).
Oculus will keep their headquarters in Irvine, CA and continue development on the Rift. With Facebook moving to the help (it is unclear at this point just how much of a role they will play), the focus may shift towards a more social scenario and future for the device, alongside the anticipated action game genre.
The deal is expected to be completed during Q2, and we are awaiting further information as to the depth of the acquisition and how each firm will operate under the new structure. Facebook should have a lot of money from its IPO in order to help drive Oculus investment, perhaps accelerating the process.
Source: PRNewswire
"We are excited to work with Mark and the Facebook team to deliver the very best virtual reality platform in the world," said Brendan Iribe, co-founder and CEO of Oculus VR. "We believe virtual reality will be heavily defined by social experiences that connect people in magical, new ways. It is a transformative and disruptive technology, that enables the world to experience the impossible, and it's only just the beginning."