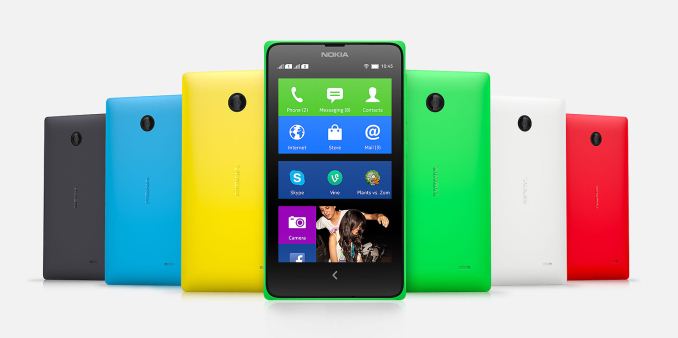 Nokia X
Nokia has finally launched the long-rumored Nokia X running Android, and it's well worth going over Nokia's first Android phones. The first phone is the Nokia X, which is an MSM8225-platform device, with a dual core 1 GHz Cortex A5 inside and Adreno 203 GPU. There's 4GB of internal storage and 512 MB of RAM. The display is a WVGA IPS panel at 4" in size, and there's a 1500 mAh, 3.7V battery inside of the phone. The camera is a 3MP, fixed focus unit with a 1/5" sensor size and F/2.8 aperture, and video recording is limited to FWVGA. Needless to say, this is a budget device, and at 89 EUR or so, it could be an interesting device.
On the software side, the Nokia X runs Android 4.1.2 with Nokia's skin on top that makes it look like Windows Phone.
Nokia X+
The Nokia X+ is effectively identical to the Nokia X, the sole difference that I have seen is that the X+ has 768MB of RAM, and will go on sale for 99 EUR.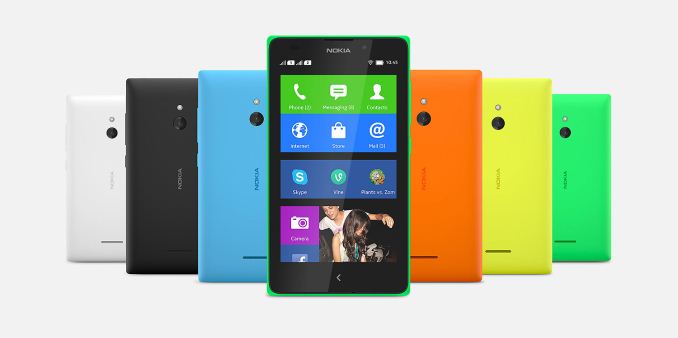 Nokia XL
The Nokia XL is slightly different from either the X or the X+. Battery capacity goes up to 2000 mAh, the camera is upgraded to a 5MP module with 1/4" sensor and adjustable (auto) focus. The display is also made to 5", but it remains the same WVGA resolution with IPS display technology. It will cost 109 EUR.
All of these phones also have Dual SIM capabilities, and will have Nokia's suite of applications at launch.
Nokia X Development
In the Nokia Developer Keynote today, the platform for Nokia X was explained at a high level in order to answer a number of questions that were asked since the recent announcement. Simply put, the extra Nokia layer over the base modifiable Android system should not interfere with Android mobile development. App developers will have to submit their apps to the Nokia X store, but Nokia expects 99% of all apps to work straight away. A system is set up such that any developer APK can be checked online in a few minutes – upload and get an answer if it will work. Nokia Store validation will take a little longer when the app is submitted (Lunagames stated that Highway Hei$t took a day). Also of note was the discussion regarding strategy.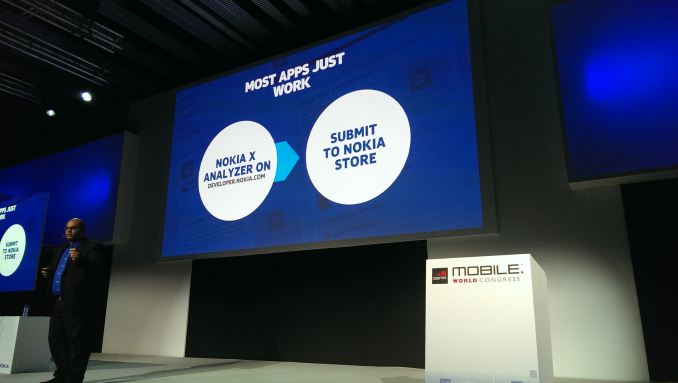 Due to Nokia X positioning itself in emerging markets as a user's first/second smartphone, and in regions where users might not have access to credit cards, the focus is on carrier billing. Nokia are providing a module for APK development to help enable this.