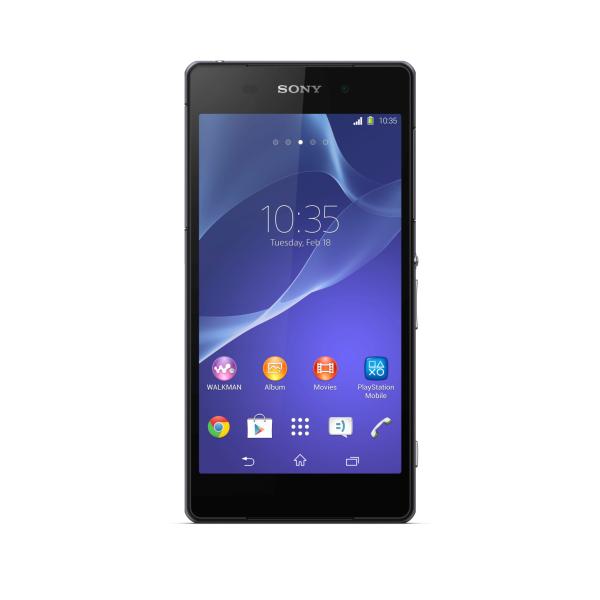 Sony Xperia Z2
Sony has just announced the Xperia Z2, which is the direct successor to the Xperia Z1 that released in the fall. While quite a bit stays the same, there's also quite a bit that has changed. I've listed the differences below:
| | | |
| --- | --- | --- |
| | Sony Xperia Z1 | Sony Xperia Z2 |
| Display | 5", 1080p "Triluminos" display | 5.2", 1080p "Triluminos" display |
| Video Recording | 1080p | 2160p/4K |
| SoC | MSM8974, 2.15 GHz Snapdragon 800 | MSM8974AB 2.26GHz Snapdragon 801 |
| RAM | 2 GB | 3GB |
| Speakers | Single speaker, downward-facing | Stereo speakers, front-facing "S-Force Front Surround" |
| Battery | 3000 mAh, 3.8V, 11.4 WHr | 3200 mAh, 3.8V, 12.16 WHr |
While there's plenty of other things mentioned in the press release, much of it is the standard fluff and fanfare that most press releases come with. Ultimately, the differences come down to the spec sheet, and the Xperia Z2 has few notable changes from the Xperia Z1. Battery gets larger to compensate for the larger display, Sony added the ability to record in 4K/30p, the SoC is a minor bump from improved yields, RAM goes up to compete with Samsung's Note 3 and presumably a future Galaxy S phone as well.
While I will admit that I haven't properly used either Xperia Z1/Z2, I do have a good idea of the various issues that seem to be consistently repeated by Sony in their Xperia lineup. Probably the biggest question that I have is whether the Xperia Z2 truly has a better display than the Xperia Z1. While the press release talks about how "TRILUMINOS Display for mobile with brand new Live Colour LED uses red & green phosphor with blue LEDs and customised colour filters to produce a brighter and more uniform light. The result is richer colours on the screen for all of your smartphone viewing without the risk of saturation," I am skeptical that this actually translates to better display. While it's too early to judge whether display has truly changed from the Z1's display with poor calibration and worse viewing angles, initially it seems that nothing significant has changed.
What can be talked about is the MSM8974AB, a SoC that was already outed by Xiaomi with their Mi-3. The differences are minor, far smaller than that of the APQ8064 and APQ8064AB/AC, which had slightly improved IPC and higher clocks. The 8974AB instead brings higher GPU clocks (578 MHz vs 450 MHz), higher memory clocks (933 MHz vs 800 MHz), and the ISP goes from 320 MHz to 465 MHz. This is almost guaranteed to be the SoC of choice for all high end flagships launching at MWC, judging by various rumblings about the internet.
The final change of note in the Xperia Z2 are the stereo front facing speakers, which are finally in a phone that doesn't start with One or Butterfly in the model name. While there aren't many details on the quality of the speakers, just putting them on the front is great. However, just like with HTC devices, it seems that the speakers have added a great deal of bezel to the front of the device. While some may not mind the difference, there are definitely a great deal of people that voice their complaints over the size of bezels in phones.
Outside of hardware, it should be noted that Sony is advertising a "built-in noise cancelation feature with certain earbuds. These would use two microphones located on the earbuds and leverage the smartphone for the noise cancelation processing.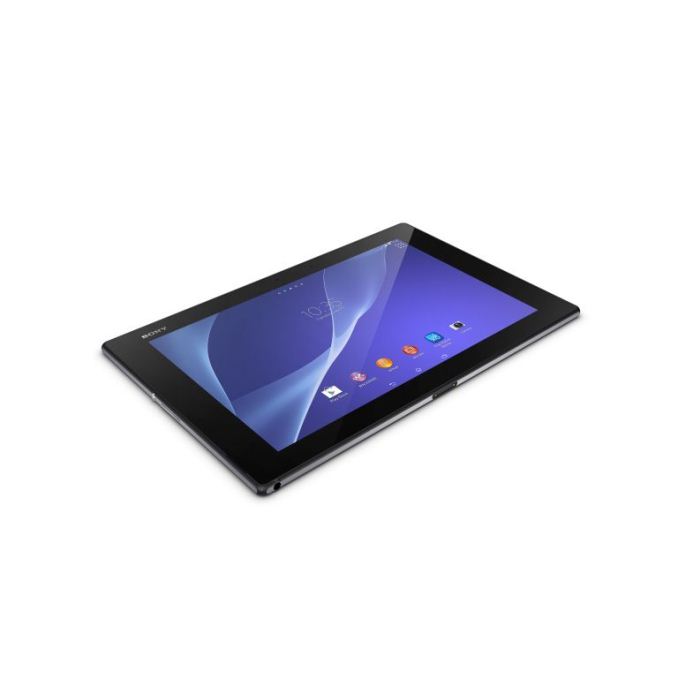 Sony Xperia Z2 Tablet
Following up Sony's launch of the Xperia Z2, they've also launched the Xperia Z2 tablet, which fits the name well, as it is effectively has the same internals as the Xperia Z2, only made into a tablet, which means removing the data/voice modem for the Wi-Fi variant, increasing the screen size to 10.1", and changing the camera from the 20.7MP, 1/2.3" sensor found in the Xperia Z2 to an 8.1MP unit on the back, likely of either 1/4" or 1/3" format. There are some changes to battery size, thickness, and weight, but everything else is carried over, such as the FHD Triluminos display, IP55/58 rating and the front-facing stereo speakers.
The rest of the specs and the press release can be seen below:
| | |
| --- | --- |
| | Sony Xperia Z2 Tablet |
| Display | 10.1", 1080p "Triluminos" display |
| SoC | MSM8974AB (LTE) APQ8074 (WiFi), 2.26 GHz Snapdragon 801 |
| RAM | 3 GB |
| Rear Camera | 8.1MP, Exmor RS for Mobile |
| Front Camera | 2.2MP |
| Thickness | 6.4mm |
| Mass | 426g (Wi-Fi), 439g (LTE/3G) |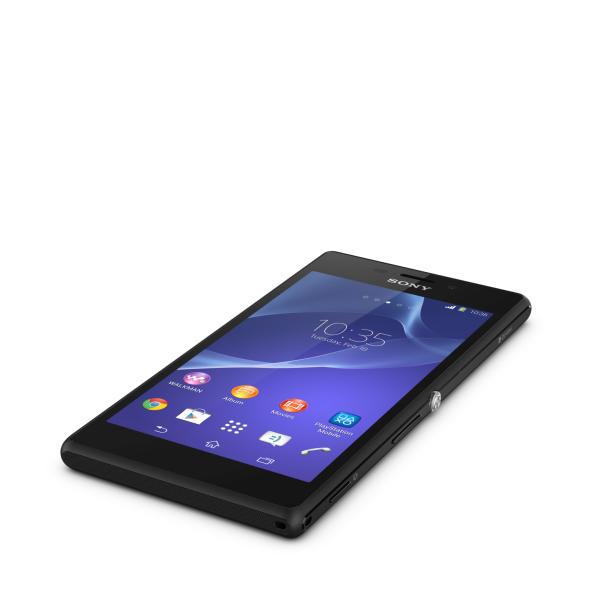 Sony Xperia M2
Finally, Sony launched the Xperia M2, a mid-range device that seems to directly target the Moto G based upon its platform and spec. I say this because the SoC is the Snapdragon 400 with quad core Cortex A7s at 1.2 GHz. The one major difference is that this phone has LTE. This means that it's probably the MSM8926 running inside, unless Sony is packaging a separate modem to enable LTE, which is rather unlikely. Of course, specs always form the foundation of experience for a device, which can be seen below
| | | |
| --- | --- | --- |
| | Sony Xperia M2 | Moto G |
| Display | 4.8" qHD | 4.5" 720p |
| SoC | MSM8926, Quad Core 1.2 GHz Cortex A7 | MSM8226, Quad Core 1.2 GHz Cortex A7 |
| RAM | 1 GB | 1 GB |
| Rear Camera | 8MP, Exmor RS for Mobile | 5MP |
| Storage | 8 GB | 8/16 GB |
| Thickness | 8.6mm | 6-11.6mm |
This is an interesting device because it's not a simple refresh. The display is likely to not be competitive with the Moto G unless its calibration is much better, but Sony has also introduced LTE into their device. The camera could be noticeably better, as the 5MP camera in the Moto G is certainly not targeted at anyone that intends to use their phone as a primary camera of any kind. The Xperia M2 also has a dual-SIM variant, although that device won't have LTE. While the press release doesn't have any indication of whether or not the Xperia M2 will have microSD, it should be a relatively safe bet to say that it will, based upon Sony's continued inclusion of microSD even at the high end of the market. Overall, depending upon price, this will be competitive with the Moto G, as they trade blows in specifications.