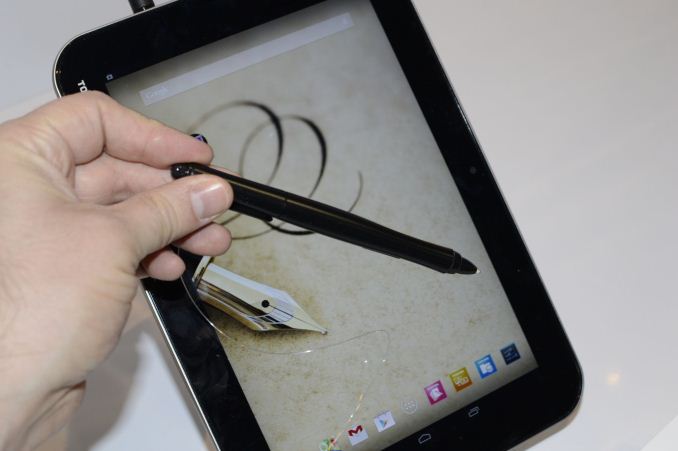 The tablet and hybrid side of Toshiba was similarly diversified, with and ultra-budget device sitting right next to a very high-end tablet. Toshiba reps said they're going after the $99 price point with an updated Excite 7 tablet, which seems to be the same core hardware as before but with a lower price. I wouldn't be too sure about that price, however, as the reps also told me it was a Tegra 4 SoC and that's clearly not the case – we're looking at a dual-core 1.5GHz Cortex-A9 SoC with PowerVR SGX 540. Judging by some of the information I could get off the tablet, it may come with 6GB (8GB) of storage and 1GB RAM, with a 1024x552 display. While performance and overall quality may not match that of the latest and greatest tablets, if Toshiba really hits a $99 MSRP for the Excite 7 they could still move a lot of units.
Jumping way over to the high-end – and with nothing in between – is the Excite Write, a 10" tablet with a Tegra 4 SoC (probably the SoC the reps were talking about earlier), with a Wacom digitizer and stylus. The Write also has a 2560x1600 display, 2GB RAM, and a variable amount of storage depending on the model. Starting price? $600. So yeah, you could buy six Excite 7 tablets or one Excite Write, though obviously there's more to it than that. Rounding things out on their tablets is the Encore 8.1, a Windows 8.1 tablet with an 8" display and Atom Z3740 SoC with a new target price of $299 (down from the original launch price of $329). If you're after a Windows 8.1 tablet, the Encore 8.1 might fit your needs, and it includes Microsoft Office Home and Student to sweeten the deal.
None of the above devices are new, but it was our first chance to go hands-on so I thought I'd at least mention them. There were a couple more tablet-like device at Toshiba that have come out during the past few months, the Satellite Click and the Portege Z10t. Portege tends to be the business variant of Toshiba's ultraportable line, but in this case there appears to be little overlap between the Satellite Click and Portege Z10t – I'm simply mentioning them together as they're both hybrid detachable tablet-laptop devices.
The Click is a 13.3" hybrid that uses an AMD A4-1200 (Kabini) SoC/APU with a target price of $600. That will get you 4GB RAM, 500GB HDD (yeah, no SSD here), the keyboard dock, and a 2-cell battery in the tablet with another battery (2-cell?) in the keyboard dock. Battery charging and drain are prioritized do the dock is used first and the tablet is charged first, but holding a 13.3" 1366x768 tablet is still probably more conspicuous than most of us would like, and sadly the AMD Kabini APU doesn't do a lot to make up for other deficiencies in the design.
As for the Portege Z10t, it's a slightly smaller detachable with an 11.6" 1920x1080 display and with Intel's Y-series CPU powering the device. Think of this as basically an Ultrabook with a detachable keyboard and you're not too far off, though it can still be a bit bulky for a tablet. The Z10t originally launched with Ivy Bridge, but it is now being updated with a Haswell i5-4200Y processor and appears to come with 8GB RAM. That should help improve battery life over the earlier model, but the pricing for the currently shipping IVB models starts at $1449, so that's still pretty steep. The Haswell update will likely come in around $1500 MSRP starting prices, but I didn't get any specific information on pricing or availability.