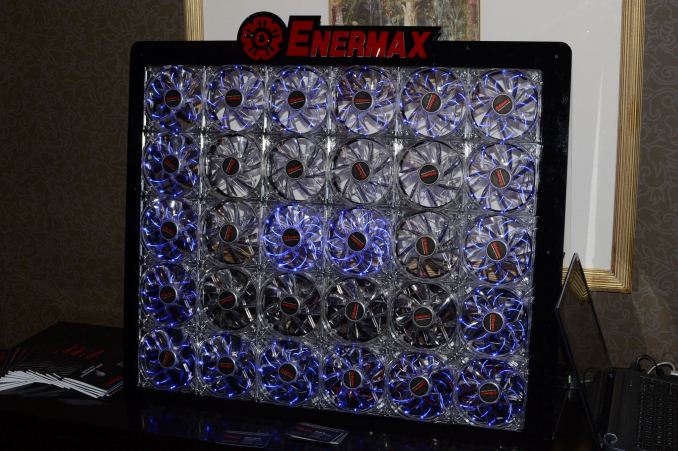 Walk into Enermax's CES suite and the first thing to greet you is a wall of quietly humming fans with blue LEDs, with a custom controller cycling through patterns on the LEDs. It was pretty cool if mostly just for show – and the mess of spaghetti behind the fans reminds me of a few networking punchdown boxes I've had the joy of working on. Continue into the suite and you find the usual assortment of Enermax products: cases, PSUs, more fans, and some other cooling solutions. To quickly wrap up my discussion of their cooling products, they had two fans pointed at a small pinwheel to demonstrate the superior air pressure of Enermax's new TwisterPressure fans. Obviously the comparison to a "high performance" competing fan doesn't say much, as there are dozens if not hundreds of competing fans, but there was a clear difference in air speed/pressure and noise levels between the two fans. Enermax also had some T.B.Vegas fans on display of varying sizes along with some CPU coolers, but I didn't spend much time there.
The bigger items at Enermax are their latest case designs. The Coenus is too gaudy for me, but the Ostrog looks decent and while I wouldn't necessarily go for pink, it's certainly eye catching. There was a customized Coenus inspired by the movie Pacific Rim and built by Bob Stewart at bsmods.com, but the more interesting cases were the new iVektor chassis. Launched in November, the iVektor is available as a mid-tower case in red, black, or white. I can't comment on performance and cooling, but it has a decent aesthetic and the $70 online price makes them affordable as well.
Enermax had one of the iVektor cases running two Radeon HD 6950 GPUs powered off their upcoming DigiFanless 550W fully modular power supply. As the name would suggest, DigiFanless is truly silent as it has no fans, and to help keep thermals in check it's 80 Plus Platinum certified. What that means is that in a worst-case scenario running at 100% load, the total thermal footprint of the 550W model is still only around 60W (89% efficiency at 100% load), so the other fans in the system should suffice for keeping the PSU cooled. Running Furmark on the test system (with an AMD FX-8150), the total power output of the DigiFanless was only 368W. Which brings us to the other part of the product name: the DigiFanless line comes with digital monitoring and an application you can run on the desktop to see real-time power output and efficiency. It's a pretty cool feature, though as usual we'll have to see the price of entry and final product before we can judge its value.
Getting back to the cases, Enermax had one other new case on display, the ThorMax Giant, which definitely lives up to its name. Designed for ultra-high-end systems with up to four GPUs, the ThorMax Giant can support motherboard sizes up to EATX (possibly HPTX?), so a dual-socket configuration would be right at home. The demo "build" (and I use that term loosely, since the system wasn't actually functional given the lack of RAM), shows two AMD and two NVIDIA GPUs snuggled up against each other with a dual-socket board sporting two Enermax CLCs (Closed Loop Coolers). It also comes with a fan controller, LED lighting controls, and the ability to support a top-mounted 240/280/360mm radiator and a bottom-mounted 240mm radiator. Pricing and availability are not yet known.