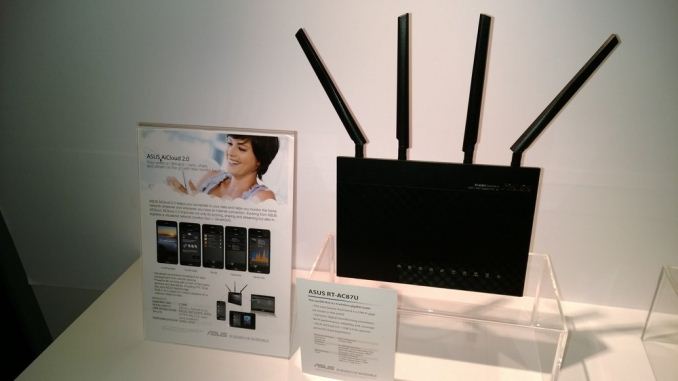 Quantenna's products are not new to AnandTech. We had reviewed Netgear's 3DHD Wireless Home Theater Networking Kit back in 2011. The kit was based on Quantenna's 802.11n solution. Despite scheduling a briefing ahead of CES, we were caught unawares by the exciting QSR1000 4x4 802.11ac MIMO solution from Quantenna. Broadcom has managed to hold on to the high-end 802.11ac market for quite some time now, and it is refreshing to see competition for the high end. A point to be noted is that the Quantenna chipset provides 1.7 Gbps of theoretical bandwidth with the ac radios alone. The AC1900 and AC1750 solutions from Broadcom (and other vendors) are all based on a 3x3 802.11ac solution (1300 Mbps theoretical) and the rest being made up with 802.11n radios.
While the Netgear 3DHD product enjoyed limited success in retail, service providers were enamoured by the reliability and performance of Quantenna solutions. These were on display at Quantenna's CES suite. Qualcomm was one of the first to publicly release a 4x4 solution for 802.11n back in 2009, but the product didn't find any retail success. Quantenna's CEO attributed this to the system not working reliably in real world situations (a point corroborated by some of the other retail networking vendors that I talked to at the show). Building a reliable 4x4 wireless system is hard, and Quantenna hopes that competitors will find it difficult / take time to catch up.
Quantenna's 4x4 802.11ac solution promises much more practical throughput in multi-client scenarios compared to existing Broadcom and Atheros solutions. This is thanks in part to the Wave2 feature which allows for multiple streams to multiple clients without directing all possible streams to a single user at a given time. This MU-MIMO (multiple user MIMO) can be implemented for up to 8 spatial streams, but vendors are likely to limit themselves to 4. Wave2 also supports for channels up to 160 MHz wide. The QSR1000 will support 4 spatial streams and 80 MHz wide channels.
The Asus RT-AC87U is slated to be the first QSR1000 enabled router to hit retail. Despite the announcement at CES, no availability date or price was announced. From a service provider / enterprise perspective, the QSR1000 is also being used by Mimosa Networks for outdoor access points and ViXS into its STB reference design. The QSR1000 is definitely pointing to exciting times ahead for the Wi-Fi market.