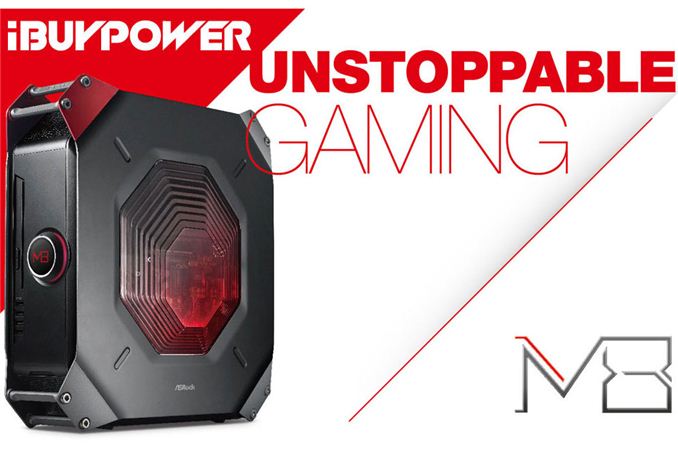 iBUYPOWER is no stranger to these parts; we reviewed a few of their desktop and laptop systems over the years. They're now one of the larger boutique PC vendors, and you can find their prebuilt systems for sale at Newegg.com, Amazon.com, Best Buy, Walmart, and other retailers. Of course, if you want a custom configured iBUYPOWER system, the best place to get that is direct from iBUYPOWER. Going straight to the source also has other advantages, like the availability of their latest and greatest desktops and laptops. Case in point: the new M8 with an ASRock M8 case and motherboard.
When we first started seeing mini-ITX systems several years ago, they were typically designed to be small above all other considerations. As more and more components have been integrated into motherboards and processors, however, the potential to do a lot more with mini-ITX has presented itself. Provided you have enough space in your chassis, it's even possible to use high-end CPUs and GPUs with a mini-ITX motherboard without sacrificing much in the way of performance. You still have to balance size constraints with power requirements and heat dissipation, so of course a mini-ITX system without support for a graphics card can be smaller, but if you're looking for a high performance and portable gaming solution (and you want more than what a notebook can provide without spending as much money), mini-ITX is the modern take on the old SFF systems I reviewed when I first started with AnandTech.
Joining such systems as the Falcon Northwest Tiki, but without quite the stratospheric price tag, iBUYPOWER's latest M8 gaming system offers a variety of component choices in a small package. Whether or not the design aesthetic is for you will be a matter of personal taste, and no doubt the "BMW-designed" chassis is as much about marketing as it is about quality, but if you're looking for something different this might be just what the doctor ordered.
The base model M8 Streaming Machine includes an Intel Core i3-4130 processor, 8GB DDR3-1600 memory, and a 1TB hard drive along with the ASRock case and motherboard, a slot load DVD-RW, and Windows 8.1 for $999. You'll be able to add your own graphics card down the road if you so desire, or you can customize the build as you see fit. The M8 Pro Edition upgrades to a Core i5-4670 processor, a 2TB hard drive, and it adds an AMD Radeon R9 270X GPU for a starting price of $1339. Finally, the M8 Competition Edition includes a Core i7-4770, 16GB RAM, a 120GB SSD with 1TB hard drive, and a GeForce GTX 770 graphics card for $1799.
Of course, given that iBUYPOWER is using an ASRock case and motherboard, you can always go the DIY route. Right now the ASRock M8 is available at Newegg for $530 as a barebones system. That will give you the case and motherboard with a 450 W power supply, fans, and the slot load DVD-RW drive. Add your own memory, HDD/SSD, processor, GPU, and Windows and you'll typically save about 10% from the prebuilt cost. For those that don't necessarily have the time or expertise to put together their own system, however, paying an extra $100 isn't a bad way to go.
Source: iBUYPOWER Press Release