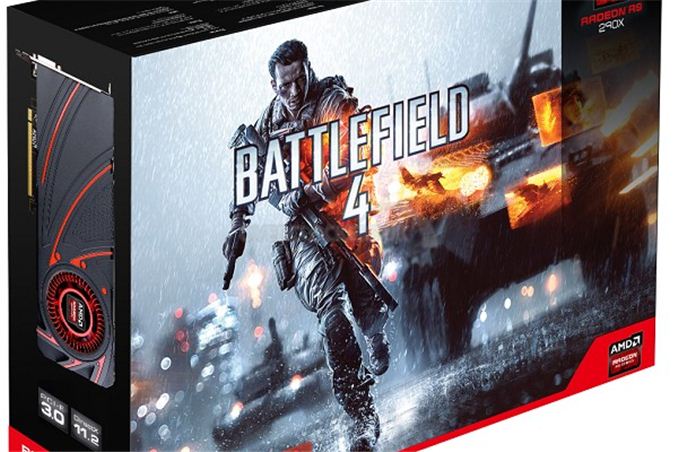 Hot on the heels of AMD's 2014 GPU Product Showcase, along with details of the upcoming 2x0 AMD GPUs being launched, AMD was coy about the headline product, the Hawaii based R9-290X. Aside from over six billion transistors, having 4GB of memory and quoting a bandwidth of over 300 GB/sec, the only other salient piece of information released was that today is the pre-order date. To that extent we have observed the following with online e-tailers:
OverclockersUK is offering a pre-order deposit of £99 which will guarantee a card at launch. Final pricing is not yet announced, there will be more to pay at a later date when pricing is confirmed. This is the BF4 Edition, and OCUK have several hundred units up for grabs with an ETA of 31/10/13 (31st October in UK speak), and OCUK will have BF4 editions of Sapphire, HIS, ASUS, GIGABYTE and MSI cards, though at the minute there is no guarantee which one you may receive. Middle-to-end of October customers will be contacted via email at which point they can call to select the brand pay the additional money. If you are unhappy with the launch pricing or have changed your mind, deposits will be refunded.
Swedish etailer Webhallen has the ASUS BF4 Premium bundle up for 9999kr (SEK), which includes Swedish taxes. Certain websites have done the conversion direct and got a ludicrously high $1575 equivalent, but without Sweden's 25% tax rate this comes to 8000kr, or $1262. This card was up at 7299kr ($920 USD without tax), making it still rather expensive.
TechPowerUp caught Newegg listing up both the MSI and Sapphire branded reference cards (now the XFX too), and although the pricing is listed as 'coming soon', a quick dig around the HTML source code lists the card at $730 excluding taxes. We are waiting the final pricing to be fully listed and will update with details, although it is suggested that this is for the full BF4 Premium edition – the regular edition may be cheaper.
For Sweden, the retailer netonnet.se is currently listing the card for 9999kr, the same as Webhallen. Interestingly enough we also get some specifications: 512-bit GDDR5, 111mm x 277mm x 48mm dimensions and a 500W PSU recommended minimum.
The Canadian branch of Newegg has the MSI, Sapphire and XFX cards all listed at CAD$750 on their mobile site, but not on the website proper.
We will update this post as more retailers initialise their pre-orders. The latest details on pre-orders seem to be coming from the @AMDRadeon twitter feed.
R9-290X Pre-Orders
Retailer
Edition
Price / ETA
OverclockersUK
(UK)
BF4 Edition Preorder
(Sapphire, HIS, ASUS,
GIGABYTE, MSI)
£99 deposit
ETA 31st Oct 2013
Webhallen +
NetonNet.se
(Sweden)
ASUS BF4 Edition
9999kr
($1262 excl. tax)
Newegg
(US)
MSI
(XFX and Sapphire also listed)
$730
(from HTML, still unlisted)
Newegg
(CA)
MSI, XFX and Sapphire
CAD$750
(from mobile site)
There are set to be two different versions of the R9-290X available for preorder – the standard edition which contains just the card as well as the Never Settle bundle, and the BF4 Edition which has a BF4 Premium key. All arrows point to BF4 standard edition being part of the Never Settle bundle in due course, although this is yet to be confirmed.