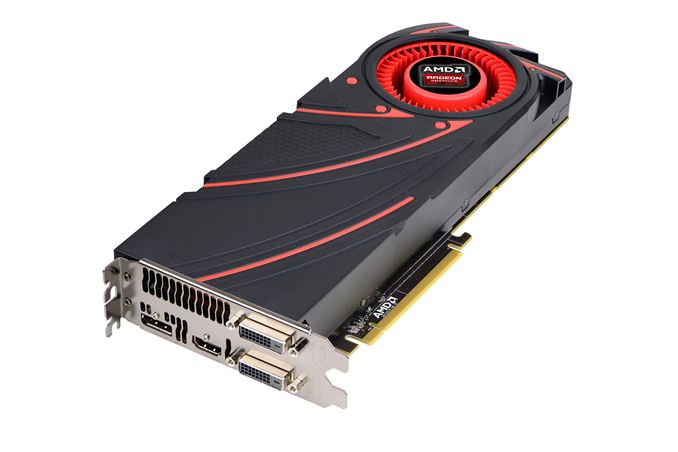 At AMD's 2014 GPU Product Showcase, AMD has just announced their upcoming next generation product lineup. In an unusual move they're announcing a complete top-to-bottom of products at all once, rather than announcing products piecemeal as they're ready for launch.
The upcoming generation of products will be branded R7 and R9. R7 will be AMD's lower-end mainstream parts, while R9 will be for their higher-end enthusiast parts.
Notably, AMD is taking care to note that certain features are only available on certain cards. The R9 series is Direct3D 11.2 compliant, for example, but the R7 was not mentioned as being so. Meanwhile R7 260X, R9 290, and R9 290X will have new audio features (more on that later), but not R9 270X or R9 280X. So it's likely that some of the chips in this stack are rebadged/rebranded Southern Islands (7000 series) parts, though it's not clear which are what.
The flagship of the new family will be the R9 290X. AMD isn't releasing the full specs for it at this time, though they're quoting 5 TFLOPs of GPU performance. It will come with 4GB of memory, with a total memory bandwidth of over 300GB/sec, which assuming a 512bit memory bus would put memory clockspeeds at equal to or greater than 4.7GHz. Unlike their other parts AMD is not announcing a price quite yet.
The GPU behind 290X has yet to be named. But AMD has already told us that it has more than 6 billion transistors; this would put it between Tahiti and NVIDIA's GK110 in transistor count.
AMD 2014 GPU Specification Comparison
R9 290X
R9 280X
R9 270X
R7 260X
R7 250
Firestrike Score
N/A
>6800
>5500
>3700
>2000
VRAM
4GB
3GB
2GB
2GB
1GB
Transistor Count
>6B
N/A
N/A
N/A
N/A
AMD TrueAudio
Yes
No
No
Yes
No
Pre-Order Date
10/03/2013
N/A
N/A
N/A
N/A
Launch Price
N/A
$299
$199
$139
<$89
Below the 290X will be the R9 280X. This will be a card with 3GB of RAM, and it has a price tag of $299. It's not clear whether this is the same GPU as in 290X or not, and in lieu of specs AMD has given us a single benchmark: 3DMark Firemark, where it scores better than 6800.
Further down yet is the R9 270X. This is a 2GB card with a $199 price tag. AMD is listing a Firestrike score of greater than 5500.
Finally, at the bottom of the stack are the R7 parts, R7 260X and R7 250. 260X is a 2GB card for $139, with a Firestrike score of over 3700. Meanwhile 250 is AMD's sub-$100 card, hitting retail at $89 with 1GB of RAM and a Firestrike score of over 2000.
Update: Now with official product pictures