We had reviewed Logic Supply's fanless LGX AG150 Cedar Trail-based PC last year. Though a majority of fanless x86-based PCs are based on the anemic Atom platform, there has been a sudden spurt in industrial PCs based on more powerful CPUs. The Aleutia Relia and the Habey BIS-6922 are examples of the general direction in which this market space is moving.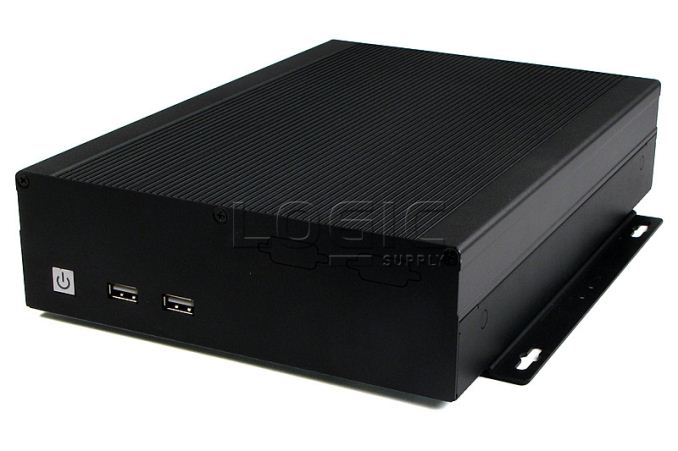 Logic Supply is the latest entrant to the non-Atom based fanless PC market. The LGX ML250 is a Socket G2 (mobile Sandy Bridge / Ivy Bridge)-based high-performance commerical-off-the-shelf computing unit in a silent, compact, fanless chassis. The unit is quite configurable and the following options are available right now:
Logic Supply LGX ML250 Configuration Options
Chassis
Logic Supply Custom
Processors
Intel Sandy Bridge Celeron B810 @ 1.6 GHz
Intel Ivy Bridge Core i3-3120ME @ 2.4 GHz
Intel Ivy Bridge Core i5-3610ME @ 2.7 GHz
Motherboards
Jetway NF9G
ASRock IMB-170
Memory
2x (1/2/4/8 GB) / DDR3-1333 / DDR3-1600
Disk Drive(s)
2.5" HDD (7200 rpm 250 GB / 500 GB / 5400 rpm 1 TB)
Transcend MLC Flash SSD (32 GB / 64 GB / 128 GB)
Transcend SLC Flash (8 GB) / Emphase SLC Flash (60 GB / 120 GB)
Power Supply
80 W / 100 W AD Adapter and 80 W / 90 W / 120 W PicoPSU
Wireless
Azurewave AW-NB114H Wi-Fi/BT Card
Intel 6235 Wi-Fi/BT PCIe Mini Card
Mounting
None
Vibration Isolating Mounting Kit
DIN Rail Mounting Clips
Operating Systems
Barebones
Windows 8 x86/x64 Standard/Professional
Windows 7 x86/x64 Home Premium / Professional / Ultimate
Windows Embedded Standard 7 x86/x64
Ubuntu 12.04, LTS
Warranty
1-year / 2 and 3 year available for build-and-test systems
Pricing
Starting at $712
It is exciting to see fanless computers move to more powerful platforms. With both Intel and AMD realizing the need for reduction in power consumption while maintaining / increasing performance, the future looks exciting for the fanless industrial PC market. Logic Supply's LGX ML250 offers plenty of redesign / reconfiguration options compared to other fanless industrial PCs and starts at less than $1000. It is a welcome addition to the family of fanless off-the-shelf PCs.
Source: Logic Supply