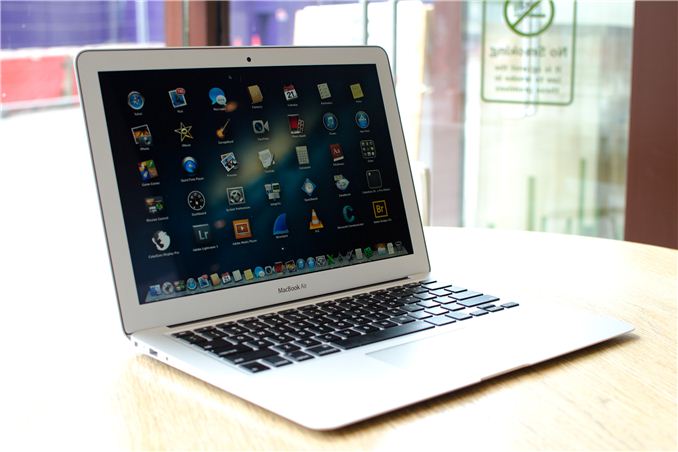 In reviewing the 2013 MacBook Air, I spent a lot of time thinking about how I'd recommend the various notebooks in Apple's lineup. By the end of this year, once Apple has updated (almost) all of its lines to Haswell, it will have one of the strongest Mac lineups in Apple history. The problem of course is deciding what configuration to buy. Today's review helps understand and explain what's going on with the new MacBook Air, but I wanted to do a separate post with recommendations depending on usage types. The table below is what I'd recommend today according to usage model. This is by no means comprehensive, but in most cases offers a cost optimized look at the current Mac notebook lineup:
Apple Mac Laptop Recommendations - June 2013
Budget
Writer's Aid
Mobile Workhorse
Desktop Replacement
Desktop Replacement
Model
11-inch MacBook Air (Mid 2013)
13-inch MacBook Air (Mid 2013)
13-inch Retina MacBook Pro
15-inch Retina MacBook Pro
15-inch Retina MacBook Pro
CPU
1.3GHz Core i5
1.3GHz Core i5
2.6GHz Core i5
2.4GHz Core i7
2.7GHz Core i7
GPU
Intel HD 5000
Intel HD 5000
Intel HD 4000
Intel HD 4000 + NV GT650M
Intel HD 4000 + NV GT650M
RAM
4GB
8GB
8GB
8GB
16GB
SSD
128GB
256GB
256GB
256GB
512GB
Buy or Wait
Buy
Buy
Wait (~3 months)
Wait (~3 months)
Wait (~3 months)
Total Price
$999
$1399
$1599
$2079
$2629
We'll start at the bottom. On a budget, the 11-inch MacBook Air is really your best bet to getting into a notebook that ships with OS X. The base configuration isn't terrible either. I've been using the 2013 13-inch MBA with only 4GB of RAM for the past couple of weeks and generally don't have any issues with the memory size. OS X Mavericks should have some more accommodations for limited amounts of DRAM, which will likely give the 4GB configuration some more legroom. I wouldn't upgrade the CPU or SSD either as both can add considerable cost. If our goal here is to remain cheap, then we've got to stay committed. If you need a larger display, I'd simply opt for the base 13-inch model at $1099.
Next up is the writer's aid configuration, an upgraded 13-inch MacBook Air. Once again I'd stick with the base CPU, but mostly to optimize for battery life than anything else. The faster CPU would be nice, but I'd only consider the upgrade if you need a mobile workhorse and for whatever reason won't consider the 13-inch rMBP. I threw in the larger SSD simply because I believe 256GB is really the minimum for all of the applications I'd typically install as someone who regularly has to produce content (Photoshop, Dreamweaver, Lightroom, iWork, Office, Boot Camp partition). You're going to need some form of external storage for photos, videos and music though. I could go either way on the memory capacity, but at only $100 for the upgrade it might make sense to give the machine a bit more longevity.
Both of the MBA configurations I'm fine with recommending today. It'll take us some time to get to Broadwell, so there won't be an issue with early obsolesence with any of these. The next three configurations are a different story however.
MacBook Pro Recommendations
As I alluded to in this morning's MacBook Air review, the most interesting configuration for me is the 13-inch MacBook Pro with Retina Display. Unfortunately, the current model still ships with a 35W Ivy Bridge part. All current indications point to the next-gen model using a 28W Haswell-ULT part, which should have a tremendous impact on battery life (similar to the MBAs). That shift alone makes this one worth waiting for. If you have to have one today though, this is the configuration I'd opt for. Amazon has a deal on the upgraded configuration, with a 256GB SSD and 2.6GHz processor for $1599. That's probably what I'd recommend. The cost of the upgrade to a 512GB SSD is a bit too high on the entry level model ($500) and on the upgraded system it'll put your total cost right at $2000. If you need the space, go for it, but if you can make 256GB work it might make sense to go that route and rely on external storage for the rest of your needs. Do keep in mind that you'll want to keep around 10 - 20% of the drive free to keep it performing nicely. The CPU upgrade isn't necessary, but it's a part of Amazon's deal so why not. I've been pretty happy with 8GB of memory in this configuration as well.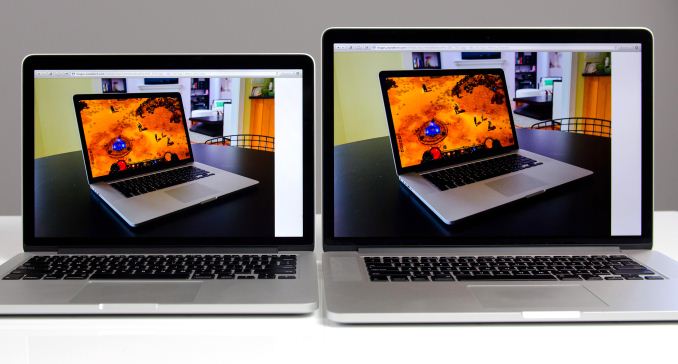 The last two configurations are also due for Haswell upgrades, although here the upgrades may not be as significant on the battery life front as Apple will be using standard voltage Haswell M parts. The big gains in battery life will come if Apple indeed decides to use Iris Pro, you won't have to worry about babysitting your dGPU all the time. The lower end configuration is pretty much stock. The reason I threw this one in here is because otherwise you get dangerously close to $3000, which is tough to stomach any way you look at it.
The higher end DTR configuration is really the reasonable shoot-for-the-moon option. Here I finally cave in to the larger SSD, double the amount of memory and opt for the upgraded CPU. The total price ends up at $2629 if you snag the latest deal from Amazon.
My Personal Choices
For me personally, I'd wait for the 13-inch rMBP upgrade (Mobile Workhorse option) as that'd be a great combination of display and battery life (if it gets a 28W Haswell ULT). I like the 15-inch model but that's a bit too large of a machine to comfortably use in coach on most US domestic airlines (where I spend a lot of my time). If I didn't travel as much, I'd opt for the 15-inch rMBP. If you're running a dual-system configuration (perhaps 2013 Mac Pro + a notebook), then I might go lighter end on the notebook side and opt for the 13-inch MBA (Writer's Aid configuration).