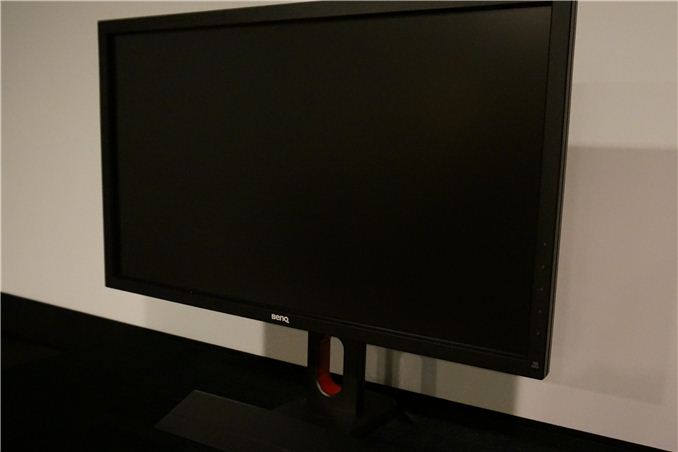 On the very first monitor review I did for AnandTech, I skipped over the input lag tests. I didn't have a CRT I could use for a reference, and as someone that isn't a hard-core gamer themselves, I wasn't certain how much overlooking them would really be missed. Well, I was wrong, and I heard about it as soon as it was published. Since that initial mistake I've added two CRT monitors to the testing stable and tried to find the ideal way to test lag, which I'm still in search of.
To serve the large, and vocal, community of hard core gamers, there are plenty of monitors out there that directly target them. One such display is the BenQ XL2720T, a 120 Hz LCD that's also used in many sponsored gaming tournaments. Beyond its gaming pedigree, I was interested to see if it also performed well as a general purpose display, or if it really is just designed for a small subset of the market.
Probably the key feature on the XL2720T is its 120 Hz refresh rate, which as usual means that it is a TN-panel. The other key feature on it is a quick select switch that it includes to let you switch between monitor presets with a single button press. For their gaming target, BenQ sees you utilizing this to have different presets for different games, and they even provide some specific profiles for popular games that you can load and use for these. Another use would be to use one for daytime settings, one for nighttime, and one for gaming. The quick access to switch modes makes it easy to do so, and providing "optimized" settings for games might be a very beneficial use.
The included stand for the XL2720T is very well done, with a full range of ergonomic adjustments and you can assemble the whole thing without a single tool. I'd use a screwdriver at the end to make sure it is really tight and secure, but the overall stand design is great. One feature I'd still like to see from a monitor company is inputs that either rotate or are angled at 45 degrees to make it easier to hook up cables than to have to reach underneath. Thankfully since it pivots to vertical, it is still easy to hook up the BenQ XL2720T to your computer or video game system. It has a pair of HDMI ports, so it is well equipped for both PC and console gaming.
One disappointment is that the USB ports are still just USB 2.0 and not 3.0 as most new, higher end monitors have now. Another disappointment in the monitor design is the touch sensitive buttons that control the on-screen display.
As with the Dell U3014 that I just reviewed, I find the touch screen buttons to be less responsive than actual buttons, and wish companies would go back to standard buttons. It doesn't look quite as nice but it is far more functional. This is somewhat alleviated by the S Switch that BenQ includes. Though mostly used to switch between three preset modes, you can also use the wheel to control the OSD, and here it does a great job. The OSD has been redesigned from previous BenQ displays so it is much better to use, with all selections going Up and Down, without any Side-to-Side inputs. This combination is one of the better interfaces that I've used; I just wish controlling it without the S Switch worked as well.
As mentioned, the on screen display from BenQ has been totally redone from the last display that I used. Previously you would move Left to Right to select a category, Up and Down to select a function to adjust, and then Left to Right to adjust it, all with just two buttons to move all four directions. The OSD now resembles the ones that Dell has, where all selections and inputs are Up and Down, making it very easy to adjust the display. It also lets you see all the levels of sub-menus on the screen at once, which makes it easy to see what you are working on and not get lost in the menu system. BenQ has moved from having one of the worst menu systems for user controls to having one of the best that I've used. Bravo for that!
On the exterior and the on screen display, BenQ has gotten most everything right with the XL2720T. Sure I would change a couple little things, but they manage to get the overall user experience with the monitor as correct as anyone else has right now, and that's much different than I said about their displays two years ago. I wish every monitor vendor would take this feedback and improve their products as much as BenQ did in these areas.
BenQ XL2720T
Video Inputs
2xHDMI, 1xDisplayPort, 1xDVI-DL, 1x D-sub
Panel Type
TN
Pixel Pitch
0.311mm
Colors
16.7 million
Brightness
300 cd/m2
Contrast Ratio
1000:1
Response Time
1ms GTG
Viewable Size
27"
Resolution
1920x1080
Viewing Angle (H/V)
170/160
Backlight
LED
Power Consumption (operation)
27W
Power Consumption (standby)
<0.5W
Screen Treatment
Anti-Glare
Height Adjustable
Yes (140mm)
Tilt
Yes (-5/20 Degrees)
Pivot
Yes
Swivel
Yes (45/45 Degrees)
VESA Wall Mounting
Yes (100mm)
Dimensions w/ Base (WxHxD)
21.5" x 25.3" x 10.8"
Weight
16.5 lbs.
Additional Features
USB 2.0 Hub (3 port), S Switch, Headphone Jack
Limited Warranty
1 year
Accessories
Power cable, USB Cable, D-Sub Cable, DVI-D Cable, Protective Cover
Price
$482 (on 5/17/2013)