Introducing the iBuyPower Revolt
At CES 2013, the PC boutique iBuyPower announced a product that's in many ways much more than the sum of its parts. They announced the Revolt, a small form factor gaming PC that's riding the same wave of small gaming PCs that includes Alienware's X51, DigitalStorm's Bolt, and the review pending Steiger Dynamics LEET. These products are essentially about the move of PC gaming into the living room, something arguably predicated by the continued miniaturization of PC hardware, a very mature gaming platform that's had time to sand off its harsh edges just as gaming consoles continue to develop more and more of their own, and the convergence of games for all three main gaming platforms.
The iBuyPower Revolt isn't just another indicator of a sea change in gaming and an upswing in interest in PC gaming, though. What iBuyPower has done with the Revolt is create a PC product that is almost wholly their own, from the chassis to—and this part is crucial—the motherboard. That makes the Revolt notable both in terms of how it falls into the larger PC gaming landscape, but also in how it establishes iBuyPower not as a boutique, but as a legitimate vendor with the potential to compete with heavyweights like Dell, HP, Lenovo, Acer, ASUS, and Toshiba. That means that more than just balance sheets hinge on the Revolt's success; to an extent, iBuyPower's very nature in the market hinges upon it. The question becomes: can the Revolt possibly live up to expectations?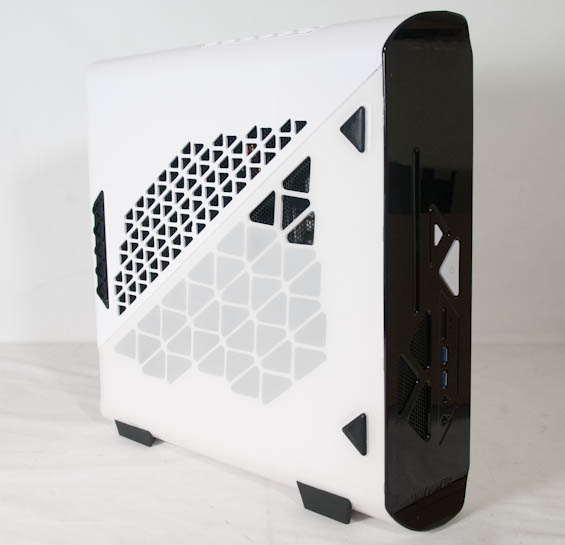 In much the same fashion as Alienware's X51, the iBuyPower Revolt is essentially designed to continue the trickle down progress of PC gaming hardware. This isn't another system on shelves marketed as a gaming system but shipping with anemic graphics kit; the Revolt starts at a GeForce GTX 650 for just $649. That's significant when you take into account the already aggressive Alienware X51, which presently starts at $649 but only offers a GeForce GT 640. DigitalStorm's Bolt doesn't even really show up to compete in this price range, to say nothing of other boutiques.
It's also important to again note that the Revolt is designed completely in house by iBuyPower. Their traditional close partnership (putting it mildly) with NZXT doesn't come into play here; the Revolt is entirely their baby. The fact that they use their own motherboard design is significant as well; it allows them to remove the motherboard video outputs from Z77 entirely, a smart change for usability's sake. It's also in many ways the defining characteristic of the Revolt; over the past year we've seen boutiques design their own cases, but the actual electronics are another matter entirely.
iBuyPower Revolt Specifications
Chassis
Custom iBuyPower
Processor
Intel Core i7-3770K
(4x3.5GHz, Turbo to 3.9GHz, 22nm, 8MB L3, 77W)
Motherboard
Custom Z77 Board
Memory
1x8GB G.Skill DDR3-1600 (maximum 2x8GB)
Graphics
eVGA NVIDIA GeForce GTX 670 2GB GDDR5
(1344 CUDA Cores, 1002MHz/1084MHz/6.2GHz core/boost/RAM, 256-bit memory bus)
Hard Drive(s)
Intel 330 120GB SATA 6Gbps SSD

Western Digital Caviar Blue 1TB SATA 6Gbps SSD
Optical Drive(s)
Optiarc Slot-loading DVD+/-RW
Power Supply
FSP 500W 80 Plus Gold 1U PSU
Networking
Broadcom NetLink Gigabit Ethernet
Realtek RTL8723A 802.11b/g/n 2.4GHz Wireless Ethernet
Bluetooth
Audio
Realtek ALC899
Speaker, line-in, mic, and surround jacks
Front Side
Power button
LED lighting toggle
Slot-loading optical drive
SD card reader
2x USB 3.0
Mic and headphone jacks
Top Side
-
Back Side
PS/2
4x USB 3.0
Clear CMOS button
2x USB 2.0
eSATA
Gigabit ethernet
Mic, line-in, headphone, and surround jacks
Optical out
2x DVI (GTX 670)
1x HDMI (GTX 670)
1x DisplayPort (GTX 670)
Operating System
Windows 8 64-bit
Dimensions
16.2" x 4.6" x 16"
(412mm x 117mm x 407mm)
Extras
Card reader
80 Plus Gold PSU
140mm CPU radiator
Warranty
1-year limited parts and labor
Pricing
Starts at $499
Review system configured at $1,553
MSRP of review system: $1,199-$1,299
When you configure the Revolt, you can opt for a little bit less of the awesome stuff. The entry-level $499 configuration isn't a gaming system, and features an i3 with HD graphics and an ASRock B75 motherboard. It's the $649 configuration featuring the IGP-free Intel Core i5-3350P and GeForce GTX 650 that's more impressive. Our review system is much beefier, and I'll admit to being skeptical about that MSRP when the custom price tag comes in so much higher.
iBuyPower's BIOS will actually let you overclock the CPU yourself (or you can order it overclocked directly from them), and they charge an amusing $44 premium for the NZXT Kraken X40 over the Asetek 550LC liquid cooler (itself $35 more than the stock cooler). The 550LC is a 120mm closed loop cooler, while the Kraken X40 is really just a rebranded Asetek unit with a 140mm radiator instead.
Suffice to say, our review configuration is a powerful gaming system in a fairly smaller form factor (I'll discuss build quality later on), and if they can hit their MSRP they'll undercut everyone else. As it stands, the most expensive stock configuration they have available employs an i5-3570K, stock cooler, an abnormally short 4GB of DDR3-1600, a 1TB hard disk, no wireless connectivity, and a GeForce GTX 660 2GB for $899. Pre-order the $999 retail model from NewEgg, and you gain a small overclock on the i5-3570K, a liquid cooler, and 8GB of RAM, but you get cut down to a 500GB HDD.
How does that $899 model compete with Alienware's X51? Fairly favorably, actually. It slots in between their anemic $799 configuration, which features an i5-3330 and a paltry GeForce GT 640, and their robust $1,099 configuration, which features an i7-3770 and OEM version of the GTX 660. Alienware's OEM GTX 660 enjoys more shaders at lower clocks via a cut-down GK104 chip, while the retail GTX 660 iBuyPower uses features less shaders at higher clocks via a full-fat GK106. You can get an X51 in the Revolt's neighborhood by upgrading an i5 model with a GTX 660, but generally iBuyPower enjoys a price advantage.