It has been a while since we covered PLC (powerline communication) technology here, but we took the opportunity to check up on the latest and greatest in the area at CES. G.hn has been championed by the HomeGrid forum and the companies promoting them in early 2011 included Sigma Designs, Lantiq and Marvell. In fact, at CES 2011, we visited the Sigma Designs suite to see G.hn silicon in action for the first time. Lantiq had also demonstrated a G.hn chipset at the same show. Much water has flown under the bridge since then, and Lantiq seems to have quietly dropped off advertising their XWAY HNX solutions on their website. Sigma Designs is financially not doing too well, and Michael Weissman, one of their most vocal G.hn proponents, has moved on. These factors, however, didn't prevent them from introducing their 2nd generation G.hn chipset (PDF). There has been a change of PR hands at Sigma Designs, and we were unfortunately not invited to see it in action. However, Marvell was gracious enough to invite us to check out their G.hn system in action.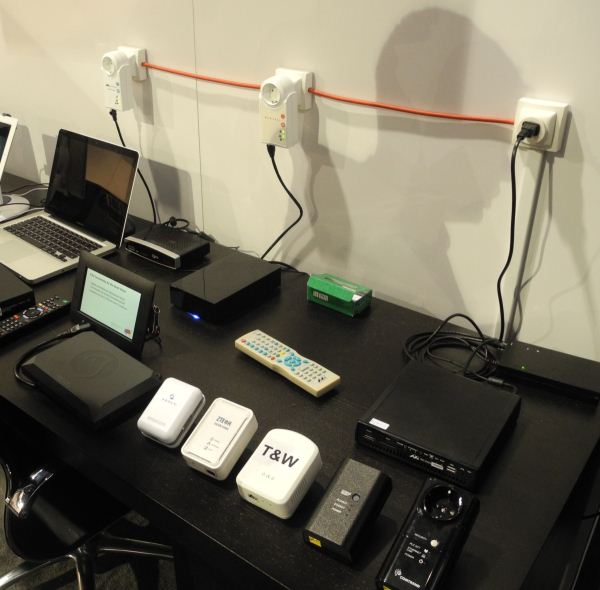 Meanwhile, HomePlug invited us to check out a compatibility test using commercially available HPAV (HomePLug AV) equipment. Qualcomm Atheros is no longer the sole vendor, with Broadcom and M-Star also pitching in with their own solutions. The Broadcom solution with the integrated AFE (Analog Front End) has been well received by the vendors. HomeGrid forum regularly organizes plugfests too, but they are of little relevance if one can't purchase the involved equipment in the stores.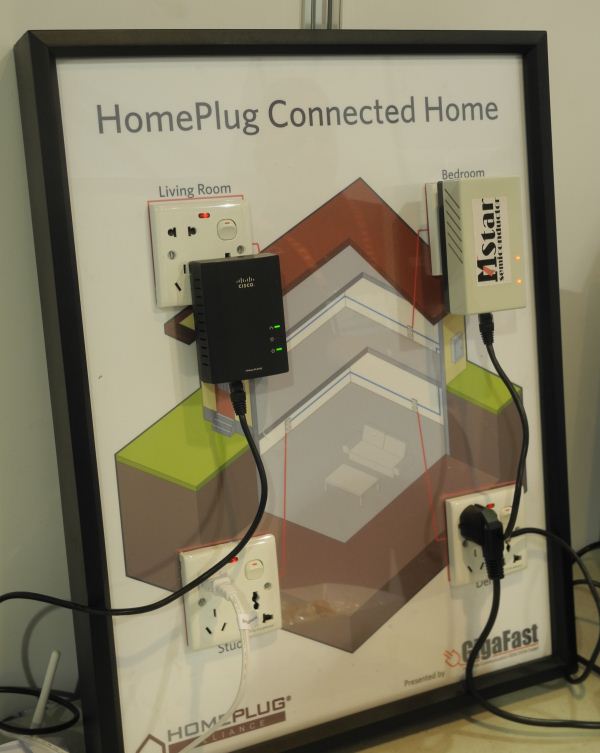 It is good to see G.hn silicon in what appears to be ready-to-ship casing, but the bigger question is one of compatibility with existing equipment. Marvell indicated that service providers are lining up to supply G.hn equipment to customers (particularly in the growing Asian markets). However, with HPAV equipment already well spread throughout the world (particularly through consumer channels), it remains to be seen if service providers can take the risk of their equipment performance degrade in a MDU (multiple dwelling unit) scenario where the adjoining units have HPAV equipment. Marvell does promise good network isolation in the MDU case, and it will be interesting to see how a HPAV network and G.hn network can co-exist.
The progress with G.hn seems to be very slow. It is a pity that silicon demonstrated as early as January 2011 is yet to ship to customers two years down the line. Under conditions of anonymity, some of the networking vendors told us that they have given up on G.hn and are looking forward to HPAV2 silicon coming out towards the end of the year. The HomeGrid forum and its members have been quick to publicize any service provider / supplier agreements, and till now, we have received reports of Comtrend, Suttle, Chunghwa Telecom Labs and Motorola Mobility showing interest in G.hn. As long as Sigma Designs and Marvell remain in the fray, G.hn lives to fight another day. We will be keeping close tabs to find out when the first G.hn products start shipping to the customers of the service providers who have opted for it.