Media Center remotes are a dime a dozen, but, judging by the threads which frequently pop up on AVSForum, it appears as if full-sized keyboards are preferred by a number of users. Some of the popular options for controlling HTPCs include the diminutive Logitech diNovo Mini and the Lenovo N5902 keyboard / 'trackball' combo. The Logitech K400 with an integrated touchpad is also quite good and economical (and my personal HTPC solution for now), but it isn't really ideal as an extended alternative for a mouse. At CES, we went around the show floor looking for HTPC control solutions. In particular, we paid attention to the full size offerings. A separate mouse is out of the question in a HTPC setup, and mostly, we were bundled with either a touchpad or a trackball. The wireless communication happened in either the 5 GHz or 2.4 GHz band with a specialized USB receiver on the PC side. In some cases, the communication protocol of choice was Bluetooth. Communication devices using Bluetooth can also interface with tablets supporting Bluetooth.
Adesso:
Adesso had the yet-to-be-launched WKB-4150DW Bluetooth 3.0 aluminum touchpad keyboard on display. It is mainly intended to interface with tablets, but the build and features make it an ideal HTPC companion. The differentiating feature of this product is the option to use either 2.4 GHz (with a dedicated USB receiver) or Bluetooth for communication using a switch at the rear of the unit.
Older keyboard / trackpad / trackball combo models were also on display.
IOGear:
IOGear wasn't introducing any new keyboard / mouse combos, but they had their full lineup on display. The GKM571R appeared to be quite interesting given its minimalist design. The unit even turns off completely when the upper lid is closed. The on-lap keyboard with optical trackball and scroll-wheel, GKM581R, in addition to being an ergonomic alternative for HTPCs, is also compatible with multiple game consoles (including the PS3). The GKM681R retains the same compatibility of the GKM581R, but in a compact form factor, without the on-lap ergonomic design. The GKM561R has a laser trackball for 400, 800 or 1200 dpi settings. The unit is MCE-ready with appropriate shortcuts and also retains the game console compatibility of the previous two models.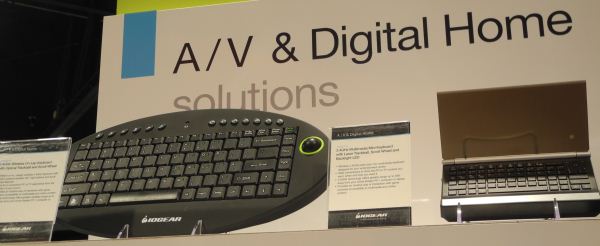 Rapoo:
Rapoo had a variety of Windows 8 peripherals on display. Of interest to the HTPC crowd were the wireless multimedia touchpad keyboard (E9180P) and the wireless illuminated keyboard with touchpad (E9090P). Both of these communicate in the 5 GHz spectrum, avoiding interference with Wi-Fi, Bluetooth and other 2.4 GHz devices. There is support for customizable touch gestures for personalizing the navigation experience. The latter features inductive wireless charging and the backlight is adjustable.
We are looking forward to having some of these models over for review towards the end of this quarter.