We visited IOGear's booth at CES and saw a variety of devices including HDMI switching solutions, I/O devices and other A/V gear. This post covers the HDMI switching solutions alone. There were two products which stood out in the demo. The first one was targeted towards home consumers. IOGear touts this as the first wireless streaming matrix for home use. It has 5 HDMI inputs and 2 HDMI outputs. One of the HDMI outputs is hardwired, while the second is wireless. A wireless receiver is bundled with the unit and can be placed up to 100 ft away (across walls). This wireless technology is based on WHDMI (5 GHz technology). The input for the wireless HDMI output can be configured from the second room. This device can also be used to clone HDMI outputs across two different locations. The device supports 3D over HDMI up to 1080p24.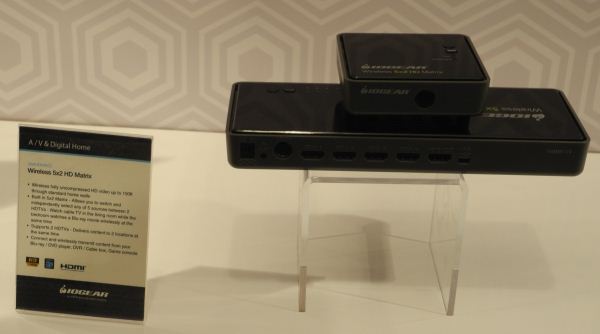 The device does blank out the relevant output while switching, but that shouldn't be a factor in home usage scenarios. The Wireless 5x2 HD matrix (GWHDMS52) will ship in Spring for $400.
On the other hand, IOGear also has a rackmount 4x4 switcher meant for custom installers and the professional crowd. There is zero-delay switching without output blanking for this model. It can be controlled using the front panel, IR remote or RS-232 for professional applications. The AVIOR GHMS8044 is priced online around $700 (MSRP is $820).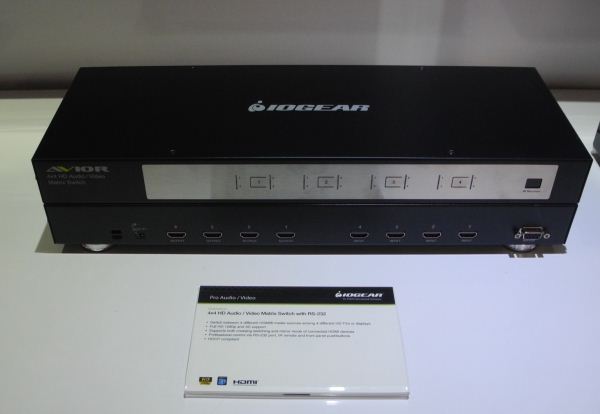 IOGear also had some high capacity mobile battery chargers on display (up to 11000 mAh) and a Realtek-based WiDi / Miracast sink on display. The GWAVR WiDi / Miracast sink will debut at a MSRP of $80.