I don't know about you, but for me, the word "engineering" gets a lot more enticing when it's preceded by the word "German" (or the phrase "Commander LaForge, please report to.") Nanoxia, Swiftech, and Steiger Dynamics were all sharing a suite at CES this year, and while I've seen most of what Nanoxia has to offer with the Deep Silence 1, Swiftech and Steiger Dynamics were another thing entirely.
My meeting with Swiftech was brief and focused predominately on their new H220 closed-loop cooler. While they've offered watercooling kits of all types for a long time now, the H220 is targeted squarely at the market being served by Corsair's H100i, Thermaltake's Big Water 2.0 Extreme, and NZXT's Kraken X60. The H220 really screams quality, though, and you can tell Swiftech has been in the watercooling game for some time when you start examining the details.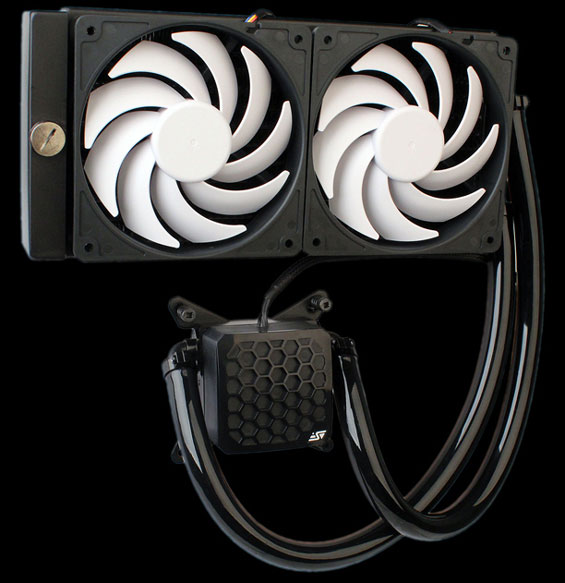 Unlike most competing solutions, the H220's reservoir can be refilled, and the radiator uses brass tubing surrounded by copper fins (most closed-loop coolers sourced from Asetek or CoolIT rely on aluminum fins in the radiator). If you open the cooling loop (and Swiftech has designed the H220 for exactly that), the pump on the CPU waterblock is actually capable of handling the thermal load from an overclocked processor and two GeForce GTX 680s.
Swiftech had four comparison systems on display to show just how much better the H220 was than Thermaltake and Corsair's solutions, with each system employing a 240mm cooler from each company and the fourth with the H220's cooling loop including two GTX 680s. The H220 was able to either perform roughly 5C or so better than the competitors at comparable or lower noise levels. While I'm skeptical about the comparison systems (no two i7-3770Ks overclock exactly the same), I'm still pretty confident the H220 will be a force to be reckoned with.
Swiftech's H220 will be retailing with an MSRP of $139.
Meanwhile, Ganesh was gracious enough to coordinate a meeting between me and freshly minted system integrator Steiger Dynamics. Steiger Dynamics has one product, but it's a doozy: the LEET. While the name may not excite you, the product ought to at least pique your interest.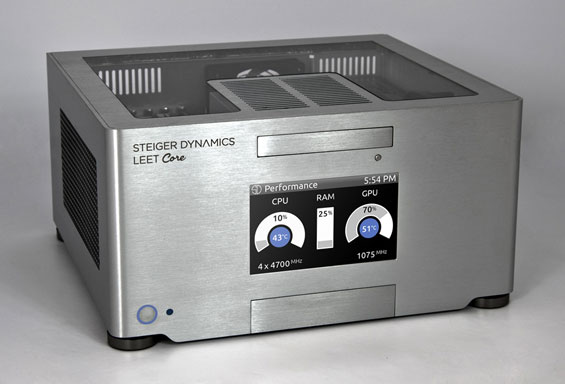 The LEET is essentially a custom desktop designed to be a media center, and specifically, a gaming machine. While comparable products like the DigitalStorm Bolt, the iBuyPower Revolt, and Alienware's X51 all look more like gaming consoles and were designed to see just how much power could be crammed within a specific envelope, the LEET goes in the opposite direction. Steiger Dynamics has produced something that looks like a home theater appliance, and within the enclosure is a custom liquid cooling loop (produced with Swiftech's aid, naturally) capable of supporting an Intel Sandy Bridge-E hexa-core Core i7 along with dual GeForce GTX 690s.
Where this product proves itself, though, is in how silently it runs. While pushing the CPU and graphics hardware at full bore (we're talking Prime95 plus FurMark) will produce an audible increase in noise, in gaming the LEET is essentially silent. I tried Crysis 2 and Far Cry 3, both at their maximum 1080p settings, and I didn't hear a peep from the system on display.
Steiger is still small, but they have a very attractive product. The price is going to put it out of reach for a lot of users (it starts at a not inconsiderable $1,798), but for those that can afford it, it's going to be a very impressive machine. This isn't something that can be easily built off of the shelf, and it shows. Expect to hear more from Steiger Dynamics in the future.