Last year I ran a series of speedtests on both AT&T and Verizon Wireless LTE during CES, the results of which were pretty interesting. My friends continue to poke fun at how obsessive I am with running speed tests, and this year I decided to do the same experiment during CES 2013 by carrying around an iPhone 5 on AT&T LTE and HTC Droid DNA on Verizon Wireless LTE and running speedtests at the same time and place periodically on the two handsets side by side.
The places I tested are pretty much indicative of your average tech journalist's in Las Vegas for CES — I ran a few in my hotel (LVH), inside and throughout the LVCC North and South halls' show floors and concourses, the Venetian, Mandalay Bay, Palms, and a smattering of the Las Vegas Strip itself. Most of the major hotels have DASes inside them (Distributed Antenna System or sometimes Digital Antenna System). I know for a fact that at least the Palms and Venetian have DASes, as does the strip itself. Inside the LVCC there are multiple DASes, with at least three different systems visible that I managed to spy.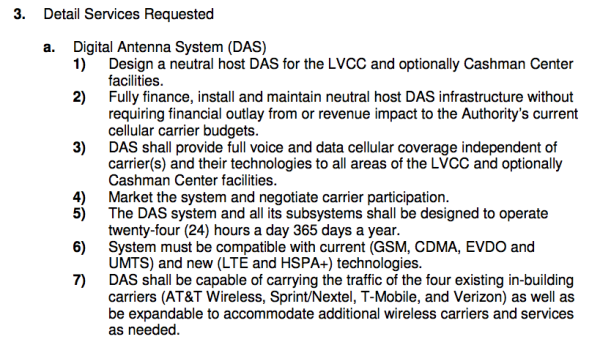 Spotting these indoor systems is almost always a challenge, as they're camouflaged intentionally to both dissuade vandalism or theft, and also for aesthetic reasons. Even if you know what you're looking for they're at best difficult to spot or out of sight and sometimes completely camouflaged. That said, I snapped photos of the ones I was pretty confident were in fact DAS antennas and put them in a gallery.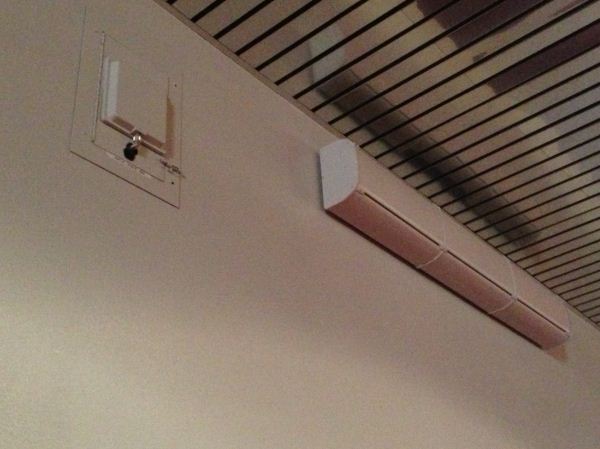 An example set of DAS antennas in LVCC North Hall
So how did AT&T and Verizon fare at CES 2013? First, I should note that both Verizon and AT&T were best I can tell only using their 700 MHz spectrum assets, that means band 13 for VZW and band 17 on AT&T with 10 MHz of bandwidth. I didn't see Band 4 on the iPhone 5, and the DNA (and all new HTC devices) lacked Field Test or similar engineering menus that would enable me to check, but it lacks band 4 anyways.
I ran 100 speedtests on both devices at the same places during my day (and night) at and around the show. Both were to the Switch Communications server in Las Vegas, for consistency of host. I then used my same script to create some histograms of the results, and stats.
AT&T LTE Results

Downstream Stats (Mbps)

Avg: 16.677; Max: 44.928; Min: 0.632, StDev: 11.323

Upstream Stats (Mbps)

Avg: 4.370; Max: 16.015; Min: 0.081, StDev: 3.696

Latency Stats (ms)

Avg: 174.95; Max: 256; Min: 144, StDev: 24.2187

Number of Tests Run: 100
Verizon Wireless LTE Results

Downstream Stats (Mbps)

Avg: 10.585; Max: 39.65; Min: 0.702, StDev: 7.854

Upstream Stats (Mbps)

Avg: 4.680; Max: 11.402; Min: 0.041, StDev: 3.165

Latency Stats (ms)

Avg: 130.13; Max: 192; Min: 99, StDev: 17.153

Number of Tests Run: 100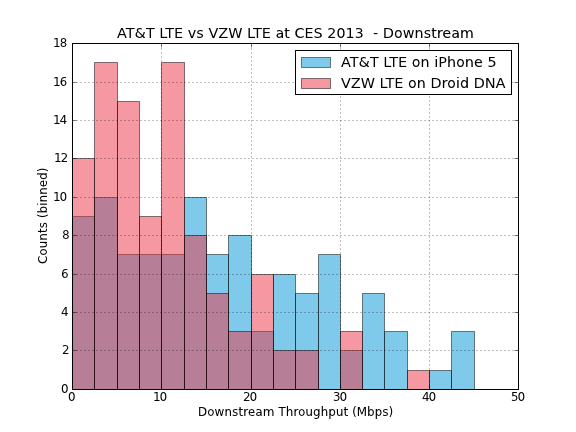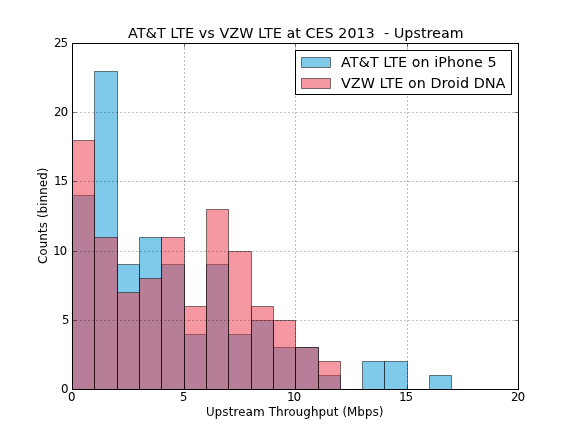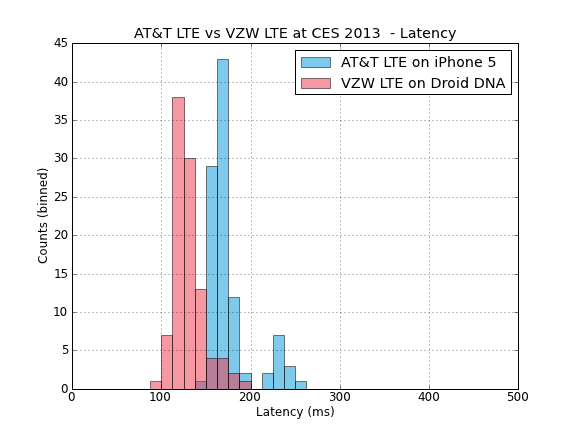 When it comes to downstream throughput, it seems as though AT&T edged out Verizon Wireless for CES 2013, with AT&T bringing in an average of 16.7 Mbps compared to Verizon's 10.6 Mbps. On upstream, AT&T hits 4.4 Mbps, Verizon hit a slightly higher 4.7 Mbps. Latency is a bit more interesting, with Verizon having lower average latency at 130.1 ms, and AT&T coming in at 175 ms, but I suspect this is more a story about the different routing that each takes both through the ePC (Evolved Packet Core) and onto the internet and then test server. Both operators did pretty well during the show, all things considered. Upstream took a huge beating and varied wildly depending on how close you were to a base station and how many people there were around you, but tweeting, checking emails, and downloading the latest schedule at least worked.
I will say that although AT&T had better downstream throughput at the end of the day, on the whole Verizon's coverage profile continues to be much better. In the Mandalay Bay I lost AT&T connectivity quite a bit and suspect the building either doesn't have a DAS or AT&T isn't hooked into it, whereas Verizon was solid. Inside the LVCC both operators understandably had great coverage.
I have to hand it to both major operators for keeping their LTE networks up at the show floor. I remember before Verizon or AT&T deployed LTE having limited to no connectivity in Las Vegas, much less inside LVCC during CES, and this seems to now largely be a thing of the past.