The past two years has seen system integrators start to really diversify amongst themselves, but iBuyPower and CyberPowerPC in particular have been making strong inroads into retail. This CES, iBuyPower made a tremendous step from being a successful system integrator and boutique to a full on PC vendor by firing a shot across Alienware's bow with the Revolt.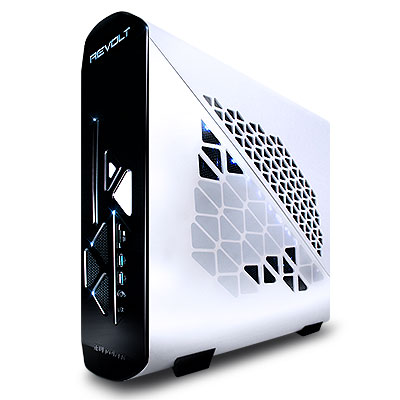 The Revolt is fully custom, top to bottom. While iBuyPower and NZXT have traditionally had close ties, the Revolt's chassis was designed completely in house by iBuyPower. A custom chassis is noteworthy in and of itself, but what sets the Revolt apart is the fact that literally everything is custom. The motherboard may be manufactured by ASRock, but it was designed by and is supported by iBuyPower, using a standard Z77 chipset but with no video outputs on the rear I/O cluster. It's essentially a custom mITX design, and from there they use a PCIe bridge to rotate the graphics card ninety degrees. The CPU is also cooled by a 140mm radiator, presumably the same Asetek radiator employed by NZXT for the Kraken.
Dimensions aren't super diminutive and it's not quite as small as the X51, but at 16"x16"x4", the Revolt is still a fairly slim machine and includes an internal 80 Plus Gold certified power supply. Base specs for all models include a single 2.5" bay, a 3.5" bay, and an mSATA slot, as well as a slot-loading DVD burner, media card reader, two DIMM slots, and built-in 802.11b/g/n wireless and Bluetooth.
iBuyPower is being especially aggressive with the Revolt, angling to get it into retail with as wide availability as possible (already due to appear at Fry's, MicroCenter, and Best Buy Canada), but also with a remarkably low price tag.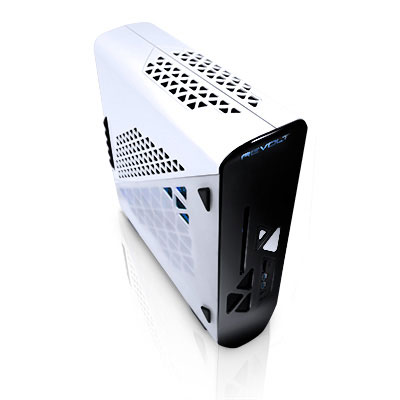 Specifications are a little spare with the details for individual SKUs, but the base model starts at just $649. That gets you an Intel Core i3 processor, mechanical hard disk, and impressively for a retail gaming machine, a GeForce GTX 650. Try to remember that retail "gaming" systems, even those sold by iBuyPower and CyberPowerPC, still tend to shortchange the graphics card. The GTX 650 isn't spectacular, but it's a very strong starting point.
The next SKU up runs $899, and upgrades the CPU to an i5-3570K (overclocking ready) and the GPU to a GeForce GTX 660.
Finally, the full fat Revolt includes an overclockable i7-3770K, a GeForce GTX 680, and an SSD for $1,399. Those are essentially top-of-the-line specifications before you start getting into Sandy Bridge-E or multi-GPU gaming systems.
iBuyPower is taking pre-orders now, and will be shipping Revolts in February 2013.