Part I: AVADirect Clevo P170EM Gaming Notebook with Radeon HD 7970M
When AMD and NVIDIA updated their mobile graphics offerings earlier this year, we were quite eager to get our hands on the new hardware to see how it would perform. Our first encounter with NVIDIA's mobile Kepler came courtesy of Acer's M3 Ultrabook, but that was a bit of an odd pairing as the ULV CPU and DDR3 VRAM likely didn't let GK107 really stretch its legs. We then got a second taste of mobile Kepler with the Clevo W110ER in the form of Eurocom's Monster, and several more options have come and gone with the likes of the Acer V3, Dell XPS 15, and Samsung Chronos 7. So far, we have yet to test any of AMD's updated 7000M mobile GPUs—particularly the new GCN-based derivatives. That changes today, as we have initial performance results from both GPUs, courtesy of AVADirect.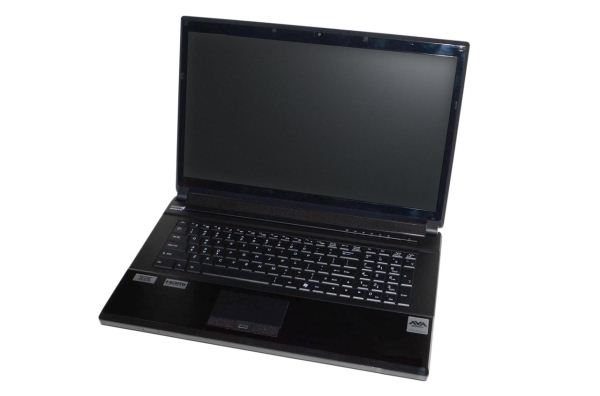 About six weeks ago, AVADirect shipped us two identically equipped notebooks using their Clevo P170EM chassis: one with an HD 7970M and the second with a GTX 680M. We encountered a few driver issues with the latter but had even greater concerns with the former—so much so that we spent a lot of time in discussions with AMD and eventually received a briefing on their updated Enduro 5.5 driver plans. Throw in some other unexpected events and we're a bit behind schedule, but over the course of the next week we hope to be able to provide full details on what you can expect from the Clevo P170EM, AMD's HD 7970M, and how things stack up in an apples-to-apples comparison with NVIDIA's GTX 680M. Let's start first with a focus on the core notebook housing the GPUs with the full specs of our test system from AVADirect.
AVADirect Clevo P170EM Gaming Notebook Specifications
Processor
Intel i7-3720QM
(Quad-core 2.60-3.60GHz, 6MB L3, 22nm, 45W)
Prolimatech PK-3 Thermal Compound
Chipset
HM77
Memory
Kingston 8GB (2x4GB) DDR3-1600 (9-9-9-24-1T Timings)
Note: RAM runs at DDR3-1333
Graphics
Intel HD 4000
(16 EUs, up to 1250MHz)

AMD Radeon HD 7970M 2GB GDDR5 (Enduro)
(1280 cores at 850MHz, 256-bit GDDR5-4800)
Display
17.3" WLED Glossy 16:9 1080p (1920x1080)
(AU Optronics B173HW01 v4, 90% Gamut)
Storage
256GB SATA 6Gbps SSD (Crucial M4-CT256M4SSD2)
Optical Drive
DVDRW (Slimtype DS8A8SH)
Networking
802.11n dual-band 450Mb WiFi (Intel Ultimate-N 6300)
Gigabit Ethernet (Realtek RTL8168/8111)
Audio
Realtek ALC269
Stereo Speakers
Headphone/Microphone jacks
Capable of 5.1 digital output (HDMI)
Battery/Power
8-cell, 14.8V, 5200mAh, ~77Wh
FSP Group 220W Max AC Adapter (19.0V, 11.57A)
Front Side
IR Port
Left Side
Memory Card Reader
1 x USB 3.0/eSATA Combo
2 x USB 3.0
Gigabit Ethernet
Mini-FireWire (1394A)
Right Side
DVDRW
Headphone
Microphone
Line-Out
Line-In
1 x USB 2.0
Back Side
2 x Exhaust Vents (CPU/Chipset and GPU)
DisplayPort
HDMI
Single-Link DVI-D
AC Power Connection
Kensington Lock
Operating System
Windows 7 Home Premium 64-bit
Dimensions
16.22" x 10.87" x 1.65-1.79" (WxDxH)
(412mm x 276mm x 41.8-45.4mm)
Weight
8.58 lbs (3.9kg) (DVDRW + Single HDD)
Extras
HD Webcam
102-key Keyboard with Standard 10-key
Configurable backlighting for keyboard (7 colors)
Memory Card Reader (MMC/MS Pro/SD)
Warranty
Standard 1-year Warranty
$103 for 2-year Clevo Warranty
$211 for 3-year Clevo Warranty
Price
Starting at ~$1485 (Oct. 2, 2012)
As configured: $2176 (with 1-year Warranty)
Our review unit isn't the least expensive way to get into a Clevo P170EM, but it's pretty close to the configuration I'd want if I were actually doing the shopping. We worked with Misha Troshin, CMO of AVADirect, to make sure we had a system that we wouldn't have to ding for including questionable component choices, and he delivered. The i7-3720QM is a pretty sizeable jump in price from the i7-3610QM, and we'd probably elect to save the ~$130 in most cases and stick with the 3610QM, but we wanted to make sure that neither the HD 7970M nor the GTX 680M were being held back by the CPU, so the extra 300MHz on the base and max turbo clocks seemed like a reasonable way to go.
We also wanted to get a decent amount of RAM for a modern notebook, with room to grow if we decide in the future that 8GB isn't enough, so a 2x4GB DDR3-1600 configuration is perfect—and unlike many of the large OEMs, AVADirect doesn't fleece you on RAM pricing; you can upgrade to 2x8GB DDR3-1600 for just ~$65 more than our base RAM choice, or go whole hog and equip your notebook with 32GB (4x8GB) of DDR3-1600 RAM for ~$175 extra. Newegg sells the same memory for $95 per 16GB kit, so there's still a small markup, but when you see Dell/Alienware charging $75 to upgrade from 6GB to 8GB RAM, $225 for 16GB, and $425 for 32GB, you're likely to feel a lot better about the markup from AVADirect. Also remember that if you want to utilize more than 16GB of RAM, you'll need to go with Windows 7 Professional or Ultimate as Home Premium limits you to "only" 16GB.
Unfortunately, there's a small snafu with the Kingston memory in our 7970M review unit: the BIOS runs it at DDR3-1333, even though it's rated for DDR3-1600 speeds. Our GTX 680M notebook came with Corsair DDR3-1600 memory, and it's running properly at DDR3-1600 9-9-9-24 timings, so keep that in mind when ordering. It shouldn't make much of a difference (I'd guess one or two percent at most), but given the memory is priced the same there's not much reason to opt for DDR3-1333 if you can run at DDR3-1600. Normally I'd just modify the appropriate BIOS setting, but in the stock Clevo BIOS there's no option to set specific RAM timings. (Note also that even on Clevo's own product page, there's currently no option to download the release BIOS, let alone an updated BIOS.)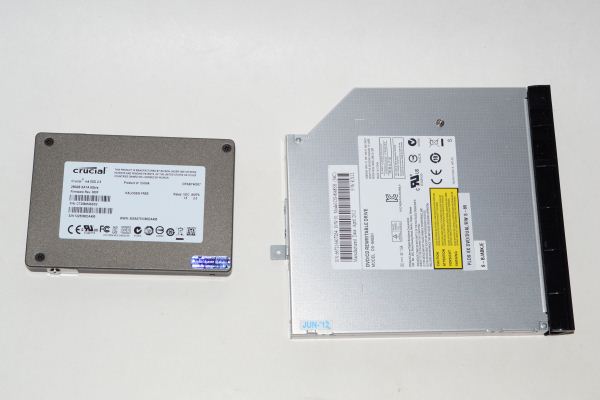 Storage duties are handled by a dedicated SSD, and in this case we opted for the then-cheapest 240/256GB SSD, the Crucial M4. Since then, we've seen pricing plummet on many SSDs, and if you're willing to take a chance on a SandForce SF-2281 SSD (I haven't personally experienced any issues with the three drives I've been using for several months—knock on wood), you can get a Mushkin Chronos Deluxe 240GB for a bit less these days. Still, you're looking at 240GB for $195 compared to $205 for 256GB, so the price per GB is nearly the same (and the Crucial M4 is actually slightly ahead). Those who want some mass storage thrown in can add a large 1TB hard drive for an additional $102, but I'd just as soon grab a larger 480/512GB SSD for about $80/$100 more (i.e. Mushkin Chronos Deluxe/Crucial M4).
If you're really looking for interesting ways of equipping your Clevo P170EM, besides the two hard drive bays, AVADirect also offers mSATA SSDs up to 256GB in capacity, starting at $211 for the Crucial M4. All told, you can install an mSATA drive, two 2.5" drives, and if you so choose you can ditch the optical drive for a third 2.5" drive via a caddy. That means you can do an mSATA boot/OS/Apps SSD with two RAID 0 hard drives (or SSDS) and still keep your optical drive. Note that unlike some previous Clevo notebooks, the P170EM doesn't appear to support RAID 5 even if you replace the ODD with a third HDD/SSD.
Our remaining options are pretty run-of-the-mill. Some might like having a Blu-ray combo drive, but the additional $75 in this day of HD video streaming services may not be all that compelling. The wireless networking options also give you the choice of several Intel chipsets, or you can use the Killer Wireless-N 1103; we got an Intel Ultimate-N 6300 adapter, which is good enough for most use cases (and I continue to plug in Gigabit Ethernet whenever possible, as it still smokes even the fastest wireless chipsets). Everything else is pretty much self-explanatory, though the inclusion of three USB 3.0 ports with a single USB 2.0 port is a bit odd (perhaps the USB 2.0 port is provided for improved compatibility). Also worthy of note is that Clevo still includes a DVI-D port, which is quite nice for people like me that have older displays with no DisplayPort capability; sadly, it won't support dual-link DVI-D (unlike older Clevo notebooks).
One thing I'd really like to see change with the various Clevo branded notebooks is the default warranty; if the product is good enough to last a couple years (which it should be considering the pricing), a standard 3-year warranty should be par for the course. I can understand why a lot of consumer notebooks only come with a 1-year warranty, but one good way for smaller boutique vendors to stand out from the large OEM crowd is to provide better service and support. Personally, a big part of that is being willing to stand behind your product with a 3-year warranty. Seeing most places offer a "Clevo 3-year warranty" suggests that they are either unwilling or unable to provide internal support for that long, and that's a shame.
Let's move on to our subjective evaluation of the Clevo P170EM and find out how the P170EM fares as a daily use notebook.