Introducing the Dell OptiPlex 9010 All-in-One
The all-in-one market is a tough nut to crack, both for the vendors and in many ways for the press as well. Apple sidestepped the landmine entirely by simply making the iMac the only desktop they offer in those price brackets; if you want a comparatively inexpensive Mac you simply buy an iMac. Windows users have a lot more choices, though, and those choices are now growing with all-in-one entries into the enterprise market from HP, Dell, and Lenovo.
On the bench today is Dell's just-launched OptiPlex 9010 All-in-One, targeted very specifically to business and enterprise applications rather than consumer. Much like the very tiny Lenovo ThinkCentre we recently reviewed, the OptiPlex 9010 AiO is designed to serve unique purposes beyond use as a garden variety computer terminal. The questions after that become: is it up to snuff with Dell's other commercial offerings, and are they trying to create solutions to non-existent problems?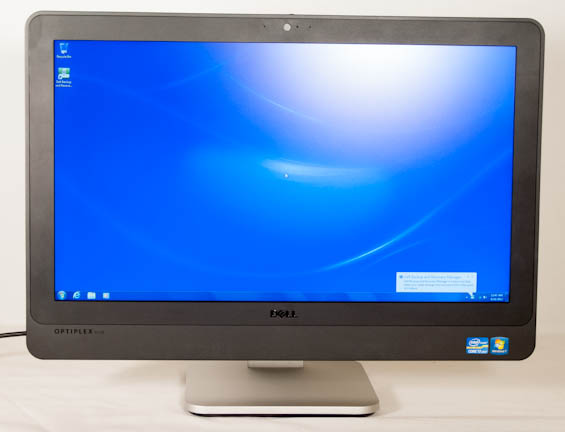 Before getting into the OptiPlex 9010 AiO itself, it bears answering the question: what purpose does an all-in-one serve for business and enterprise applications that can't be served just as well by pre-existing solutions? Dell targets the OptiPlex 9010 specifically at kiosk use, at smart displays, but also at mass deployment in businesses and schools. While an all-in-one may not be ideal for home users who may have a little more space, real estate could very well be at a premium in a library or office. These use cases have to be kept in mind when evaluating the 9010's design, which I would argue is paramount even over its performance.
Dell OptiPlex 9010 All-in-One Specifications
Processor
Intel Core i7-3770S
(4x3.1GHz, Hyper-Threading, 3.9GHz Turbo, 22nm, 8MB L3, 65W)
Chipset
Intel Q77
Memory
2x4GB Samsung DDR3-1600 SODIMM (Max 2x8GB)
Graphics
Intel HD 4000 (16 EUs, up to 1150MHz)
Display
23" LED Matte 16:9 1920x1080 TN panel
Hard Drive(s)
Samsung PM830 128GB SATA 6Gbps SSD
Optical Drive
DVD+/-RW writer (TSSTCorp SN-208BB)
Networking
Intel 82579LM Gigabit Ethernet
Intel Centrino Advanced-N 6235 802.11a/b/g/n
Bluetooth 4.0
Audio
Realtek ALC269 HD Audio
Stereo speakers
Headphone and mic jacks
Front Side
Webcam
Right Side
Optical drive
Power button
Left Side
Headphone and mic jacks
2x USB 3.0
SD/MMC/XD/MS Pro card reader
Back Side
Power
VGA
HDMI
Ethernet
6x USB 2.0
2x PS/2
Operating System
Windows 7 Professional SP1 64-bit
Dimensions
15.2" x 22.6" x 2.7"
38.6mm x 57.4mm x 6.8mm
Weight
22.08 lbs (incl. stand/16.8 lbs without)
10 kg (incl. stand/7.6 kg without)
Extras
Webcam
Flash reader (MMC, SD/Mini SD, MS/Duo/Pro/Pro Duo)
USB 3.0
Intel vPro
Warranty
3-year parts and labor, on-site service
Pricing
???
What you're looking at in the table is pretty basic. The OptiPlex 9010 AiO isn't itching for connectivity or performance; in fact the Ivy Bridge-based Intel Core i7-3770S and its accompanying HD 4000 graphics hardware might actually be on the side of overkill for a machine like this one. There's a nugget of truth to the notion that we're at the point where CPU performance is far, far beyond what most users actually need, and I have to admit I have a hard time imagining a situation where a user would need a CPU as powerful as the i7-3770S in an all-in-one. In terms of more flexible, more general use I wonder if an AMD Trinity-based processor wouldn't be a compelling option, although you lose out on Intel's vPro among other things. It's food for thought and I certainly won't ding Dell for including such a powerful, efficient processor in the 9010 AiO, I just wonder if it's not at least a little excessive.
The 8GB of DDR3 is copious, but memory is so inexpensive that I'd be peeved if they cheaped out here (Apple...). I'm actually happy to see they outfitted our review unit with a 128GB SSD courtesy of Samsung. SSD prices have fallen like rocks over the past year while the flooding in Thailand coupled with arguably anti-competitive mergers have made the value proposition of mechanical storage less compelling. For the purposes of a system like this, an SSD is pretty much ideal; serious video and photo editors shouldn't be caught dead using TN panels in desktops, taking much of the need for capacity out of the equation.
Unfortunately, that TN panel is a bit of a sore spot. It's not terrible (as you'll see later on), but viewing angles are pretty mediocre and it's definitely not as good as some of the TN-based discrete monitors that can be purchased in the marketplace. Dell also has a habit of obfuscating the sources/models of their displays, too, so I can't provide any information as to where it came from.