Yesterday's keynote was certainly one of the biggest events for Macs that Apple has held in years. The main focus was obviously in the new MacBook Pro with Retina screen but the MacBook Air also received a fairly substantial update. Not only did the MacBook Air get Ivy Bridge processors and USB 3.0; Apple is now offering up to 8GB of RAM and 512GB SSDs.
Outside of the showcased upgrades, it's always interesting to see if Apple has made any other hardware changes. As usual, Apple has not published the supplier of the components such as SSDs, nor has Apple published any data other than the capacity of the SSD. That means we have to wait for third parties for teardowns and a full list of specifications. Fortunately OWC has gotten their hands on a brand new 13" 2012 MacBook Air and taken it apart, revealing the SSD supplier and other specifications of the SSD.


Image courtesy of OWC
The sticker on the backside reveals that the SSD is part of Toshiba's THNS series. Toshiba has a public datasheet of the series so let's get the specifications out of the way before we delve deeper:
Toshiba THNS Series Specifications
Capacity
64GB
128GB
256GB
512GB
NAND
Toshiba 24nm Toggle-Mode MLC
Number of NAND Packages
4
4
8
8
Number of Die per Package
2
4
4
8
Sequential Read
440MB/s
490MB/s
500MB/s
520MB/s
Sequential Write
180MB/s
340MB/s
390MB/s
350MB/s
4KB Random Read
14K IOPS
28K IOPS
49K IOPS
41K IOPS
4KB Random Write
14K IOPS
54K IOPS
49K IOPS
41K IOPS
Performance wise the THNS series is not the fastest SATA 6Gb/s SSD but it's still adequate. It should be kept in mind that Apple's number one goal is not the highest performing configuration, but an all-around performer that is also reliable. The upgrade from the SATA 3Gb/s based Toshiba HG3 and Samsung 470 Series SSDs is definitely massive anyway.
The controller used in THSNS series is TC58NC5HJ8GSB-01, or in other words Toshiba's new SATA 6Gb/s controller. It's the same controller that surfaced in IO-Data's SSDs a couple of months ago and most likely it will be used in Toshiba's THSNF series as well, which is due later this year. It shouldn't come as a surprise that Toshiba is using their own Toggle-Mode NAND, and the same NAND can be found inside Plextor's M3 and Corsair's Peformance Series Pro.
Here is the interesting part: the controller also has the label SandForce on it. Toshiba has a history of rebranding controllers (back in 2009, Toshiba rebranded JMIcron's JMF602 controller), so it's completely possible that this is simply a rebranded SandForce SF-2281. Toshiba's datasheet does not mention SandForce at all, so there is no official statement as of now.
On top of label, the THSNS series is also available in SandForce-like capacities of 60GB, 120GB, 240GB and 480GB. The capacity differences are due to RAISE and it seems that Toshiba allows the client to choose whether RAISE should be enabled or not. All SF-2000 series controllers support disabling of RAISE, and in fact we recently reviewed ADATA's XPG SX900 series, the first consumer SandForce SSD series without RAISE, so reading the review should give you a better idea of RAISE and its pros and cons. There is no dedicated DRAM cache either, which is not needed with SandForce SSDs thanks to DuraWrite technology. Does that sound enough SandForce-ish to you?
On the other hand, performance is not what we usually see with SandForce SSDs. Sequential read is often rated at 550MB/s for all capacities and sequential write hovers at around 500MB/s, depending on the capacity. The limited amount of NAND packages can definitely have an impact on performance as usually SandForce SSDs employ eight or sixteen NAND packages, or perhaps Toshiba is just very conservative with the numbers. It's likely that the firmware is custom too which can affect performance, although it does sound a bit odd that the performance would be lower than with stock firmware. Of course, what we have today is performance figures from Toshiba; we'll be taking a more in-depth look at the SSD and its performance once we have one in our lab.
The Connector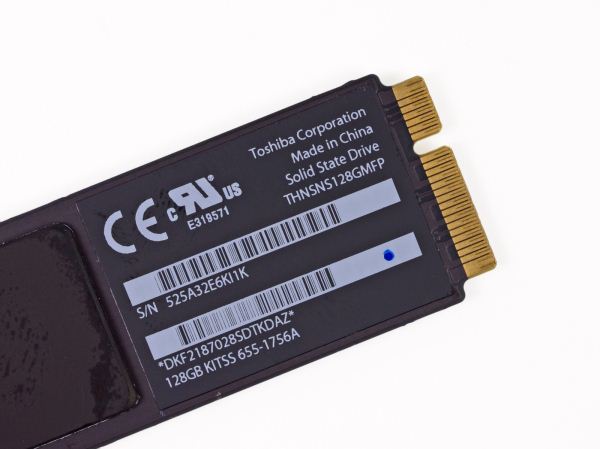 2012 MacBook Air SSD - Image courtesy of iFixit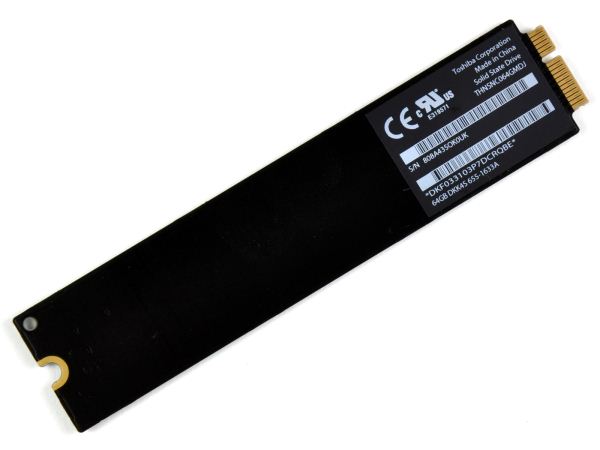 2010 MacBook Air SSD - Image courtesy of iFixit
When looking closely, you can see that the connector is not the same as in the 2010 and 2011 MacBook Airs. The old SSDs had a pin layout of 12+6 but the SSD in 2012 MBA has 17+7 layout, and the outermost pins are double wide. This means we are looking at yet another proprietary connector that is not (currently) compatible with any other device. The biggest downside is that existing SSD upgrades, such as OWC's Aura, are not compatible with 2012 Airs, although the need for such upgrades is smaller now that Apple offers up to 512GB SSDs. OWC did tell us that they are working on SSDs for the 2012 Airs, so not all hope is gone if you need a bigger SSD down the road.
Maybe it's not all Toshiba after all?
For the last two generations of MacBook Air, Apple has used SSDs from both Toshiba and Samsung. Given the popularity of the Air, one supplier may not be able to provide you with enough SSDs, so sourcing SSDs from two different companies has guaranteed that consumers won't see empty MacBook Air shelves. At this point, the sample size of 2012 MBAs is extremely small and the two torn down MBAs (OWC and iFixit) we have seen have both use Toshiba SSDs. However, OWC is claiming that they have recieved an image from an industry associate that shows a 2012 MBA with a Samsung SSD. We are working on getting proof of this.
The MacBook Pro with Retina display uses a Samsung SSD as Anand discovered shortly after the release. That's most likely a PM830 (i.e. 830 Series) based SSD because Samsung has no other SATA 6Gb/s controller, although there is always a chance that Apple has requested custom silicon for some reason.
Either way, it looks like Apple is once again sourcing their SSDs from two suppliers. For MacBook Air, this is nothing new because the SSD lottery has existed for a couple of years now. It's certainly possible that the MBP with Retina display also has two SSD options now that an SSD is included in the stock configuration. We will have to wait for more information to be sure of this, but we expect the same SSD lottery to be present in the MBP with Retina display as well.
Our Thoughts
As a whole, this situation is not new or surprising. Basically, we have the same two manufacturers supplying SSDs and the only things that have changed are the SSD models and the interface (it's all SATA 6Gb/s now). For consumers this is great news because you get a faster SSD than the previous generation provided. Of course, it's a bit unfair that there are two different revisions out in the wild at the same time and the buyer has no way to see what SSD he is getting. In previous generations, the Samsung SSDs performed better than the Toshiba ones, although the difference was not too extreme. However, the situation is now worse and at least enthusiasts should realize that there is a downside of using SandForce.
SandForce's controllers are top performers as long as you feed them with compressible data thanks to the real-time compression engine. As soon as you switch to incompressible data, there is a huge drop in performance. I wouldn't call this a dealbreaker but if you're dealing with lots of incompressible data, you will likely want the Samsung SSD instead. On the other hand, SandForce outperforms Samsung when it comes to compressible data, so it's not a win-win situation. Furthermore, SandForce has not proven to be the most reliable controller given the BSOD issues, although it's not quite fair to use that as a con yet since Apple may very well be using custom firmware that has the issues fixed.
All in all, the most intriguing part is the new Toshiba SSD. It's a brand new controller (or at least the rebrand is new) and we have no idea how it performs. Reliability, especially when taking SandForce's track record into account, is questionable, but on the other hand I doubt Apple would be willing to be the guinea pig and Toshiba's other SSDs have been extremely reliable. There are still lots of open questions and we are definitely trying to get our hands on the new Toshiba SSD (and the MacBook Air, of course) and put it through our tests. Stay tuned!
Sources: OWC Blog & iFixit Teardown
Update: OWC was able to get their hands on a 2012 MacBook Air with Samsung SSD as well:


Image courtesy of OWC
The SSD was pulled from a 13" Air and it's the built-to-order 512GB version. Just like in the MacBook Pro with Retina display, the Samsung SSD is based on PM830 (in consumer words 830 Series). Anand just finished testing the Samsung SSD inside the new MBP and the results should be applicable to the Samsung SSD in the MBA too. I would, however, like to note that OWC told us that they have only seen the Samsung SSD in a couple of 13" Airs - there is no confirmation whether the 11" uses Samsung at all. Most likely it will, though, but we should find out fairly soon.
Source: 2012 MacBook Air