Welcome Holiday Shoppers! We Have a Laptop Special on Aisle Six!
I'll be frank: I don't like Black Friday or Cyber Monday. We're all going to spend way more money than we probably should during the holiday season, and I don't like to support the crowds and general craziness any more than I have to. So, now that the two biggest shopping days are behind us, we can settle in for more reasonable prices and recommendations. There will definitely be more sales, but what we're going to look at are the products that we'd recommend even at the regular prices; if you can find these on sale, then by all means consider the recommendations even stronger.
Today's buyer's guide will focus on the mobile sector, but let's not get carried away. Specifically, I'm going to be looking at netbooks, laptops, notebooks, ultrabooks, Chromebooks, etc. What I won't be covering are other mobile devices like tablets, smartphones, and eReaders; I'll save those for another guide by someone that knows those markets better than I do. So with that out of the way, let's talk categories and specific recommendations.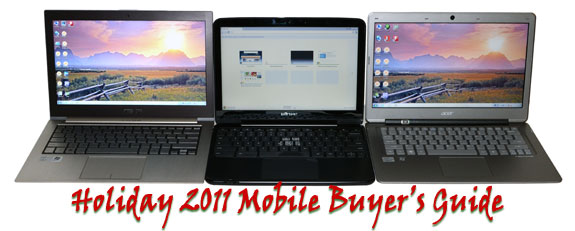 As with our other guides, we like to stick with what we know where possible. That means we're more likely to recommend something we've actually reviewed rather than a laptop we've only read about. However, there are products that we've had a chance to personally handle even if we can't give a full review, so we'll look at anything and everything related to laptops. We'll break things up into a variety of categories, starting with netbooks and inexpensive ultraportables (i.e. anything less than 13.3" and under $600); we'll also cover the emerging ultrabook market, but understandably even the cheapest ultrabooks tend to cost quite a bit more than the Atom and Brazos netbooks/ultraportables. Then we'll start to break into broader categories focused on pricing, with budget, midrange, and high-end laptops and notebooks. We'll discuss gaming potential, battery life, and other features that you'll want to look for when shopping for a laptop.
Throughout the guide we'll have specific recommendations, some alternative offerings, as well as general guidelines for what sort of components and features you should expect at various price points. One area that we tend to focus on far more than manufacturers is display quality; an otherwise good laptop with a mediocre display can feel like a letdown, and conversely an average laptop with a great display might be enough to garner our recommendation. Keyboard and build quality are two more elements that are important, though keyboard quality is often highly subjective. I know there are keyboards I've used and despised that others are fine typing on, so consider your own input in this area above what we might say. And with that out of the way, let's start with the netbooks and other inexpensive offerings.